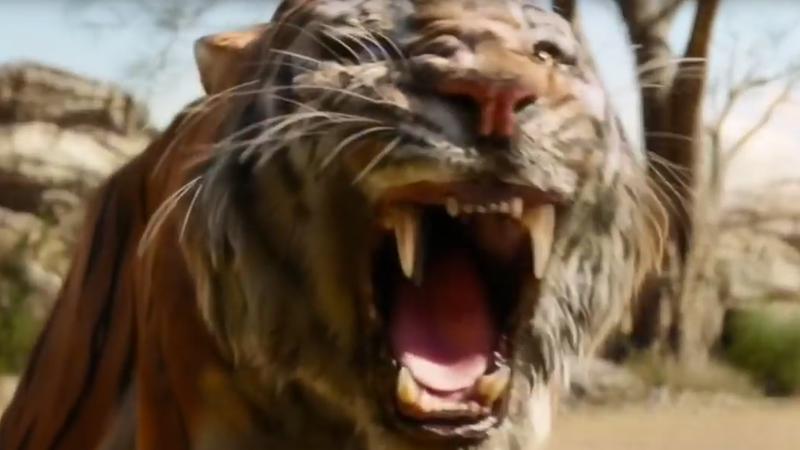 The outspoken animal rights organization PETA does not shy away from controversy. In fact, the 35-year-old non-profit often seems to invite it by taking unusually extreme positions, such as filing a lawsuit asserting that monkeys can be copyright holders or making a video about how eating chicken influences penis size.
Now PETA, short for People for the Ethical Treatment of Animals, has involved itself with the production of two movies. The group recently hailed Disney's new 'The Jungle Book' for using advanced computer-generated imagery (CGI) rather than live animals. At the same time, a hidden camera planted by the PETA has led to the trainer of the tiger used in the 2012 movie 'Life of Pi' to be charged with five counts of animal cruelty for whipping a young male Siberian tiger named Uno.
PETA liked the Jungle Book's treatment of animals so much that the organization rewarded director Jon Favreau with their Innovation in Film Award.
"Forward-thinking directors like Jon Favreau know that the future of film lies in technical wizardry, not in beating animals into performing," said PETA Senior Vice President Lisa Lange in a statement. "PETA calls on directors and producers throughout Hollywood to follow in Jon Favreau and Disney's progressive footsteps."
In hearing about the award, Favreau lightheartedly responded that "it's very hard to teach an animal to talk from what I understand. So this seemed like a good solution. It's also better for the animals not to be on set, and it's better for the tigers. I'm a city boy, so I thought CG animals would be the way to go."
According to Disney, more than 800 computer graphics artists spent more than a year on the project.
Previous winners of PETA's Innovation in Film Award include Rupert Wyatt and Darren Aronofsky for the CGI used in 'Rise of the Planet of the Apes' and 'Noah,' respectively.
PETA gives admirably praise but also extremely harsh condemnation, which Michael Hackenberger, the owner of the Bowmanville Zoo in Ontario, Canada, is now experiencing. As a result of PETA's secret video, Hackenberger has been charged with four counts of causing an animal distress and one of failing to comply with animal care standards.
According to PETA, the young tiger that Hackenberger whipped "was so traumatized that he involuntarily emptied his anal sacs, a fear response in big cats."
Upon hearing that Hackenberger had been charged, PETA released a statement saying that the organization hopes "that this case will result in an end to his torment of animals made to suffer for human entertainment."
In the undercover videos, which you can watch for yourself, Hackenberger describes using a whip as a "disincentive." According to PETA:

He goes on to boast about his power using the whip to "carve my initials in their side," and while brandishing a stick—as a wolf cowers on the floor off camera—he says, "You smack 'em and they generally fold like a house of cards. … And that's the beauty of these things." In the background, a wolf in a cage can also be seen pacing—a sign of severe stress in caged animals. A Bowmanville Zoo administrator later acknowledges Hackenberger's violent training methods, stating, "You throw them down on the ground so they know who's boss. That's basically Michael's way of working all animals."
On Wednesday, Hackenberger stepped down from his position as director of the Bowmanville Zoo, writing on the zoo's Facebook page that he is not guilty of the charges.
"The welfare of the zoo and the animals that it serves has always been my principal concern," Hackenberger wrote. "To this end I am standing down from the position of director of Bowmanville Zoo until such time as this legal matter is resolved. To all who have reached out in support I thank you. Your encouragement has been a tonic in these difficult times."
If convicted, Hackenberger could face up to two years in jail, $66,000 in fines, and even a lifetime ban on owning an animal.