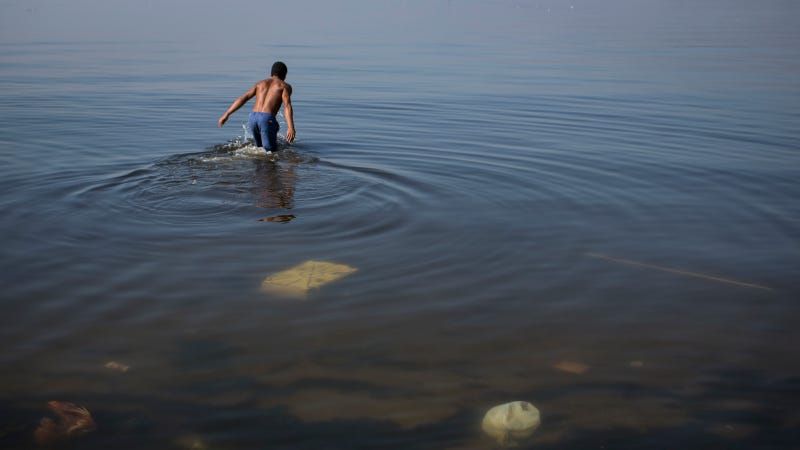 Athletes from around the globe will flock to Brazil next year for the 2016 Summer Olympics, where the world's best athletes will compete in Rio de Janeiro's famed streets, beaches, lagoons, and bay. But the city's breathtaking natural beauty can't hide a pestilential problem: Rio's waterways are full of raw sewage and trash.
Last week, Rio de Janeiro State Environmental Secretary André Corrêa acknowledged that the government would fail to reach its 2016 goal to clean the filthy Guanabara Bay by 80 percent before the games. That's because the cash-strapped government had to cut 95 percent of its budget to clean-up the bay prior to the Games.
Here are five reasons why that broken promise to fix Rio's waterway woes could be a majorly stinky problem for Olympic athletes and spectators  next year.
Raw Sewage
Rio treats around 40 percent of its sewage; the rest dumps into the city's waterways — the same bodies of water that will host Olympic sailing, rowing, and swimming events in the 2016 Games. Raw sewage in the water means that beaches throughout the city—even in the most popular tourist areas and wealthiest strips—are often deemed unsafe for swimming. Fecal matter in the water can reach up to 200 times greater than the legal U.S. limit.
Superbacteria
In December, Rio scientists identified a so-called "superbacteria" on two local beaches and in the Carioca River. The bacteria is resistant to antibiotics — perhaps as a result of hospital waste. Researchers discovered the bacteria on beaches close to the venue for Olympic sailing competitions.
Organizers said they won't change the location of the event but will monitor the situation.
Athletes' Exposure to Pollution
In December, Swiss Olympic sailors training in Rio reported getting fevers and diarrhea, though the cause was undetermined.
Contact with raw sewage can cause a variety of health issues, from parasites to intestinal problems such as Hepatitis A. Other foreign sailors who trained in Rio have called the bay a "sewer" full of trash.
Rio's mayor has said athletes' health will not be at risk, though he expressed doubt that the bay will be cleaned in time.
Trash
Every day, between 80 and 100 tons of trash get washed into Guanabara Bay. But last year, government-run clean-up efforts removed only 439 tons through November.
The largest trash removal took place in August, prior to the Olympic sailing trials. "Eco-boats" removed everything from mattresses to refrigerators from the area that will host the sailing competition. Sailors have complained about the obstacles caused by trash while training on the bay, even encountering dead animals.
Sand Contamination
Because of fecal matter, dog urine, and food waste, the sand on some of Rio's most famous beaches isn't always considered safe for human contact.  This month, the city's environmental testing determined the sand was unsafe on parts of Copacabana Beach, where numerous Olympic events will take place.
Without full-scale efforts to address sewage and trash problems, Olympic athletes on Rio's waterways and beaches may be in for a crappy experience.