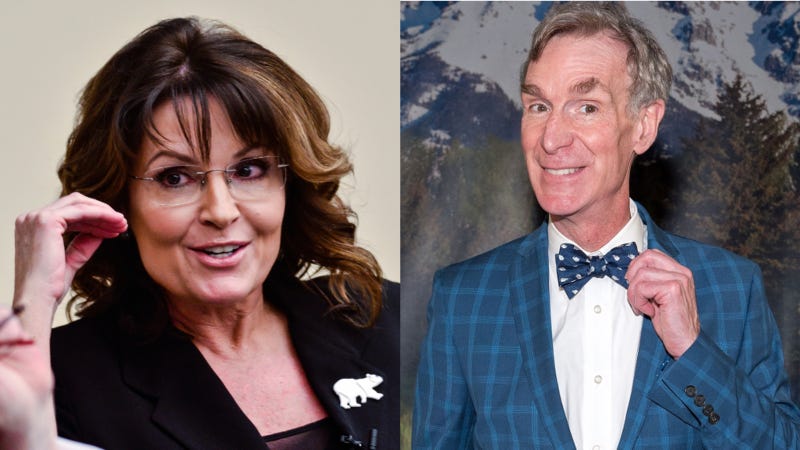 At the premiere of a global warming skeptic documentary called Climate Hustle, panelist Sarah Palin said that she's "as much a scientist as" TV educator Bill Nye.
That sentence just about sums up all of Sarah Palin's career.
Nye was a tangential target for Palin at the Wednesday event in Washington D.C. due to his activism in promoting climate change awareness. The former Alaska governor called on parents to encourage skepticism of climate science and "ask those questions and not just believe what Bill Nye the Science Guy is trying to tell them."
Palin clearly wants the cause of global warming skepticism taken seriously, so let's unpack her claim that she's just as much a scientist as Bill Nye.

Nye graduated with a degree in mechanical engineering from Cornell University in 1977. Palin graduated with a degree in communication from the University of Idaho in 1987.
Nye spent most of his career working first as an engineer for airplane manufacturer Boeing and then as the host of a children's science education program. Palin spent most of her career first as a sports reporter and then in Alaska local and state-level politics.
Nye has received at least five honorary doctorates for his science education work from U.S. universities. Rick Perry once awarded Sarah Palin a certificate proclaiming her to be an "honorary Texan."
On Wednesday, Nye participated in the annual White House Science Fair. On Wednesday, Sarah Palin spoke at the opening of a global warming skeptic documentary.
The verdict: while he doesn't have a real doctorate, Bill Nye is probably more of a scientist than Sarah Palin. But based on her degree, Sarah Palin is at least as much of a scientist as the author of this article.
Patrick Hogan is a reporter for Fusion based out of New York. E-mail at patrick.hogan@fusion.net.