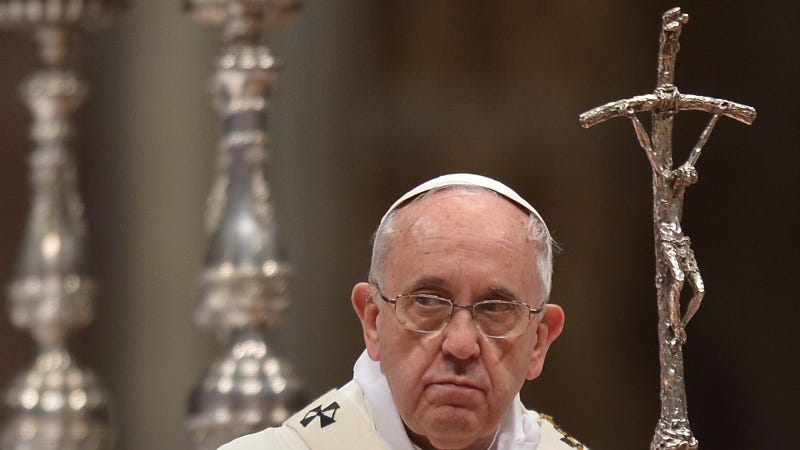 For the first time ever, a pope will address the United States Congress.
Pope Francis will make his speech to a joint session of Congress on Sept. 24 during his first visit to the U.S., House Speaker John Boehner said Thursday.
"We look forward to warmly welcoming Pope Francis to our Capitol and hearing his address on behalf of the American people," Boehner said.
The pope has been outspoken on a slew of controversial issues facing the United States, and when he comes to Congress, his remarks could hit some of these touchy subjects.

Immigration
The pope could address immigration—a particularly divisive issue in Congress. He hasn't made any policy pronouncements, but Pope Francis has called for countries to show compassion toward migrants.
Last summer, when the U.S. saw a massive influx of unaccompanied minors from Central America, the pope called it a "humanitarian emergency" and said "it is urgent to protect them and help them because their vulnerability is greater and they are defenseless against any abuse or misfortune," according to Vatican Radio.
Just this week, a group of Arizona teenagers received a letter from the pope thanking them for providing aid to migrant children.
The U.S. Council of Catholic Bishops applauded President Obama's deportation relief programs for undocumented immigrants and has pushed Congress to pass a sweeping reform bill, something that Republican leaders oppose.
Pope Francis also chastised European lawmakers for their countries' poor treatment of immigrants in a speech to the European Parliament last November.

Cuba
Pope Francis played a crucial behind-the-scenes role in helping the United States and Cuba re-establish diplomatic ties.
Francis, the first pope to hail from the Americas, urged both Obama and Cuban President Raúl Castro to mend relations and resolve the case of imprisoned American contractor Alan Gross. The Vatican was the only foreign government to be directly involved in talks between the two nations. Pope Francis hosted U.S. and Cuban officials to review their agreement at the Vatican last October.
Obama gave Pope Francis a shout out in his speech announcing the shift in Cuba policy (at 4:44 of this video).
The Pope then congratulated Obama and Castro for their "historic decision" in a statement.
Congressional reaction to the president's decision did not fall neatly along partisan lines. Obama received support from Republicans and Democrats, but Cuban-American lawmakers in both parties condemned Obama's decision.
Sen. Marco Rubio (R-Fla.) went so far as to call out the pope, saying he "would ask His Holiness to take up the cause of freedom and democracy."

LGBT rights
Pope Francis struck a more compassionate tone than his predecessors toward the LGBT community in July 2013, when he told reporters, "Who am I to judge them if they are seeking the Lord in good faith?"
But Francis has not shown he is willing to change Vatican policy on sexual mores, including gay marriage.
"The family is threatened by growing efforts on the part of some to redefine the very institution of marriage, by relativism, by the culture of the ephemeral, by a lack of openness to life," Francis said last month, according to the Catholic news site CruxNow.
The Supreme Court is expected to make a major ruling on whether same-sex marriage should be legal everywhere in the U.S. sometime this summer. Meanwhile, support for same-sex marriage has grown among members of Congress, though only a handful of GOP members support the practice.

Poverty
While Congress is stuck at an impasse on how to address major economic issues like income inequality, Pope Francis has struck a populist tone in his writing and speeches.
In a lengthy written message published in Nov. 2013, Francis decried "trickle-down" economic theories that are associated with conservatives.
Pope Francis wrote there is no evidence that economic growth ensures social justice, and said those who continue to defend "trickle-down theories" express "a crude and naïve trust in the goodness of those wielding economic power and in the sacralized workings of the prevailing economic system."
The document, which outlined Francis views on many issues facing the Catholic Church, also denounced the "new idolatry of money" and "unbridled consumerism combined with inequality."
Sen. Bernie Sanders (I-Vt.), a self-described socialist, tweeted a passage from the pope's message after the speech was announced.
But Cardinal Timothy Dolan, the archbishop of New York, penned an op-ed in The Wall Street Journal last year saying the Catholic Church hasn't suddenly embraced "coercive systems of socialism and collectivism."
"When properly regulated, a free market can certainly foster greater productivity and prosperity. But, as the pope continually emphasizes, the essential element is genuine human virtue," he wrote.

Global warming
Another issue that has divided conservatives—and drawn the pope's attention—is global warming. The pope is reportedly drafting an official church document on climate change due out this summer, and he's already said humans are the main driver behind global warming.
"Mostly, in great part, it is man who has slapped nature in the face," Francis said at a press conference last month. "We have in a sense taken over nature."
The U.S. Senate failed to pass an amendment last month stating that human activity "significantly" contributes to climate change. Five Republicans voted with all Democrats to support the measure, but it fell 10 votes short of the 60 it needed to pass.
Jordan Fabian is Fusion's politics editor, writing about campaigns, Congress, immigration, and more. When he's not working, you can find him at the ice rink or at home with his wife, Melissa.