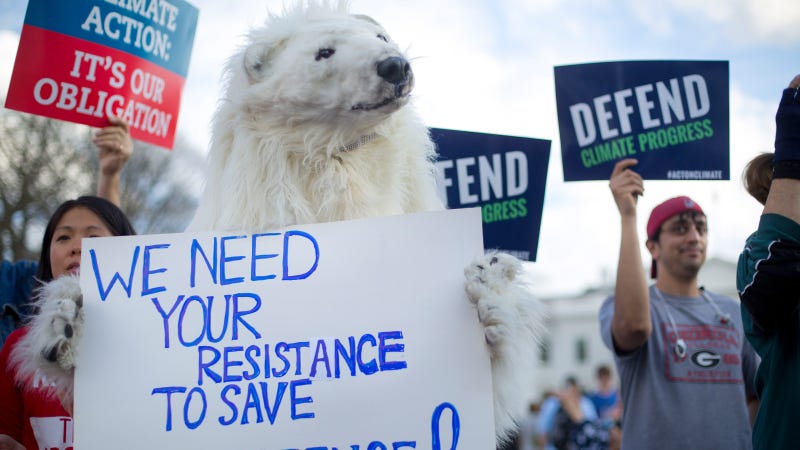 Despite the hot and sunny forecast, the Peoples Climate March in Washington, D.C. this Saturday is gathering under a cloud. President Trump threatens to set back nearly all the progress on combating climate change that has been made in the last eight years. He has begun to repeal Obama's climate regulations, started loosening rules on coal mining and oil and gas drilling on public land and in the oceans, he is threatening to drop out of the Paris Agreement, and he wants to decimate the budget for environmental protection.
The first People's Climate March, in September, 2014, brought together several hundred thousand people from around the world in New York City. They came from environmental organizations, frontline coastal and indigenous communities, and social justice advocacy groups. Their target was clear: the world leaders gathered for the United Nations Climate Summit and President Obama. And their march was a smashing success: global climate diplomacy in the year that followed took like never before, with historic pledges from countries such as China and Brazil, unprecedented leadership internationally and more assertive climate action domestically by President Obama, and the signing of a climate agreement in Paris 15 months later.
Now all that progress is at risk of being revoked: Given Trump's extreme climate science denial, hatred for multilateralism and adoration for fossil fuels, it is extremely unlikely that he will, upon seeing a pro-climate rally through the White House window, decide to reverse course on climate policy. So what, then, do the event's organizers hope to accomplish?
In interviews with Fusion they cited three goals:

Putting pressure on elected officials in blue states and cities
States and cities on both coasts are stepping into the void left by Washington and taking the lead on climate action: they're cleaning up their energy portfolios, promoting electric vehicles and blocking fossil fuel infrastructure. But they will often need to be pushed to do more over the next few years. A march can kickstart that activism: In the year after the 2014 climate march, the locals who had put it together in New York City turned their focus to the city government, successfully lobbying for a host of climate-friendly policies.
"The terrain of struggle in next phase is going to be at the local level," says Cindy Wiesner, national coordinator for Grassroots Global Justice, a social and environmental justice coalition that is participating in this year's Peoples Climate March. "That's where we have power in certain places, with progressive local officials like mayors and governors."

Building alliances that will empower the movement in the future
"It's an opportunity for coalition building," says Camila Thorndike, a campaign manager for the Chesapeake Climate Action Network, an environmental advocacy organization based in and focused on the Mid-Atlantic region, and a member of the march's steering committee. "While there isn't a live opportunity for federal climate action, if we take this opportunity to build alliances, when the window opens we'll be a stronger movement. It's really important to have those relationships built far in advance of any legislative push."
The People's Climate Movement, coalition that organizes the marches, is focused on bridging the divide between environmentalists and economic and racial justice groups, from labor unions to civil rights organizations. That's why the march is subtitled as a "March for climate, jobs, and justice." In the past, efforts to address climate change have seen some of these constituencies divided amongst themselves: labor, for example, might oppose a carbon price as bad for unionized autoworkers or coal miners. The Peoples Climate March therefore puts a premium on calls for a just transition, meaning that carbon pricing revenue should be spent on aiding vulnerable communities, job retraining and so on. "The opposition can divide and conquer very easily unless we have strong relationships with each other," says Thorndike.

Fighting back against the Trump agenda
The march is partly just a way of enthusing activists who do the less fun work of calling their congresswomen and senators. "It's not just the march," says Paul Getsos, national coordinator of the Peoples Climate Movement, the organization that puts on the march. "We've had over 100 days of actions like vigils. Climate was an issue in the [congressional] town hall meetings because we worked with Indivisible and MoveOn."
The march, rally and week of alternately earnest and beer-soaked events in D.C. leading up to create momentum for year-round work in the states. "It shores up the administration's opponents, both Republicans and Democrats, to say there's a large movement out there," says Getsos. "It strengthens the resolve of Democrats and others who we need to be holding the line, and it energizes activists to go back home and work on local campaigns which will be essential to winning in the next two years and four years on climate change."
By that logic, while turnout is sure to be strong on Saturday, we won't know if the climate march succeeded until 2018, 2020 or even further into the future.
Ben Adler covers environmental policy and politics for Grist, with a focus on climate change, energy, and cities. When he isn't contemplating the world's end, he also writes about architecture and media.