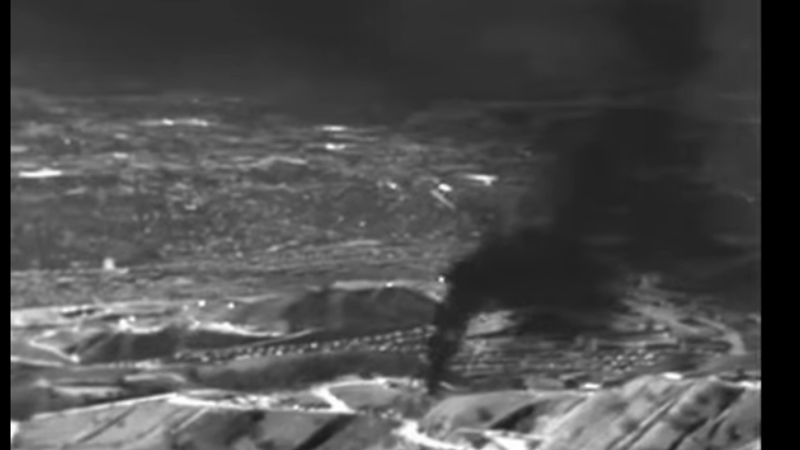 A failed Southern California Gas Co. well just a few miles north of downtown Los Angeles has been leaking an estimated 62 million standard cubic feet of methane a day since October, and company officials now say it could take until the end of March to halt it.
So far, more than 1,600 families in the Aliso Canyon area have been forced out of their homes, while 1,700 others have applied for assistance to vacate the area as of Dec. 14. The FAA has also announced a no-fly zone over the area so engine sparks don't interact with the colorless but not odorless gas.
Here is infrared footage of the leak, via the Environmental Defense Fund (which actually supports natural gas development). EDF also has a running clock of how much methane it estimates has escaped so far.
And below is the approximate location of the leak, although officials were only able to pinpoint its exact underground location Sunday, according to the LA Times.
Conventional attempts to halt the leak have thus far failed, officials told the Times, so a relief well is now being drilled that will allow the gas to be siphoned away. But, that is estimated to take at least another three months.
The Times' says the leak may have led to headaches, nosebleeds, nausea and other short-term ailments, but poses no long-term health risks.
Still, Erin Brockovich has called it a "catastrophe not seen since the BP oil spill," noting that by the end of January, the leak will have accounted for one-quarter of the total estimated methane emissions in the state of California.
Indeed, the EDF says the amount of methane released is equivalent 6.1 millions metric tons of carbon dioxide,  more than what's released annually by the entire state of Vermont.
And Mashable's Andrew Freedman has explained why this may be a sign of things to come:

The Aliso Canyon leak demonstrates a potential blind spot in the nascent regulatory system for overseeing the country's growing natural gas infrastructure. Companies are being pushed to contain leaks in their natural gas pipelines and at facilities that burn natural gas, but underground storage areas, of which there are more than 300 nationwide, aren't subjected to specific standards that might have prevented this leak.
SoCal Gas has released a statement saying it is "deeply sorry for the impact on the community and the environment." No cause has yet been found; the well passed its most recent annual inspection.
Rob covers business, economics and the environment for Fusion. He previously worked at Business Insider. He grew up in Chicago.