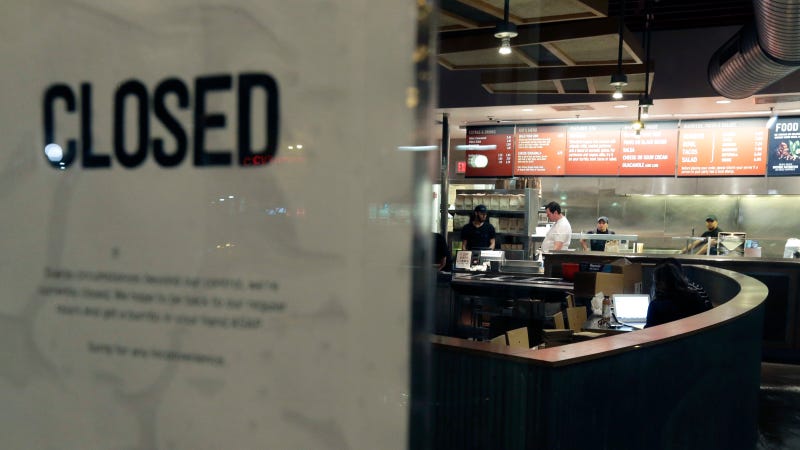 Over the weekend, more than 80 Boston College students became ill after eating at a Chipotle, a restaurant that finds itself weathering a major public relations and health scare. Initially those falling sick in Boston were assumed to be connected to the restaurant's recent spate of E. coli cases, a crisis that has sickened at least 52 people eating a Chipotles in nine states. On Tuesday afternoon, Chipotle redirected this notion, saying the students likely became ill due to something called norovirus.
With the test results not available until at least Wednesday or Thursday, the dozens of students who've gone to student health services with symptoms of vomiting and diarrhea can take a breath of fresh air at the news, as norovirus is a better diagnosis than E. coli, which can lead to abdominal cramping, nausea, bloody stool and further complications. According to Johns Hopkins Medical Center, about 8% of those who are infected with the bad strand of E. coli develop hemolytic uremic syndrome (HUS), which can lead to kidney failure—a potential life-threatening condition, especially for children and the elderly.
Norovirus, a very contagious virus, usually only lasts for one or two days, versus E. coli which can extend up to 10 days. Otherwise known as "winter vomiting," norovirus is generally referred to as a stomach bug. It can be avoided by frequent hand washing, maintaining clean surfaces and not sharing glasses or dishes. Nearly 200 people recently came down with the virus after attending a catered party in Seattle.
Chipotle executives can also take a large exhalation, because norovirus is not a food-borne bacteria like E. coli and thus does not imply that the company has even more reason to worry about its food supply chain issues, an issue associated with the E. coli outbreak. Chipotle already considers itself to be at a potential higher risk of food-borne illnesses due to its "use of fresh produce and meats rather than frozen" and "reliance on employees cooking with traditional methods rather than automation" according to a recent annual report.
The company states that "while industrial farming practices have evolved to maximize profits and production, we make an extra effort to partner with farmers, ranchers, and other suppliers whose practices emphasize quality and responsibility."
As Bloomgberg reports:

Unlike the big burger-and-fries chains that deal with a handful of beef and potato suppliers and distributors, Chipotle depends on a more complex supply chain for its 1,900 outlets that includes scores of small, independent farmers. That can lead to ingredient shortages and questions about food safety.
A Chipotle spokesperson told Reuters that there have been no other reports of illness at Chipotle restaurants in Massachusetts and that "the pattern here looks like norovirus isolated to one restaurant."
The Chipotle E. coli outbreak that occurred from mid-October to mid-November forced the company to shutter dozens of location in Oregon and Washington with additional cases reported in California, Minnesota, New York and Ohio. While the locations have since reopened, Chipotle is making a concerted effort to address the issue, which not only impacts its food, but also can severely hurt its bottom line, as shares are down 22% over the last four months
These best practices will include more food-safety testing, better training, end-of-shelf-life testing, and supplier quality assistance, to name a few. E. coli bacteria can spread via fresh produce such as lettuce, tomatoes, cilantro and onions, as well as through under-cooked meat products such as beef. In one specific change, Chipotle has started dicing tomatoes in a remote location, rather than in the restaurant, before sending them to the stores.
According to the Centers for Disease Control and Prevention, the evidence available to investigators "suggests that a meal item or ingredient served at Chipotle Mexican Grill restaurants" is the likely source of the E. Coli outbreak—though no specific food item has yet been identified.