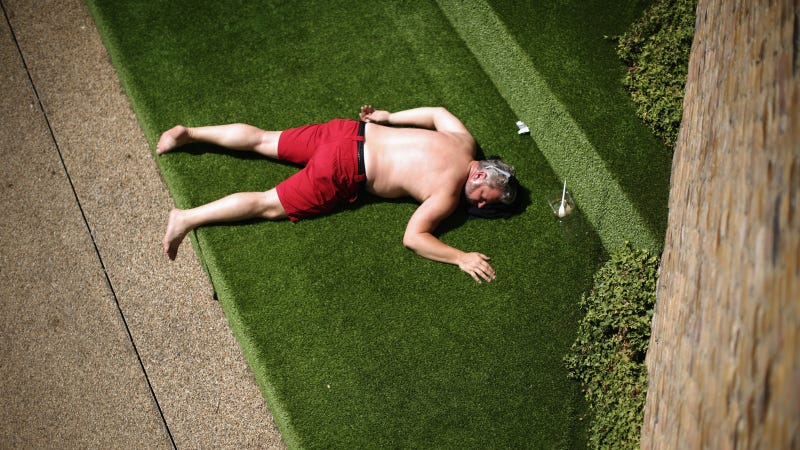 It's a coincidence when an epic snowstorm falls on a Saturday. It's probably not a coincidence when nearly ever year since the turn of the century is one of the warmest on record. In fact, a new study found that the odds of 13 out of the 15 warmest years ever measured happening since 2000 are between one in 770 and one in 10,000, or "vanishingly small."
That is before you factor in human-driven climate change—by means of the greenhouse gas emissions released through the burning of fossil fuels—which the authors determine "with extremely high likelihood" to be the cause of this heat streak.
"Natural climate variations just can't explain the observed recent global heat records, but man-made global warming can," said co-author Stefan Rahmstorf of the Potsdam Institute for Climate Impact Research in a statement. "The risk of heat extremes has been multiplied due to our interference with the Earth system, as our data analysis shows."
The study, published in the journal Scientific Reports, was completed before the data for 2015 became available, which only reinforces the findings as last year was by far the warmest on record. At 1.62° F (0.90° C) above the 20th century average, it was also the largest margin by which an annual temperature record has been broken. Last year was the fourth time this century that a new record high temperature has been set and the 39th consecutive year that the annual temperature has been above the 20th century average, according to NOAA.
That does not seem like a coincidence. According to Michael Mann, lead author of the study and a professor of meteorology at Pennsylvania State University, with 2015 data factored into the climate models, the odds of getting the recent hot trend without human impact widen to between one in 1,250 and one in 13,000.
"Climate change is real, human-caused and no longer subtle—we're seeing it play out before our eyes," he told Reuters.
Mann said he felt compelled to undertake this new analysis in order to "address, in a defensible way, the interesting and worthwhile question of how unlikely it is that the recent run of record temperatures might have arisen by chance alone."
Past estimates reported by the media have put the odds for such a run of temperature records without human-caused climate change at between between 1 in 27 million and 1 in 650 million. The newly computed odds are much greater, but still incredibly slim.
"We find that individual record years and the observed runs of record-setting temperatures were extremely unlikely to have occurred in the absence of human-caused climate change, though not nearly as unlikely as press reports have suggested," states the study. "These same record temperatures were, by contrast, quite likely to have occurred in the presence of anthropogenic climate forcing."