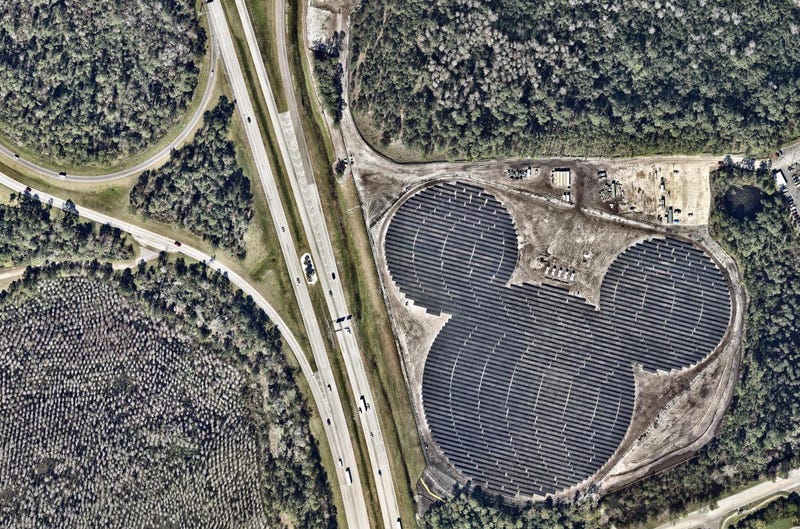 In the spring of 2009, Mark Parkinson, then governor of Kansas, was considering a request from Sunflower Electric to build a new coal-fired generator in Holcomb, a small town in the western half of the state. Parkinson, eager to draw more wind developers to Kansas, said he would authorize the project if Sunflower backed a plan to source 20 percent of the state's electricity from renewables by 2020. From the outset, it sounded like a fair bargain. Sunflower would get its coal plant, and Parkinson could begin the slow, arduous and costly work of revamping the state's electric grid.
Then, something unexpected happened.
Over the next few years, the cost of renewable energy plummeted. Kansas blew past its renewable energy target and now generates 30 percent of its electricity from wind. And the Sunflower coal plant? It has yet to be built. High costs and legal challenges have kept the project in limbo.
Wind and solar are now cheap enough to compete with coal and gas across much of the country — even without subsidies. Fossil fuels once had little to fear from renewable energy, but that's no longer the case. Last year, wind and solar made up two-thirds of new U.S. generating capacity. Today, wind technician and solar installer rank among the fastest-growing jobs in the United States.
But, falling costs and soaring popularity won't be enough to sustain renewables. Clean energy has reached an inflection point. It threatens to upend the status quo, and entrenched interests are fighting back.
The rise of wind and solar threaten to eat away at oil and gas profits. New rooftop solar installations are cutting into the core business of power utilities by allowing homeowners to generate their own electricity. And new wind farms are transforming landscapes, sparking backlash from environmentalists.
Where wind and solar have made inroads, energy companies, power utilities and conservationists have pushed legislators to pass onerous, byzantine policies that make it all but impossible for renewables to compete with conventional power plants.
These measures are having a tangible impact on regular people. Ohio severely restricted wind development, depriving schools of tax revenue from nearby wind farms. Indiana slashed incentives for rooftop solar, dealing a blow to homeowners and installers. Policymakers across the country are pushing measures to stifle renewable energy, and an unlikely assortment of consumer advocates and business leaders is fighting back.
The fight over clean energy is no longer a conflict between left-leaning climate hawks and laissez-faire libertarians. These battles are pitting mainstream Republicans against Tea Party conservatives and environmentalists against each other. Wind and solar have scrambled ideological loyalties, forcing Americans on both sides of the aisle to rethink their definition of the "free market" and reconsider what it means to serve the public interest.
Wyoming
There's the Wyoming you see on postcards — the snow-dusted mountains and caramel-colored prairies where movie stars build their second homes. But there's another Wyoming — the one that powers America's homes and businesses. The Cowboy State churns out more coal than all of Appalachia, and it's home to some of the strongest winds on the continent. The Rocky Mountains funnel air across flat, open prairies, producing winds that rival the most powerful ocean gales.
In Carbon County, Wyoming — so named for its abundant reserves of coal — conservative billionaire Philip Anschutz is building the country's largest wind farm. Its 1,000 turbines could generate enough electricity to power every home in Los Angeles and San Francisco — electricity that will be shipped to California by way of a brand new 700-mile transmission line.
Anschutz, who owns the conservative news outlets The Weekly Standard and The Washington Examiner, has given millions to Republican politicians. But, despite his political leanings, and the promise of hundreds of construction jobs in Carbon County, his project — and others like it — have faced persistent headwinds in the Republican-dominated state legislature.
Earlier this year, legislators tried to prevent Wyoming utilities from selling wind power. The bill went nowhere, but it points to an undercurrent of hostility toward wind. Wyoming is currently the only state to tax wind power, and legislators have pushed to raise the wind tax from $1 per megawatt hour to $3 or $5. Anschutz's business fought both proposed tax hikes, which died in committee.
Republican legislator Mike Madden, who championed these measures, made his feelings clear. "These wind guys," he said, "they feel that they are just too good to be taxed."
Madden, like his colleagues, is trying to fill a hole in the state budget. Wyoming has no income tax. Oil, gas and coal royalties supply most of the state's revenue. Now, coal is in decline. Consumption is waning, and workers are losing their jobs. This has produced a budget shortfall for which there is no easy fix.
Under the current system, Wyoming effectively imports its tax revenue. Most coal is shipped to power plants out of state, meaning ratepayers in Texas, California and elsewhere pay the tax on coal. If you buy electricity from a power plant anywhere in the United States that burns Wyoming coal, you are helping to put Wyoming teachers in Wyoming schools and lay Wyoming asphalt on Wyoming roads.
In recent years, falling demand for coal has starved the state of essential revenue. Legislators need to fill the budget gap, but there is little interest in imposing an income tax. So they are slashing expenditures and looking to other sources of revenue.
Together, Wyoming's powerful winds and budget woes have produced a peculiar cast of characters — in Anschutz, a conservative media magnate pushing for renewable energy, and in Madden, a pugnacious libertarian furiously trying to raise taxes.
Madden says he harbors no ill feelings toward wind. His motives are ideological. Asked if he felt a responsibility to protect coal jobs — which are fleeing the state in droves — he said, "I'm not interested in picking one of our resources and protecting it. That obviously is not my philosophy at all. I want the free market to pick it, not to have government politicians pick it."
Madden is nothing if not consistent, and his approach to tax policy would strike many as reasonable. But experts warn against raising the wind tax at a time when the state is trying to attract developers and create new jobs.
"Wyoming is perceived by many wind developers to be kind of anti-wind," said University of Wyoming economist Robert Godby. "Suddenly the state is suggesting that we might raise the tax by four or five times? That's not conducive to economic development. Tax uncertainty is almost as bad as having high taxes."
Wind is a multi-billion dollar opportunity for Wyoming. Anschutz's wind farm and transmission line come with an $8 billion price tag. Renewable energy developer Viridis Eolia is building a $3 billion wind project. And Rocky Mountain Power is spending $3 billion in Wyoming on another wind farm and transmission line.
Godby fears the state's perceived hostility toward wind could ward off future projects: "Imagine you're in the board room of a major wind developer, and you're suggesting a billion-dollar investment, and you say I'm going to put it in New Mexico or Nevada or Wyoming. The board might say, 'Well, we're not putting it in Wyoming.'"
Notably, Wyoming's attitudes toward wind are about more than just money. Many in the Cowboy State see turbines as a blight on the landscape. Wyoming is defined by its jagged mountains and open prairies. Wind farms threaten to mar its most treasured vistas.
"You can be camping on the plains, maybe a sleeping bag rolled out on the ground, not even a tent over your head, and you can feel like you are on the same plains that Native Americans have experienced for millennia," said Godby. "But then you turn around and look behind you, and the entire horizon might be red blinking lights from the wind turbines, and those really kind of infuriate people."
A wind developer, who asked to remain anonymous, recalled a trip to the state capital: "One legislator in particular said, 'We don't want more wind. We want you to burn more coal.' They say, 'I hate wind. I hate seeing those turbines. They're killing our landscape, and I just don't like it.'"
Of course, attitudes may change. Wind turbines, now regarded as an eyesore, may come to represent industry, security and prosperity. To that end, Godby said legislators should leverage tax policy to attract more wind jobs.
"We could say, 'Hey, If you build a wind facility, and the manufacturing of some of those components occurs in Wyoming, we will give you a tax break,'" he explained. This would draw new wind projects and manufacturing outfits, delivering a wealth of jobs and tax revenue. Wind energy, said Godby, "is the biggest opportunity presenting itself to the state."
Wyoming finds itself in an unusual place. Nationwide, the shift to clean energy will likely create millions of jobs, but there will be winners and losers. Wind-rich Iowa will cash in on demand for cheap, low-carbon power, while coal-dependent West Virginia stands to lose more jobs than it gains. Wyoming straddles both sides of the energy divide.
Coal from Wyoming's Powder River Basin is among the cheapest and purest around. Decades from now, when the final shipment of American coal heads to the last remaining coal-fired power plant, it will depart from a Wyoming mine. Along the way, that train will pass some of the most productive wind farms in the country.
How fast will the future come? It's hard to say. Reflecting on the fate of wind in Wyoming, Rep. Madden conceded, "It's a resource in a like manner to coal and natural gas and so on." He then paused for a moment before returning to his favorite talking point: "I just think that it's fair not to pick a favorite."
Florida
Imagine you're packing for a Florida vacation. A swimsuit, shades and a few gallons of sunscreen are probably the first things to go in your bag. If you're driving south from Georgia to Disney World, you'll see a big, blue sign when you hit the state line: "Welcome to Florida, the Sunshine State."
Apparently, not everyone in Florida has gotten the memo.
The state's chief power regulator, Art Graham, told an audience at a 2014 hearing on solar power, "I think the whole 'Sunshine State' is just a license plate slogan." Graham's not alone. For years, state lawmakers have said "intermittent cloud cover" would make solar unworkable in Florida.
And yet, Florida generates less solar energy than several far cloudier states, including Massachusetts, New York and New Jersey. When it comes to solar, policy is key. And there, Florida is sorely lacking.
Florida's big electric utilities are the major sunblock. The four largest investor-owned utilities — Florida Power and Light, Gulf Power Electric, Tampa Electric Company and Duke Energy — supply power to around 75 percent of Florida ratepayers.
On your drive to Disney World, you might peer out your car window at the Mickey Mouse-shaped solar farm near Epcot. You would guess the array belongs to Disney, but you would be wrong. Disney merely owns the land under the installation. Duke Energy owns and operates the array, and sells the power it generates to the resort.
Effectively, four companies control Florida's power market, dictating how and at what price residents get their energy. Floridians generally don't get to choose which power provider they use to run their homes.
"It's like saying only one person gets to sell you coffee for the rest of your life all across the state of Florida," said Tory Perfetti, chairman of the advocacy group Floridians for Solar Choice. "I don't drink coffee, but I think that would be kind of crummy."
Utilities in Florida also earn an unusually high return on power. They want to supply as much electricity as possible to consumers. Rooftop solar threatens their bottom line. "[Utilities] don't want to sell less energy any more than McDonald's wants to sell fewer hamburgers," said Susan Glickman, Director of the Southern Alliance for Clean Energy. "That's just their business model."
Clean energy advocates say Florida utilities wield outsized influence on state politics. Utilities rank among the largest campaign donors in Florida politics. A 2014 report from watchdog group Integrity Florida found that the state's four utilities spent more than $12 million on lobbying between 2007 and 2013, registering at least one lobbyist for every two legislators each year during that period.
Notably, it's Florida ratepayers who are footing the bill for utility lobbying efforts. "Everybody lobbies from every side of the aisle," said Perfetti. "But utilities are using the money they earn from a noncompetitive market to lobby to keep that market noncompetitive."
Utilities also enjoy an unusually close relationship with the government. The Integrity Florida report details a "revolving door" between power companies and regulators. And it finds that the Public Service Commission, including regulators like Graham, "routinely side with" utilities over consumers.
For this reason, solar was practically untouchable in Florida politics until recently. "If you were a politician trying to open up solar through the free market… you were going to have every door shut in your face legislatively," said Perfetti. "If you were going to take a stand at all, you were going to have a pretty tough time."
But the tide is beginning to shift. Utilities now face opposition from an unlikely source. In the spring of 2014, Perfetti and Debbie Dooley recruited Tea Party activists and influential Florida conservatives to join a new pro-solar advocacy group, Floridians for Solar Choice.
Dooley and Perfetti united libertarians and pro-business trade groups with environmental organizations. Last year, they pushed to amend the state constitution to allow Floridians to sell solar power to their neighbors.
Utilities put forward a competing amendment, known as Amendment 1, that could be used to raise fees on rooftop solar owners and block small solar farms from selling their power to consumers. The companies created an advocacy group, Consumers for Smart Solar, with funding from organizations connected to the Koch Brothers.
Consumers for Smart Solar vastly outspent Floridians for Solar Choice, and succeeded in making Amendment 1 the only solar-related option on the November ballot. Its official title, "Rights of Electricity Consumers Regarding Solar Energy Choice," led many to believe it would expand access to solar energy. In reality, it would strengthen utilities' ironclad grip on the power grid. Those who signed the petition to put Amendment 1 on the ballot later told the Miami Herald they felt "scammed."
While Floridians for Solar Choice failed to gathered enough signature to get their measure on the ballot, they nonetheless managed to demonstrate the broad support for solar. "The success of that effort, which created such noise and attention, put pressure and pushed the legislators" towards pro-solar policies, Glickman said.
In response to these efforts, lawmakers created a ballot initiative that would amend the state constitution to waive property taxes on solar panels installed on homes and businesses. Amendment 4, as it was known, passed with 73 percent of the vote in August 2016.
Amendment 1 would meet a different fate come November. The measure earned national coverage, most of it critical, and a series of gaffes plagued the campaign in its final weeks. A utility-friendly policy director was caught on tape praising the amendment's deceptive language as "political jiu-jitsu," while the Florida firefighter union publicly withdrew its support for the amendment days before the vote.
"We are engaged in a David vs. Goliath battle," a retired fire captain wrote in a letter to the union chief, "and having a phony firefighter on TV ads hoodwinking the public that they should support this fraud is so repulsive to me, words do not suffice."
Florida ultimately rejected the measure at the ballot box. "Talk about sending a message," laughed Glickman.
Perfetti said the deceptive tactics of the anti-solar coalition were a wake-up call for voters. "I would have people call me up who don't pay attention to normal politics, and they knew what was going on. They knew the utility industry was trying to fix and rig the game for their own profit," said Perfetti. "You're talking about an enshrined industry that had total dominance in a state, that was trying to pass an amendment to give them more dominance."
Despite their resounding defeat at the ballot box, utilities have continued to undermine solar. The legislature recently authored a bill implementing Amendment 4. In the first draft, Rep. Ray Rodrigues (R) snuck in language written by Florida Power and Light. The added text would have saddled solar companies with new financial disclosure requirements, but the Miami Herald exposed the move, and legislators cut the offending language from the final version of the bill.
What's next for solar in Florida? Advocates don't know, but one thing is certain. Utilities won't back down when it comes to blocking the sun. "I'm sure there will be battles coming up in the future that we can't even predict yet," said Perfetti. "We are not going anywhere."
Vermont
Brian Champney can brag about his 450 acres of farmland, 250 dairy cows and — if the permits go through — exactly one wind turbine. He is as stereotypically Vermont as a Bernie Sanders tote bag or a freezer full of Ben and Jerry's. And, like many Vermonters, he is deeply worried about climate change.
"I think it's important for everybody to try to leave the earth a little bit better for the next generation. We just happen to have a pretty good chunk of land, and the wind blows," Champney said. "I think wind turbines should be part of the working landscape."
Not everyone agrees.
Vermont is considering some of the most restrictive rules on wind power in the country, even as it pushes for some of the biggest cuts to carbon emissions. In May, Vermont's Public Service Board proposed a new rule for wind projects that includes strict setback requirements and noise limits.
Champney's turbine — the playfully named Dairy Air Wind project — will be evaluated under the previous rule, but had he waited a little longer to start the permitting process, his turbine wouldn't have stood a chance. "None of the projects that have been built in Vermont to date could meet this standard," said Olivia Campbell Andersen, executive director of Renewable Energy Vermont.
The updated rule will make it much harder for the state to hit its renewable energy targets. Vermont aims to build up to 750 megawatts of wind power as part of a plan to source 100 percent of the state's electricity from renewables by 2050. There are 120 megawatts of wind power currently installed— and that was under the old rule.
The new rule requires a setback distance of ten times the turbine height — so a 500-foot turbine would be set back nearly a mile. This is the most restrictive part of the rule, according to the Vermont Environmental Research Associates, a wind power consulting firm and one of the partners on the Dairy Air Wind project. The setback requirement will leave just 0.2 percent of the state available for wind power.
The new rule also sets noise limits for large wind turbines at 42 decibels during the day and 39 decibels at night. To put that in perspective, 40 decibels is about the volume of a refrigerator or a quiet library.
Speaking at a public hearing on the noise rule in Lowell, Vermont on May 2nd, Lowell resident Alden Warner used a decibel meter to measure the ambient noise in the room. "So I'd like to do a little experiment," Warner said. "I'm going to ask everybody to be totally, totally silent for five seconds when I give you the sign." The room hushed, and Warner held up the meter. Public Service Board member Sarah Hoffman read the measurement: 43.8 decibels.
Vermont is a wind power pioneer — the world's first one-megawatt turbine spun into action on a windy mountaintop called Grandpa's Knob in 1941. But, the recent surge of wind energy in the state has provoked a backlash. In 2013, some 69 percent of Vermonters supported the construction of large wind turbines in their communities. By 2016, that number had dropped to just 56 percent.
Environmentalists stand on both sides of the issue. Groups like Renewable Energy Vermont see wind power as an indispensable tool in the fight against climate change. Other groups, including Vermonters for a Clean Environment, say that wind turbines threaten mountain ecosystems. "In Vermont, our best response to climate change is to preserve these intact ecosystems and to preserve these mountains," said Annette Smith, executive director of Vermonters for a Clean Environment.
Smith claims that turbine noise can also cause health issues, including headaches, tinnitus, nausea, sleep deprivation and heart problems. "People are sick," Smith said. "Not only does this technology not belong in Vermont or on our mountains anywhere in New England, it doesn't belong anywhere near where people live."
The research would suggest otherwise. The Vermont Department of Public Health reviewed the scientific literature and found "there is no direct health effect from sound associated with wind turbine facilities." Researchers at MIT also conducted a review of the literature on turbine noise. They wrote that "no clear or consistent association is seen between noise from wind turbines and any reported disease or other indicator of harm to human health."
The research has made little difference to lawmakers. Last summer, the state legislature passed a bill requiring new noise rules for turbines. The state's Public Service Board set the sound rule to be "protective of public health," and "reduce annoyance levels that some people might experience from turbine sounds." The proposed rule must now be approved by a legislative committee, which has twice delayed its decision. If finalized, wind advocates could fight the rule in court or push the legislature to revise it, but they face an uphill battle.
Governor Phil Scott (R), who wants to ban wind turbines on ridgelines, recently appointed environmental lawyer Anthony Roisman to head the Public Service Board. In an interview with the Burlington Free Press, Roisman said that he is "not a fan" of turbines on ridgelines. He has sued to stop several wind projects in Vermont.
Despite these setbacks, wind advocates like Campbell Andersen remain optimistic. She doesn't see the noise rule as a rebuke of the state's commitment to clean energy. "It more reflects the growing pains or struggle of doing the hard work of getting there," she said.
Vermont sources most of its electricity from the New England power grid, meaning the gas-fired generators that supply the better part of the state's power lie conveniently out of sight. Vermonters have never had to gaze upon their smokestacks or inhale their exhaust. Now, the state is developing clean, domestic sources of power, and locals are grappling with what that means for the landscape.
"Some people just don't like the sight of [wind turbines]. They think they're ugly," said Champney, when asked about the wind turbine he's building on his dairy farm. "But there are other people that do like them. It is my property, and I like them. I believe in renewable energy, and it works."
Growing Pains
Disruptive technologies may face terrific backlash, but eventually low cost and convenience prevail. Computers replaced typewriters. Cassettes replaced records. Cars replaced horses. And none of it happened overnight.
At the turn of the 20th century, most Americans thought of the automobile as a loud, costly, unreliable alternative to a horse. The country lacked paved streets and gas stations, and cars were prone to breaking down or crashing. The automobile was a toy for rich men willing to flirt with danger. For most everyone else, it was a terrible nuisance.
States passed onerous laws to restrict car travel. Tennessee demanded drivers notify the authorities a week before taking a trip. Vermont required each car be ushered about by a person waving a red flag. In Pennsylvania, a group of farmers pushed for a law to protect horses from cars. "In case a horse is unwilling to pass an automobile on the road," it read, "the driver of the car must take the machine apart as rapidly as possible and conceal the parts in the bushes."
In 1900, there were just 8,000 cars on the road. Then came Henry Ford, mass production and the Model T. By 1910, Americans owned some 470,000 cars. By 1920, a staggering 9.2 million. Opposition faded, and the automobile became a staple of American life. Today, there is a car in every garage, a gas station on every block, and millions of miles of roads and highways stretching from coast to coast.
As Elon Musk, CEO of Tesla, accurately noted, "When Henry Ford made cheap, reliable cars, people said, 'Nah, what's wrong with a horse?' That was a huge bet he made, and it worked."
Unlike the automobile, clean energy is still in its adolescence, a period when falling costs and widespread adoption spur resistance from business leaders, policymakers and the public. But, in time, wind and solar will grow and mature, deliver more jobs, more tax revenue and smaller power bills. Like the automobile, they will become ubiquitous.
Change comes in fits and starts, meets resistance, and then happens all at once. As Henry Ford said, "We have only started with the development of our country — we have not as yet, with all our talk of wonderful progress, done more than scratch the surface."
Nexus Media is a syndicated newswire covering climate, energy, policy, art and culture. Owen Agnew, Josh Chamot, Jeremy Deaton, Josh Landis, Mina Lee, Monika Sharma, Laura A. Shepard and Molly Taft contributed to this report.