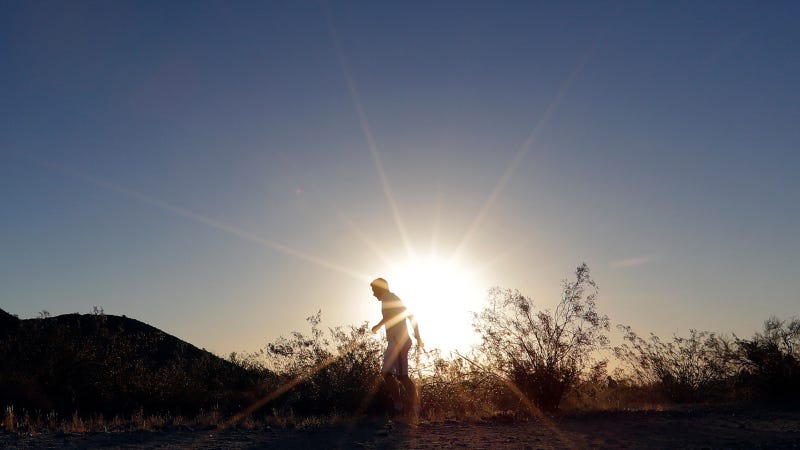 It must be summer because the climate change stories are changing. Rather than mild northern winters or major winter storms, the headlines are turning to deadly wildfires and fearsome heatwaves. This week, attention is focused on the already hot U.S. Southwest, where Phoenix, AZ, and Las Vegas, NV, could potentially set  all-time heat records.
According to The Weather Channel, this "classic pre-monsoon heat event" often ushers in some of the hottest temperatures of the year for this arid landscape—but this is no ordinary 100-degree heatwave; temperatures could max out over 120 degrees Fahrenheit. While July is the hottest month on average in Phoenix, June often sees the biggest temperature spikes.
Phoenix's current all-time high of 122 degrees was set on on June 26, 1990. The heatwave is expected to peak Tuesday and could end up being the hottest weather in Phoenix in decades.
With the first official day of summer on Wednesday, June 21, staying cool will be the number one activity as the sun shines for its longest all year. Intense heatwaves are far more than just unpleasant, they also present a number of health risks, especially for the elderly, infirm, and homeless.
Arizona's Department of Health Services reports that nearly 2,000 people visit state emergency rooms every year because of heat-related illnesses. In 2016, Phoenix's Maricopa County experienced 130 heat-related deaths, the highest number in more than a decade.
As The Guardian reports, aid efforts are already underway for the coming heatwave:

In Phoenix, emergency services and charity organisations issued warnings about the dangers of heat and dehydration and urged residents to drink copious amounts of water. The Maricopa Association of Governments opened hydration stations and relief stations to provide safe, cool space indoors for the homeless.

The Phoenix Rescue Mission recently issued a "code red" heat alert, seeking help in donating water to the homeless, the elderly and people without air conditioning. The Salvation Army Southwest Division launched a drive to collect items such as sunscreen, hats, caps, bandannas, cooling towels and bottled water.
Residents of these sweltering cities would not be blamed for heading to nearby mountains for the week. Southwestern regions at lower elevations experience much more intense heat, especially urban areas that are covered in concrete, asphalt and buildings—all of which work together to create an urban heat island. While greenery helps moderate the sun's rays, manmade structures absorb heat, thus increasing daytime temperatures and making it harder for cities to cool down at night.
The average overnight low for Phoenix in June 2016 was 82.1 degrees, 4.4 degrees above normal.
According to the EPA, "the annual mean air temperature of a city with one million people or more can be 1.8–5.4°F (1–3°C) warmer than its surroundings" because of the urban heat island effect.
While the heat is homed in on the Southwest this week, more intense heatwaves are a fast-growing global problem. A new study published in Nature Climate Change found that 74% of the world's population will be exposed to deadly heatwaves by 2100 if greenhouse gas emissions continue at current trajectories.
Camilo Mora, associate professor of Geography in the College of Social Sciences at the University of Hawaii at Manoa and lead author of the study, highlighted the high stakes:

For heatwaves, our options are now between bad or terrible. Many people around the world are already paying the ultimate price of heatwaves, and while models suggest that this is likely to continue, it could be much worse if emissions are not considerably reduced. The human body can only function within a narrow range of core body temperatures around 37C. Heatwaves pose a considerable risk to human life because hot weather, aggravated with high humidity, can raise body temperature, leading to life threatening conditions.
For anyone visiting the Southwest this week, for business or pleasure, it will be important to not get too heated up over the circumstances and to stay cool. What else did you expect?