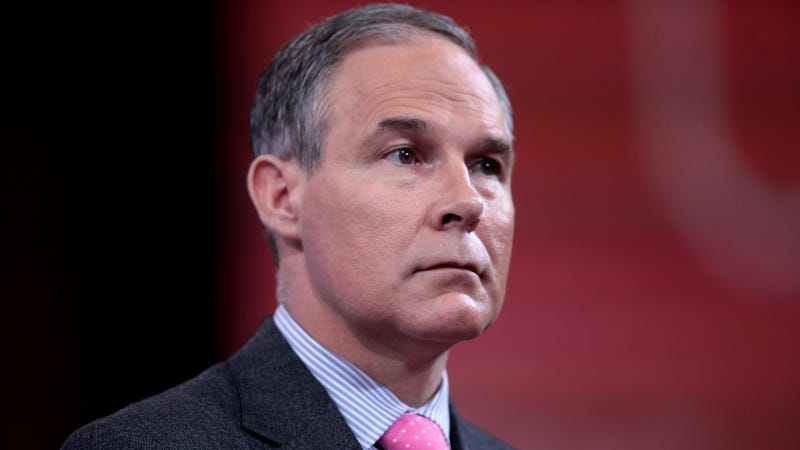 When it comes to climate change denial, it's starting to seem like Oklahoma is ground zero. The landlocked state has already gifted America Senator James Inhofe, a climate change denier known for theatrical antics like wielding snowballs on the Senate floor to confuse people about the global warming.
Now, President-elect Donald Trump has chosen Oklahoma Attorney General Scott Pruitt, an outspoken critic of the Environmental Protection Agency, to head that very agency. Pruitt is a skilled suer of the EPA and has mastered the rhetoric of denying manmade climate change without actually explicitly saying so in so many words.
The rise of Oklahoma's new beacon of anti-climate action has coincided with another rise—the unprecedented occurrence of earthquakes in the state. These earthquakes have been tied to wastewater disposal wells that deal with the leftover fluid from hydraulic fracturing, or fracking.
Last year the state saw 907 earthquakes, and the year before a total of 585 earthquakes of magnitude 3.0 or higher struck, more than in the previous 35 years combined. In September, Oklahoma experienced its largest earthquake on record, a 5.8 tremor near the town of Pawnee in the northeastern part of the state. A report from the Oklahoma Geological Survey (OGS) in 2015 found a connection between fracking and the state's increase in earthquakes, especially "earthquake swarms," or series of small earthquakes.
In the face of this undeniable trend even Oklahoma's oil-friendly government has been forced to take action by reducing fracking wastewater injection volumes in certain hard-hit areas. However, during his time as AG, Pruitt was notably absent from any of these efforts, which is unsurprising considering his extremely strong ties to the oil and gas industry. Harold G. Hamm, the chief executive of Continental Energy, an Oklahoma oil and gas company (he's also a candidate for Energy Secretary under Trump), was a co-chairman of Pruitt's 2013 re-election campaign. In that campaign, which was unopposed, Pruitt raised $114,000 from energy company PACs and executives.
Kurt Hochenauer, an English professor at the University of Central Oklahoma and author of the longtime blog Okie Funk, called the state's earthquake situation "extremely dangerous," saying it "needs some type of federal intervention to ensure people's safety and the fossil fuel supply."
Hochenauer, a longtime critic of Pruitt's, said the AG's "cozy relationship with the oil and gas industry and the fact he accepts campaign contributions from it is a direct conflict of interest when it comes to the earthquake emergency in Oklahoma."
"Pruitt cares more about furthering his career than the basic physical safety and personal property of ordinary Oklahomans," he said.

Hochenauer has believed for years that Pruitt was duty bound to help protect Oklahoma residents from unscrupulous businesses that put their safety at risk. He said Pruitt could have filed lawsuits against major oil and gas companies to get them to stop the harmful wastewater disposal or even considered criminal charges for reckless behavior.
"Instead, as had been widely reported, Harold Hamm, CEO of Continental Resources, a large oil and gas company based in Oklahoma City, was his campaign chairman," he said. "Has a politician ever sued the business of his or her campaign manager?"
As for Pruitt's potential as head of the EPA, Hochenauer is extremely wary, saying he thinks he'll be "a disaster for the health of the environment and will rollback many basic and much needed regulations related to fossil fuels."
"There is really no way to downplay all this or normalize what's going to happen," he said. "His track record in Oklahoma proves this."
Johnson Bridgwater, director of the Sierra Club's Oklahoma chapter, said that even when Oklahomans are insured, denials for earthquake damage are running upwards of 90%.
"Recently, an entire downtown was destroyed in Cushing, OK, and elderly residents were forced from their homes," he said.
Bridgwater said that as AG, Pruitt hasn't lifted a finger on the issue of earthquakes even though both United States Geological Survey and the EPA have both stated that Oklahoma should take further actions.
"Pruitt could have ordered injunctions to stop the activities, or he could add Oklahoma to existing lawsuits as an intervenor," he said.
In July 2015 the Oklahoma Supreme Court voted 7-0 to allow plaintiffs to seek damages from oil and gas companies in court for injuries received during an earthquake. A number of residents have taken legal action against the fossil fuel companies, and the groundwork has been laid for several class-action suits.
Leaders of the Democratic Party are just as appalled at the notion of such an anti-environmentalist taking over the EPA as local environmentalists are.
U.S. House Democratic leader Nancy Pelosi said Pruitt's record as AG is a "laundry list of favors to the special interests" and that he "has brazenly used his office as a vehicle for the agenda of big polluters and climate deniers in the courts—and he could do immense damage as the administrator of the EPA."
As if evidencing the increasingly large partisan fault line separating Republicans and Democrats, local and national Republicans hailed Pruitt as someone who's not afraid to stand up to Washington.
To end on a positive note, a recent study found that manmade earthquakes in Oklahoma are actually on the decline as regulations calling for reductions in wastewater injections in seismic areas take effect. The study, published in the journal Science Advances, predicts that the continued reduction of injected wastewater will lead to a significant decline in the rate of earthquakes and a return to the historic background level in about five years, even as elevated pressure still leaves an increased risk of damaging earthquakes.
Who knew regulations could do anything but harm?