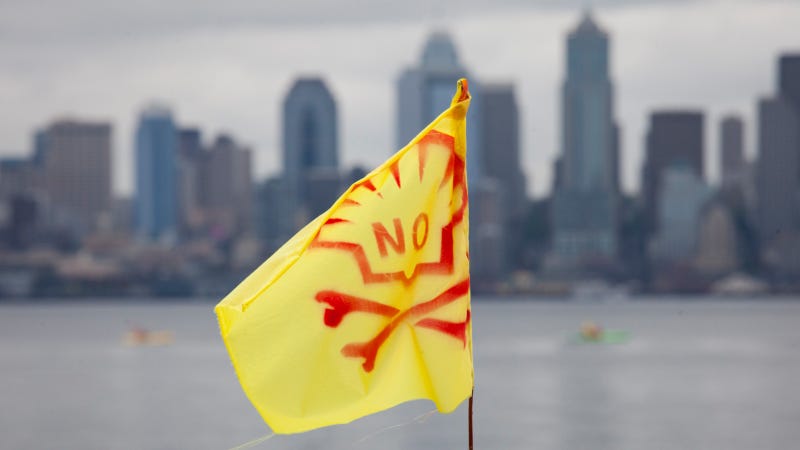 A carbon tax on the ballot this November could be Washington state's last chance to reduce emissions before it's too late, advocates say, but environmental and social justice groups say it doesn't do enough to protect the most vulnerable families.
"We don't have time to wait and we have a moral obligation to tackle climate change," said Duncan Clauson, co-director of Carbon Washington, the group behind Initiative 732.
World leaders agreed in Paris last year that the temperature rise from global warming must be kept under 1.5 degrees Celsius. Scientists say any rise above that would have unpredictable consequences, including possible runaway warming.
To keep the temperature rise under 1.5 C, carbon emissions must be reduced within the next five years, according to a 2014 synthesis report by the Intergovernmental Panel on Climate Change (IPCC). After this year's vote, the next opportunity to pass a measure like this in a general election would be 2020—four years from now—which could be too late, Clauson said.
A recent poll found that 57% of Americans would pay $1 a month to fight climate change.
Washington's proposed carbon tax would be the strongest price on carbon in North America, if not the world, according to an independent analysis by the Sightline Institute, a nonprofit think tank based in Seattle.
The tax would start at an extra 25 cents per gallon of gasoline, and 2.5 cents per kilowatt hour of coal-powered electricity. The revenue would be refunded back to Washington residents through a 1% reduction in sales tax and through funding the Washington Working Families Tax Credit.
Yet the initiative has been controversial in the state, which is known for being environmentally conscientious.
Surprisingly, many environmental and social justice groups have publicly opposed the initiative, including the Sierra Club, 350 Seattle, OneAmerica, and Front and Centered.
Many disagree with the way the revenue would be used, saying it should be reinvested in clean jobs, climate adaptation, and helping the most vulnerable families—who they say should have been involved in designing the carbon tax.
Social justice groups said while putting a price on carbon would help slow climate change, it shouldn't be done at the expense of workers or low-income families.
"We need an immediate and comprehensive shift away from fossil fuels and a carbon-intensive economy, and towards clean energy jobs and healthy communities," said Rebecca Saldaña, executive director of Puget Sound Sage, a non-profit social justice group based in Seattle that opposes I-732.
"Carbon pricing is an important lever, but it must be done right to achieve emissions reductions fairly and equitably," Saldaña said.
Many also objected to the fact that people from disadvantaged communities and people of color—who are often most vulnerable to the impacts of climate change and pollution from industry—weren't included in the process.
"Time and again, low-income communities of color have been left out of meaningful progress for the sake of perceived political expediency. Climate action that does not prioritize communities most affected by pollution and most likely to be impacted by climate change is a step in the wrong direction," Saldaña said.
While climate change will eventually impact everyone, it impacts the most vulnerable communities first and worst. It is often the poorest who are forced to live near polluting facilities, like oil refineries, or in areas worst-hit by weather impacts resulting from climate change.
I-732 "was formed without meaningful input from communities of color or low-income communities," OneAmerica said, and because of that the initiative was "viewed largely as a white, middle class reform."
The Alliance had been working on its own design for a carbon tax, which would have used the revenue to invest in clean energy, low-income communities, and in transitioning workers off fossil fuels. Members of the Alliance toured the state over the summer to get input from Washington residents, but eventually decided not to put the initiative on the ballot.
Carbon Washington has said that parts of the Alliance's own proposed carbon tax outline could be added to I-732 by the state legislature, but argued there was not time to wait for perfect consensus to take action on climate change.
While Carbon Washington did largely leave disadvantaged communities out of the process of designing I-732, it's not true that the initiative doesn't help low-income families, the Sightline Institute analysis said.
While the carbon tax "does nothing procedural to increase the influence of low-income families on decision making. It does, however, put most of them ahead financially," the Sightline Institute analysis said.
The carbon tax would help nearly half a million of Washington's poorest families by funding the Washington Working Families Tax Credit, which was established in 2008 but never funded, Clauson said.
Washington has the most regressive tax system in the U.S., with the lowest-income families paying almost 17% of their income in taxes while the richest pay just 2.4%.
By lowering the sales tax and using revenue from I-732 to fund the Washington Working Families Tax Credit, the burden for many of the state's poorest families would be lightened.
"I-732 would be the most progressive shift in Washington state tax code in decades," Clauson said.
A low-income family's energy costs would rise by around $150-$300 per year with the carbon tax, but the sales tax break and Credit would still mean an eligible family with two children would be ahead by $1,300 per year, an analysis by the Sightline Institute showed.
At the same time, around 340,000 low-income households would not qualify for the Credit. They would still come out "roughly even" because of the sales tax reduction, the analysis said.
"According to Front and Centered's creed: 'The highest priority for reinvestment must be to mitigate financial costs of implementation to communities with lower incomes,'" the Sightline Institute analysis said.
"I-732 hews closely to this principle, yielding the biggest gain in tax fairness in Washington in nearly four decades, with thousand-dollar net benefits for hundreds of thousands of low-income families," the analysis concluded.
While not a home run for social justice, I-732 would improve the lives of many of Washington's poorest families—and would likely reduce the state's carbon emissions within a few years based on what happened in Canada after one of its provinces put a price on carbon.
Just north of Washington, British Columbia enacted its own carbon tax in 2008. The tax resulted in bigger cuts to carbon emissions in B.C. than the rest of Canada, according to a study by Carbon Tax Center, a New York-based group advocating for an efficient and equitable price on carbon.
B.C.'s per capita emissions decreased by 12.9% from 2008-2013, compared to 2000 to 2007, the report said. In the rest of Canada, there was only a 3.7% decrease.
While no other Canadian provinces or U.S. states have a carbon tax yet, Massachusetts, Vermont, Rhode Island, and the city of Boulder, Colorado, are considering putting a price on carbon.
The controversy among environmental groups over ensuring that I-732 meets everyone's needs is another sign that Washington state will continue to be a leader in the fight for environmental justice.
Whether it's 'kayaktivist' protesters in Seattle attempting to block Arctic drilling, or residents along the Columbia River Gorge standing up to plans to send some of the most dangerous oil through their communities, Washington residents will likely continue leading the fight against climate change.
For at least one environmental group in the state, reducing carbon emissions is all that matters.
"We're a bird conservation organization and in 2014 our science team came out with a groundbreaking report that said climate change is the number one threat to birds," said Jen Syrowitz, Chapter Conservation Manager for Audubon Washington.
With half of North America's birds threatened or endangered because of the changing climate, carbon pricing was the most efficient way to reduce emissions and slow the impacts of climate change, Syrowitz said.
"The need to act is now, it's urgent, and we're pretty agnostic in how to get there," Syrowitz said.