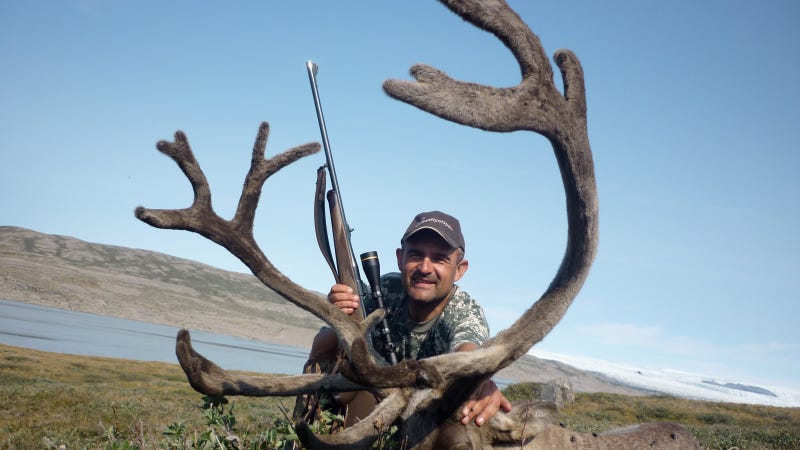 The saying "what happens in Vegas stays in Vegas" doesn't hold up for this week's annual Safari Club International (SCI) trophy hunt auction.
Dubbed the "Ultimate Hunters' Market," the five-day auction and convention could draw up to 20,000 bidders to Sin City. Once comfortably settled into this oasis in the desert, the attendees will shoot for a chance to hunt one of at least 600 animals in 32 countries scattered across the globe.
There will be hunting licenses for everything from African elephants to Iberian red deer on the auction block, but what is likely to draw the most attention are the lion permits. This is in large part due to a well-known member of SCI, Minnesota dentist Walter Palmer, who last summer because notorious for killing Cecil the Lion, a beloved Zimbabwe lion that lived in Hwange National Park, a major tourist attraction.
While Palmer was cleared of any official wrongdoing, the killing brought unprecedented media attention to the business of trophy hunting. So while trophy hunting auctions have been going on for years—in fact there was another massive one in Dallas, Texas in January—there is a newfound scrutiny being imposed on them now.
"The vast majority of the population are against killing wild animals for sport," Jeffrey Flocken, North American Regional Director for the International Fund for Animal Welfare told me. "Cecil just pushed this uncomfortableness with the entire industry forward."
In one testament to the additional attraction the Vegas auction is garnering this year, a petition demanding that the Mandalay Bay Hotel cancel the event and promise not to hold any future trophy auctions has garnered over 31,000 signatures. It states that we need to be protecting the animals, not encouraging people to kill them.
"Exploiting animals for entertainment only makes conservation more difficult," said Flocken. "It sends a message that these animals are worth large amounts of money rare or dead, rather than finding ways to live with them in communities on-the-ground."
Those hosting and attending these auctions and participating in the hunts argue that they are in fact engaging in a form of conservation. Dallas Safari Club Executive Director Ben Carter said that the money raised from the club's January auction—over $6 million—will "directly support wildlife conservation, outdoor education and the protection of hunters' rights around the world."
As for SCI, the club's primary missions are to protect the freedom to hunt and promote wildlife conservation. While these two aims may seem contradictory, trophy hunting proponents view the tens of thousands of dollars they spend on a hunt as going towards wildlife protection and maintenance. They argue that without this influx of money, many of the rare species targeted would otherwise be more vulnerable to poaching and habitat loss. There is even the viewpoint that removing certain troubled animals from a herd can help it grow in the long run.
However, some of this money undoubtedly is subject to corruption and misuse and can end of being used in counterproductive measures, such as building roads.
"Killing imperiled species like elephants, lions, and rhinos for sport only fuels exploitation, confusion and lack of respect for conservation of these species," said Flocken. "That said, it is true that money from these hunts could go toward conservation programs."
Flocken said if even money from the hunts does end up going towards protecting the animals, there's a better way to achieve the same end.
"Studies have shown that non-lethal safaris and ecotourism bring in billions more revenue to Africa than trophy hunting," he said.  "And animal viewing can be done over and over, whereas a trophy hunting just happens once and then the animal is gone from the ecosystem."
The SCI auction in Vegas features some 300 hunts covering over 600 animals. There's a three-week big game safari in Tanzania worth $85,000 not including trophy fees;  a 5-day trip to New Zealand to hunt red deer and tahr, a hoofed animal native to the Himalayas, worth $92,600; and a 10-day brown and black bear hunt in Alaska worth $80,500, for instance. Other sport hunting licenses being auctioned off include goats, crocodiles, foxes, moose, impalas, mountain lions, African lions, leopards, ibex, water buffalo, and more. Around 75 of the hunts will take place in the United States.

According to National Geographic, the backlash from trophy hunting protesters is having some impact, as "notably absent" from this year's auction are any rhino permits. Hunting rhinos is extremely controversial, as the species is already under dire threat from poachers and habitat loss. In 2014, a permit to kill an endangered black rhino sold for $350,000. The U.S. government also recently decided to protect lions under the Endangered Species Act, which will stem the import of trophy lion kills.
Flocken said that other individual countries are making changes to their trophy hunting policies as well. For instance, Botswana recently stopped trophy hunting and South Africa recently outlawed leopard hunting.
"Other countries are looking at similar restrictions on imports and exports of imperiled species that have been killed for sport," he said. "So there is progress being made."
"Ultimately, the local communities will be the key to the future of imperiled species surviving, which is why IFAW and other groups on-the-ground in Africa and elsewhere look to find non-lethal solutions that work for both people and animals."
For those non-hunters in Vegas for the week who may still be interested in bidding on something, there's a special "non-hunt spotlight" category available. Maybe a dual recliner sunset swing valued at $2,305 will satisfy the craving. Or perhaps a $7,000 safari-themed bear table. If that doesn't do it there's a custom rifle for $39,995. Get it while it's hot.