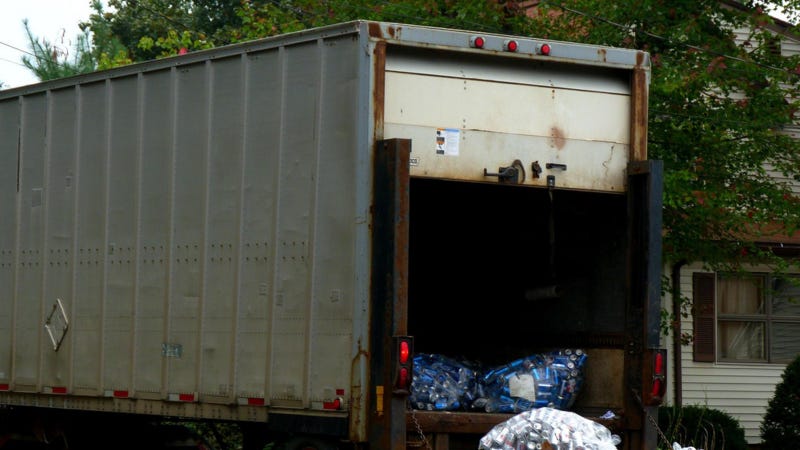 The butterfly effect of global economics can produce some strange results.
You may have heard that oil prices are at lows not seen in years, and that China's economy, which had been driving demand for raw materials for more than a decade, is in the midst of a substantial downturn.
One result? The companies doing your recycling are having to severely cut back on operations.
"Recycling is in a crisis," David Steiner, CEO of Waste Management, America's largest recycler, told the Wall Street Journal in a recent interview. "It isn't profitable for us, and we have to react to that by shutting down plants."
Marketplace's Lizzie O'Leary and Raghu Manavalan report that the company has had to close 10 plants as a result of market conditions, with 50 to 100 people laid off after each plant closure.
Republic Services, America's second-largest recycler, declined to comment to me. But on its most recent earnings call, the company's finance chief said it had "experienced greater than anticipated headwinds from our recycling business" as a result of falling prices.
Here's what he means.
The reason why recycling works in the first place is because recycling companies are able to sell the processed materials that come from your used bottles and cans to major industrial companies. There are whole marketplaces dedicated to buying and selling futures of these materials.
But the price for these products, like PET (polyethylene terephthalate), which is made from oil, has sagged for the past few years — meaning its become cheaper to buy "virgin" products that haven't been recycled.
As have prices for many other recycled goods.
This comes despite the fact that eco-minded, increasingly urbanized citizens across the country are having their cities expand their recycling programs.
At a waste management convention this summer, Waste executives said their companies are being left with an excess of raw materials, with a limited market for the final product, Chris Kudialis of the Las Vegas Review-Journal reported.
"You pay the money to take it through the process, then there's nothing to do with it," Republic Service's government affairs representative Steve Carr said according to Kudialis. "You basically have a product that's worthless and you have to give it away."
The good news is cities aren't likely to be affected, at least for awhile. Timothy Croll, Seattle's solid waste director, told Fusion that the city has a long-term contract with its processors, and it's up to them to determine how to make ends meet. Even when their contract expires and the companies ask for more money, he said, the city will still pay it because their prices remain cheaper than landfill contracts.
Meanwhile, the companies continue to scramble.
"Recycling is what customers want and demand," Waste Connections CEO Ron Mittelstaedt said according to the review journal. "But we're bringing in an unburdened amount of raw material."
Rob covers business, economics and the environment for Fusion. He previously worked at Business Insider. He grew up in Chicago.