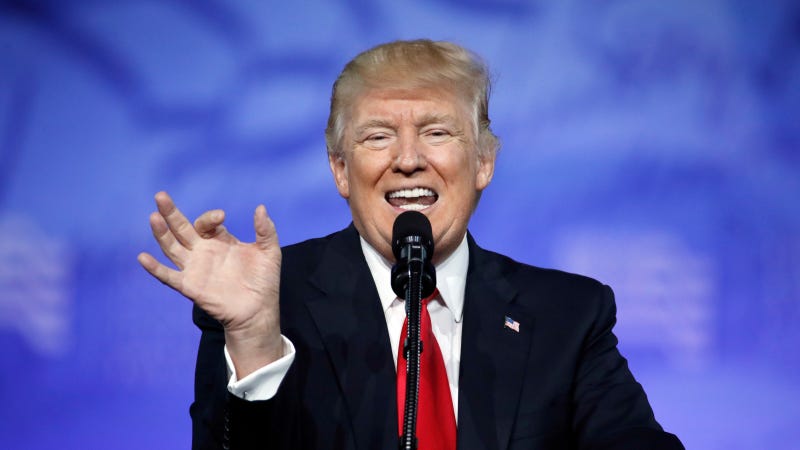 The Trump administration released its first official budget proposal on Thursday, and, as promised, it's full of egregious cuts to climate and environmental programs. The slashing includes a 31% reduction to the Environmental Protection Agency (EPA), and an estimated 17% cut to the National Oceanic and Atmospheric Administration (NOAA); Funding for climate-related projects by the State Department and clean energy research at the Energy Department are also facing cuts. So yeah, the environment is definitely the biggest loser here.
The budget will need to be approved by Congress, which is unlikely, given the drastic nature of the cuts, and dramatic increase in military spending. Still, if passed, these cuts would dismantle a whole range of departments that are critical in protecting the future of Americans, and keeping the environment safe.
David Titley, a retired U.S. Navy rear admiral, former NOAA chief operating officer and Penn State University meteorology professor, described the cuts like this to National Geographic:

It's like giving a 15-year-old kid a whole bunch of coffee, and then giving them a machete and asking them to do surgery: There's a lot of a hacking and slashing.
Environmental Protection Agency
As its name indicates, the EPA is the guardian of the environment in the United States. It's tasked with protecting human health and the environment, and making sure that "federal laws protecting human health and the environment are enforced fairly and effectively." Sounds reasonable, right?
Under the proposed budget, the EPA's funding would be cut by $2.6 billion, reducing the agency's budget to the lowest point in 40 years. The cuts would slash a whole range of programs, including "funding for the Clean Power Plan, international climate change programs, climate change research." The direct attacks on climate research shouldn't be too surprising, given that Trump has long questioned the truthfulness of climate change, and that the newly minted head of the EPA Scott Pruitt recently declared that he doesn't think carbon dioxide is a major cause of climate change. Still, the defunding of research is a further move away from fact-based policy making, and should alarm everyone: It's like if your house is starting to catch on fire, but instead of acknowledging that there's smoke in the air, you rip out the fire alarms and look the other way as your house burns.
The EPA cuts would eliminate over 3,000 jobs from the agency, about a 20% reduction. Other programs to be affected include the Superfund program, which aims to clean up hazardous waste sites, and the Office of Enforcement and Compliance Assurance, which allows the EPA to actually go after polluters who are not following the law. Regional cleanup projects, like the Great Lakes Restoration Initiative, which had bipartisan support, are also set to be axed, as is the office of Environmental Justice, which funds cleanup efforts in some of America's poorest communities.
"It is a sad day when a group of millionaires and billionaires in Washington can decide what's best for America's health and environment," John O'Grady, head of the union that represents EPA employees, told CNN. "The U.S. EPA is already on a starvation diet, with a bare-bones budget and staffing level. The administration's proposed budget will be akin to taking away the Agency's bread and water."

The National Oceanic and Atmospheric Administration
NOAA is a branch of the Department of Commerce tasked with providing research and information on the ocean and the atmosphere that is critical both for the environment and for American commerce. Among a long list of things that NOAA does is monitor dangerous weather patterns and changing ocean temperatures, generate sea charts, monitor fisheries, and protect coastal areas. It's mission is "to understand and predict changes in climate, weather, oceans, and coasts, to share that knowledge and information with others, and to conserve and manage coastal and marine ecosystems and resources." Sounds reasonable, right?
The Trump budget would slash NOAA's budget, significantly limiting the agency's ability to do its job.
While the budget doesn't spell out too many of the specific cuts to NOAA, documents obtained by The Washington Post earlier this week suggest that NOAA's satellite data division would lose over $500 million in funding, a reduction of about 22%. These cuts would make it very difficult for NOAA to continue to forecast weather patterns, monitor natural disasters, and, you guessed it, study climate change.
"NOAA is the lead agency for the nation's weather forecasts, weather satellites, fisheries, ocean services and climate monitoring. If you rely on TV weather forecasts, use a weather app, eat fish, enjoy boating, or claim your status as an Earthling, these cuts potentially have implications for you," wrote Marshall Shepherd, a University of Georgia meteorology professor and former president of the American Meteorological Society.
Titley said while "it does not mean that satellites will fall out of the sky…they're really attacking NOAA's future capability, frankly, without a plan to replace it. It's take-the-money-and-run."
Trump's budget states that it wants to "zero out over $250 million in… grants and programs supporting coastal and marine management, research, and education." Many of these programs are key in helping coastal communities prepare for rising seas and worsening storms, and Jane Lubchenco, the NOAA administrator under President Barack Obama, has argued that these programs are critical, saying that the cuts "hurt states big-time." Yet, the budget contends that these programs "are lower priority" as they "primarily benefit industry and state and local stakeholders."