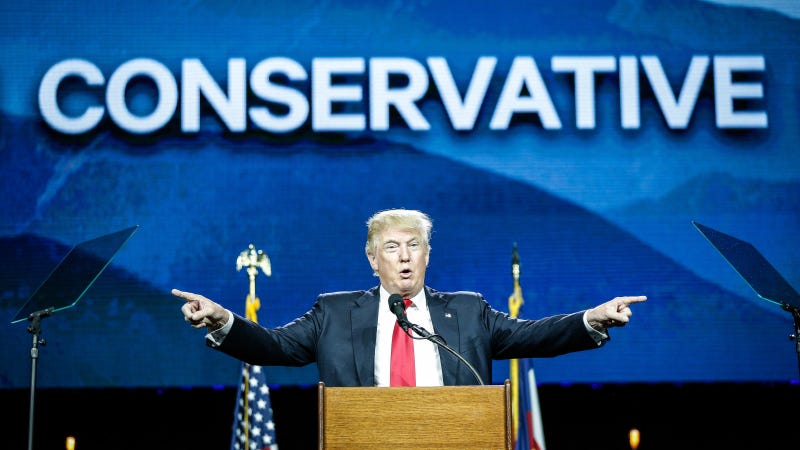 Republican presidential candidate Donald Trump supports fracking, but he doesn't support accepted Republican strategies about how to get drills in the ground. In a news conference on Friday in Colorado, Trump sided with the state's Democrats and environmentalists in opposing state-level bans on local anti-fracking ordinances. These so-called preemptive bans have been pushed in fossil fuel-friendly states across the country to prevent towns and cities from outlawing the controversial practice within their borders.
In essence, anti-big government Republicans, supported by the fossil fuel industry, have used the bans to push their agenda onto smaller communities in their states. It's hypocritical, and Trump just highlighted this, whether intentionally or not. While his concern is not environmentally driven, it could help re-energize the anti-fracking movement in these last few months leading up to the election.
Aside from this unexpected divergence from the party line, Trump stands firmly behind the fossil fuel industry. He may even go as far as choosing "fracking mogul" Harold Hamm as his energy secretary. According to Reuters, Hamm would be the first energy secretary to be plucked directly from the oil and gas industry since the position was created 40 years ago.
There is little doubt that Hamm supports any and all efforts to spread fracking, including state-level bans on local fracking ordinances. Trump's Friday comments to television station KUSA are another example of his mixed messaging, which often puts his supporters in awkward positions.
In the interview, Trump said that he's "in favor of fracking" but that he thinks that "if a municipality or a state wants to ban fracking, I can understand that."
"I think that voters should have a big say in it," he said. "And I think if the voters are voting for it, that's up to them."
These may seem like relatively tame, commonsense statements,  but they cut against the Republican effort to prevent local and state fracking bans.
Jeremy Nichols, the climate and energy program manager for WildEarth Guardians, told me that he thought Trump was pandering to the local voters with his statements rather than actually offering any thought-out policy ideas.
"I think he was tapping into this populism to generate enthusiasm for his campaign," said Nichols. "It seems less about conveying a cohesive energy agenda and more about telling a very energetic voting bloc what they want to hear."
Colorado is a swing state that both Trump and Democratic presidential nominee Hillary Clinton are fighting to make headway in. In May, The Colorado Supreme Court ruled that municipalities could not ban fracking because state law pre-empted them. This only elevated the statewide tension surrounding the issue, as two Colorado cities, Fort Collins and Longmont, had passed local fracking bans before the ruling.
Nichols said that Trump is supportive of both the oil and gas industry and also of "big business being able to trample over the rights of local governments and individuals, such as through eminent domain."
He doesn't think that Trump's position in favor of local bans, if he holds to it, is really contradictory.
"Trump seems to complicate every Republican position, so this just seems part and parcel with the kind of campaign he's running," he said. "Here, though, I don't think it complicates things that much. The Republicans have always had a strong local and states rights platform. Granted, it does collide at times with the party's seemingly vehement pro oil and gas industry platform, but it seems like it's been manageable for the party, especially given that most local governments dealing with oil and gas tend to support industry."
Texas governor Greg Abbott, who last year signed legislation prohibiting cities from banning hydraulic fracturing, is one of the many Republican leaders trying to pull off this balancing act.
In response to the Texas ban, Luke Metzger, the founder and director of Environment Texas, told ThinkProgress that "these bills absolutely conflict with longstanding conservative principles of local control and self-determination. Many of these legislators are speaking out of both sides of their mouths, decrying federal preemption of state sovereignty on the one hand, while pushing one-size fits all mandates from Austin overriding local ordinances."
New York is the only state in the country with proven natural gas reserves to have banned the practice of hydraulic fracturing, a step Governor Andrew Cuomo took in 2014 in response to concerns about health risks.
In April, Trump called New York's fracking ban "a terrible situation," saying the state "is in deep trouble."
"As you know, we didn't take advantage of our energy situation, and now it's very late because the prices are so much lower," he said.
Earlier this year, Clinton also stated that local and state governments should be allowed to ban fracking within their borders, making this one of the few issues relevant to the environmental movement that both presidential candidates agree on. Otherwise, they are a world apart—even as more Americans agree that climate change is a serious problem.
With the divide climate issues starker than ever, the topic is finally becoming visible on the campaign trail.

"The elevated conversation about climate change in this election is truly historic," Gene Karpinski, the president of the League of Conservation Voters, told the New York Times this week. "In 2012, no one asked about it and the candidates didn't talk about it. In 2008, the candidates were in the same place, so no one talked about it. They've never talked about it this much."
In playing clean-up over Trump's statements in Colorado, Dan Haley, president and CEO of the Colorado Oil & Gas Association, said that "developing oil and gas resources in Colorado can be a complex issue that doesn't lend itself well to sound bites."
Unfortunately for him, Trump lends almost all his energy to sound bites.