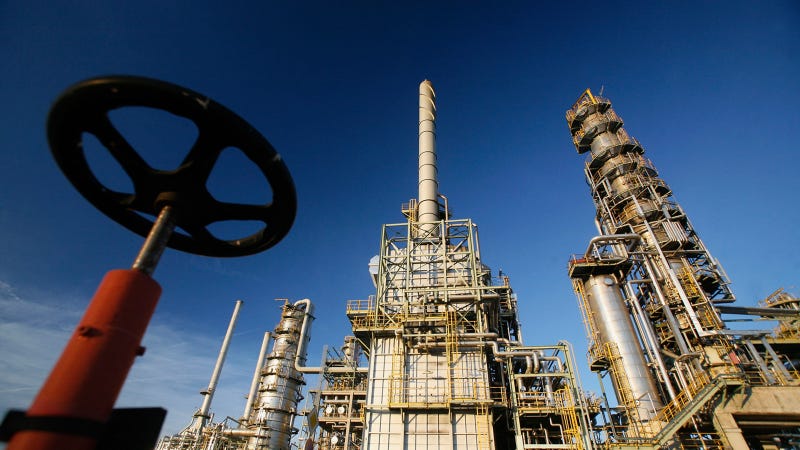 Seemingly every week a big news item draws attention to the close relationship between President-elect Donald Trump and Russia. With the announcement that Trump is nominating ExxonMobil CEO Rex Tillerson as secretary of state—someone with a historically close working relationship with Russia—this week is no different.
Not only is Tillerson well versed with the upper echelons of Russian power, including head honcho president Vladimir Putin, but he's also spent a career climbing the ladder of the world's largest publicly traded international oil and gas company, ExxonMobil. He is not an outright climate change denier like a number of Trump's cabinet picks so far, but it's pretty clear where his allegiance lies when it comes to climate action: If it's bad for the oil industry's bottom line, he's probably not going to like it.
As global leaders and U.S. politicians watch the Trump-Russia relationship unfold with understandable apprehension, exactly what Russia hopes to gain from Trump's presidency when it comes to international climate policy has been less discussed.
Russia became the largest greenhouse gas emitter not to have ratified the Paris Agreement after India and the EU signed on in early October. According to a number of experts, Russian leaders, who have extremely strong ties to the country's fossil fuel industry (much of which is state run), are keen to wait as long as possible to enforce domestic emissions cuts. Trump's rise to power takes the global outcast factor out of this deliberation and makes it easier for the country to abstain from action.
"Russia has never been an enthusiastic or leading partner in international climate diplomacy," said Ted Parson, an environmental law professor at UCLA. "They've avoided blocking the agenda, but have been passive or slow."
Parson said the best way to understand Russia's position is in the country's similarities to oil-dependent Gulf states.
"Any serious measure to restrict emissions is going to hammer them very hard," he said. "Russia would be very pleased with several years of no significant action to reduce emissions."
Parson said it's hard to find a silver lining in the cloud surrounding Tillerson's nomination for secretary of state. Exxon has become embroiled in a story exposing the company's decades-long coverup of their leadership's understanding of the role of greenhouse gas emissions in climate change. The Los Angeles Times found a "gulf" between the company's internal and external approach to climate change from the 80s to the early 2000s, during which Exxon both extensively researched how greenhouse gas emissions could impact climate change while at the same time neglecting to take public action and even disseminating misinformation.
"Tellerson didnt originate that strategy, but he has assumed the mantle of obstruction," said Parson.
When it comes to the Paris Agreement, it's important to understand that the treaty doesn't require any one country to do any one thing. Instead it's comprised of shared commitments brought forward by each country and the assumption that the framework will encourage companies to "egg each other on," according to Parson, who called it a "very fragile structure."
If Russia and the U.S. back away from the agreement or even just ignore the spirit of it, it could slow global action for years.
Parson said it's possible that in the void of U.S. leadership on climate the world's largest greenhouse gas emitter, China, could step up to the plate. He said China has already assumed a strong position on climate mitigation in recent years and is leading aggressive action in the areas of technology and policy. This is both driven by a crippling domestic air and water pollution crisis associated with the rapid rise of fossil fuel power plants and the Chinese political leadership taking on the stature of a global leader and the responsibility of solving global governance problems.
"They are not a corrupt state in the way Russia is," said Parson. "Chinese national leadership doesn't belong to any industry like Russia's is aligned with the oil and gas sector."
Oskar Njaa, who works with the Russian Department of the Oslo-based Bellona Foundation, an environmental NGO, said that on top of Russia's economy being so reliant on fossil fuel production, public opinion on climate change in Russia remains divided.
"Climate skepticism and lack of information about the issue in media is in part responsible for the fact that many Russians still are unsure of whether climate change is manmade or not," he said. "Regardless of their view on the source of change, many see warmer weather as a blessing. Warmer winters are obviously not the only consequence of climate change in Russia, but this state of mind definitely has implications for the domestic pressure to ratify the Paris agreement."
Njaa said that the worst that could happen would be that the U.S. would withdraw from the Paris Agreement under Trump, causing other countries to second guess their commitment. He reinforced Parson's notion that in such a case, China—or even Russia—might see an opportunity to show "that they are the ones being responsible" by continuing to push for global climate action even as one of the planet's biggest polluters shirks responsibility.
"In every society, local or global, if someone fails, someone else has to step up," said Njaa. "Seeing as the future of U.S. participation in the Paris Agreement is hanging by a thread, the rest of the international community has an even more important role in showing that the Paris Agreement can lead to real change."
According to Robert Orttung, a professor of international affairs at George Washington University, Russia's scientific community was working on climate issues long before they caught on in the West.
"However, these scholars have little influence on policy makers because the Russian budget draws heavily on oil and natural gas for its revenues," he said. "The state now controls the vast majority of Russian energy producers and wants to keep this source of revenue flowing as long as possible."
Orttung thinks in the end, government—U.S., Russia, or China's—won't be the leader in addressing climate change. Rather, technology in the form of cheap renewable energy will lead the way.
"As prices for alternative energies come down, people will switch over to them regardless of who is sitting in the White House," he said. ​