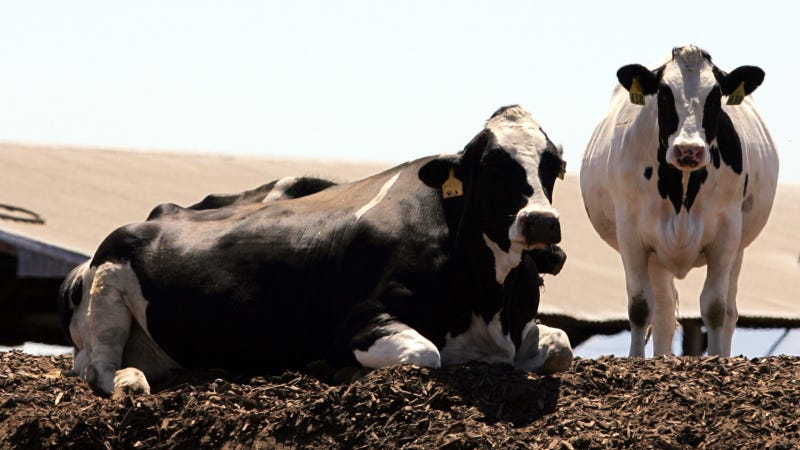 GRANDVIEW, WA — Plumes of dust blowing off of piles of manure, the smell of ammonia in the air, polluted groundwater, and a deadly birth defect cluster have residents of Yakima's Lower Valley worried a new state permit meant to regulate dairy farms won't do enough to protect their communities.
"I feel the state government has caved to the demands of the dairy industry — the permit the Department of Ecology is putting forward won't do anything at all to protect the groundwater," said Jean Mendoza, executive director of Friends of Toppenish Creek.
The environmental group was formed in 2008 by neighbors who worked together to stop a dairy operation from moving in next door to their properties on the Yakama Indian Reservation.
"The population of the Yakima Lower Valley is largely farm workers, it's a group of people who are not able to speak up for themselves much," Mendoza said. "People are worried about losing their jobs."
While the group was successful in keeping that dairy operation out, many others in Yakima's Lower Valley have not been so lucky. The area is home to some 100,000 dairy cows, and in addition to producing milk, they produce more manure than the environment can accommodate, environmentalists say.
It is stacked, churned and composted, stored in open, unlined lagoons, and spread on fields as fertilizer. Ammonia is released from the manure contributing to air pollution that can have respiratory and psychological health impacts on residents living near dairy operations.
What's more, unsafe levels of nitrates found in groundwater environmentalists say resulted from livestock and manure applied to crops as fertilizer have been found in at least 20% of the Lower Yakima Valley's private wells.
Some of them question whether nitrates in the groundwater may be connected to a cluster of rare birth defects identified in Yakima County.
Environmental hazards like these usually hit marginalized communities the hardest, and this case is no exception, social justice advocates say.
Low-income Latino families make up the majority of those affected by this pollution — making the outcome of the ongoing permit process a social justice issue, said Ellicott Dandy, economic and environmental justice advocacy manager for OneAmerica.
Washington's Department of Ecology is in the process of drafting a new permit to regulate hundreds of dairy farms in the state in an effort to reduce water pollution, but Dandy said it doesn't go far enough.
"The permit is a disaster," Dandy said. "There was a lack of outreach to communities who depend on strict regulation for drinking water."
Mary Baechler, who was involved with testing over 500 wells in the Yakima Lower Valley, has unanswered questions about possible links between the groundwater pollution and anencephalic births.
Research has linked exposure to nitrates in drinking water to a higher risk for the always fatal birth defect called Anencephaly, in which a baby is born without parts of the brain and skull.
Washington's Department of Health investigated the issue but found that the majority of the women who gave birth to Anencephalic babies were on municipal water at the time of conception, not drinking from private wells that could have had unsafe levels of nitrates, according to Julie Graham, spokesperson for the Washington State Department of Health. Public water is regulated and known to be under the federal limit of 10 milligrams per liter, she added.
The investigation even contacted the author of a study that found links between mothers drinking groundwater with nitrates and neural tube defects, but could not find a link to Anencephaly specifically, Graham said.
"After taking these steps, we could not establish a link between the elevated rate of Anencephaly in the area and nitrates in drinking water," Graham said.
"Unfortunately, the results of our investigation are inconclusive," Graham said. "We were not able to identify a single cause for the elevated rates of Anencephaly."
The Department of Health and the CDC concluded that the birth defects were the result of Latino women in the area not getting enough folic acid. In response, they worked with the FDA to require folic acid be added to corn masa.
Despite the findings, Baechler and Dandy still question whether high levels of nitrates could be connected to the birth defect cluster in the state.
"Is it really that much of a stretch when you see the overlap of Anencephaly and high rates of pollution?" Dandy asked.
What Baechler does know that Concentrated Animal Feeding Operations (CAFO's) are polluting the groundwater and affecting private wells.
"One thing I can say with absolute certainty, and I'm in a unique perspective to know, the closer you get to a CAFO the higher nitrates you find," Baechler said.
Nitrates in drinking water can cause Blue Baby Syndrome and possibly even cancer, research has shown.
The new permit hopes to address the pollution by focusing more on prevention, and includes protections for groundwater. The draft permit released in June received 4,500 public comments and has earned ire from both the dairy industry and environmentalists.
The draft permit would add new regulations including a buffer zone between lands where manure has been applied and waterways. It would also send out engineers to assess manure lagoons to investigate whether or not they are allowing nitrogen to leach into the soil.
Some dairy farmers worry that the costs of complying with the permit could put them out of business, the Washington State Dairy Federation has said. The Department of Ecology has said that the cost to dairies was on its radar.
The dairy industry generated at least $5.2 billion in 2011 and created around 18,000 jobs — a major economic boon to Washington.
But environmentalists say too much attention was paid to the potential impacts on dairies, and not enough on the communities that would be impacted by their pollution.
Many residents with polluted wells in the Lower Yakima Valley depend on dairy jobs for their livelihoods and were unwilling to speak about the pollution.
The two counties in Washington state with the most CAFO's are also home to the majority of contaminated wells. North of Seattle in Whatcom County, 29% of tested wells had unsafe levels of nitrates, Dandy said. And in Yakima County, about 20% of wells had high nitrate levels.
OneAmerica is part of a broad coalition petitioning Gov. Jay Inslee to at least improve the permit if not instruct the Department of Ecology to start over completely, Dandy said.
Troy Peters, an irrigation specialist at Washington State University who is a member of GWAC, said his role is to help find solutions for reducing nitrates in groundwater.
He's helped develop an irrigation scheduling app which pulls weather data and takes various crop factors into account to give growers an idea of when they've watered enough and can shut it off.
"If you put too much water on a field, then the water will go into the soil but it can only hold so much water so if you put more than it can hold it will leach through the soil profile, down past the bottom of the root zone of the crop," Peters said.
"Then it has the potential to take nitrogen nitrates with it," Peters said.
The entire Yakima Lower Valley is irrigated, so "there's a potential for that to be happening on a very broad scale," Peters said.
Hundreds of farmers are already using the app, Peters said.
Awareness of the problem has led to a drop in nitrogen contamination in Yakima County, according to the Washington State Dairy Association. It tested more than 28,000 acres in 2016 and the percentage of acres that "needs attention" dropped to 6.6% from 11.9% in 2014.
Jason Sheehan, owner of Sunnyside's J&K Dairy, like Peters, is also on GWAC and has been upgrading technology at his dairy to make sure they're using the correct amount of fertilizer and not allowing nitrogen to leach into the groundwater.
"We get our soil tested twice a year and are applying economic water management," Sheehan said. "We've also upgraded our application equipment, utilizing GPS mapping, to make sure we're using the right amount of fertilizer."
Sheehan mentioned that Benton and Franklin Counties, the other two counties besides Yakima County that are part of the the birth defect cluster, have water pollution problems but livestock are not the source.
"There are lots of contributors to the issue, including fertilizers and septic systems," Sheehan said. "I'm not saying dairies aren't a contributing factor, but it's not the only factor."
Whether the groundwater pollution or more nuisance related issues like smells and dust, residents of the Lower Yakima Valley hope that the state will prioritize their health as much as that of the dairy industry.