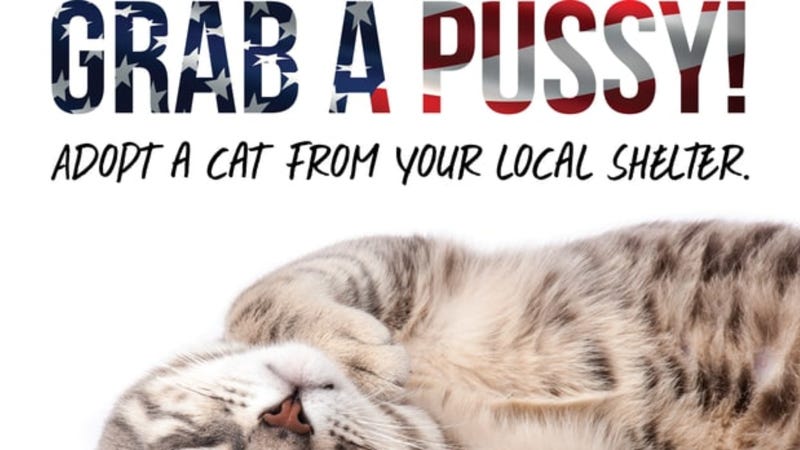 PETA, the people who've compared eating pork to cannibalism, fat-shamed non-vegetarians, and casually compared people to Nazis , are now taking pages out of Donald Trump's book in their latest ad meant to encourage New Yorkers to adopt pets.
Rather than keeping things casual and just suggesting that people bring a new furry friend home, the proposed billboard implores people to "grab a pussy," echoing Trump's words from recently-surfaced audio in which he brags about grabbing women by their vaginas against their will. The infamous phrase is written in big, bold patriotic letters above an image of a kitten laying on its back staring at the camera.
The official statement for the ad describes it as a "purrvocative" call to action meant to remind people of the difficulties faced by cats without homes.
"We hope this ad will encourage people to think for a second about the crisis facing cats and other animals," PETA President Ingrid Newkirk said, acknowledging the controversy surrounding Trump.
PETA goes on to describe the problems caused by the US's exploding population of homeless cats and gently reminds anyone unfamiliar with their mission statement that PETA doesn't "directly or indirectly participate or intervene in any political campaign." At no point does the organization acknowledge the fact that it's making light of the GOP frontrunner describing how he has forced himself onto a number of women.
From PETA's perspective, making jokes about sexual assault are totally chill so long as the joke ends with you adopting an animal from a shelter. As abhorrent an idea as that is, it's at all not surprising. This is PETA, this is what they do. Adopting cats is great! Downplaying allegations of rape for a laugh is not.
Charles reports on comics, culture, and general geekery.