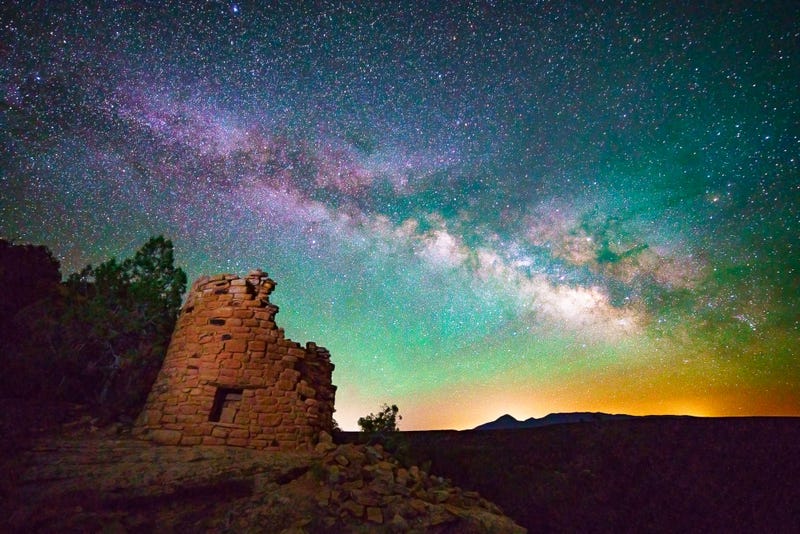 There's so much happening in the circus that is 2017 American Politics that you'd be forgiven for missing something important. A Volkswagen full of clowns has caught fire in the center ring and a bear with a propellor beanie is eating her trainer in another, so it's understandable that you didn't notice when someone picked your pocket from under the bleachers.
In April of this year, President Trump issued an unprecedented executive order asking his newly appointed Interior Secretary Ryan Zinke to "review" any national monuments that were designated in the last 20 years and that were over 100,000 acres — thus leaving 27 of our irreplaceable monuments in harm's way. A public comment period was very quietly opened for folks like us to have our say, but there was so much else going on in the world that few people even realized it. Well, today is the last day to comment.
To raise awareness about this issue, and to drive people to that comments page, I set out to visit every one of those national monuments under threat, and make a short, sharable, one-minute video for each one highlighting its unique qualities. It was a harebrained scheme at best, but today I can announce that I made it to all 22 monuments in the continental U.S. and produced videos for the five marine national monuments falling under threat of the executive order as well. It's been the most exhausting month of my life. Here's how it happened and what I learned.
Background
About a month ago, I was driving down the highway somewhere in Nevada, trying to figure out what my next adventure would be. In July 2015, I moved into a van full-time and hit the road in a project that I started at Gizmodo called Connected States, designed to look at modern off-the-grid living. The whole #Vanlife thing quickly became addictive, and the planned year flew by, with the two year mark now just five days away, but I'd always wanted my trip to be more than just some guy's adventures in his van, and I'd been looking for a way to do that.
Suddenly, I remembered that I'd heard something about national monuments. I pulled over, googled it, and there it was: Trump saying these monuments were just a federal land grab, and his newly appointed Interior Secretary hopping-to. The public comment period was already open; in fact, it was just a month shy of closing. But it didn't seem to be on anybody's radar. So I thought maybe that was something I could help with. I quickly reached out to my friend Nick Furness, who works on Esri's ArcGIS Online mapping software, and I asked if it could find the mathematically most efficient route between all of the monuments. He had a map that night. That week I threw together 27Monuments.org to be a catch-all for the project, and more importantly to give people an easy way to get to the Department of the Interior comment page, which they'd made tricky to find.
On June 13th, I changed my oil, bought some groceries, swapped in some all-terrain tires (which ended up being one of the best investments I've ever made), and headed south from Denver. My first stop was the Rio Grande del Norte National Monument in northern New Mexico. It's all been a blur since then.
National Monuments Are Different
A national monument isn't the same thing as a national park. Though it can be. A national monument is an area set aside for protection because it has unique and important natural, historical, scientific, and/or cultural assets. They may be managed by the Bureau of Land Management, the National Park Service, the National Forest Service, or the US Fish and Wildlife Service. They are typically way more raw and rugged than your average national park. A few of them have no paved roads whatsoever. You can typically camp just about anywhere within these places — and it usually costs just a few bucks if it isn't entirely free.
These are public lands in the truest sense. There are open and available to anybody who is willing to put in the time and effort to get to them, and those that do are deeply rewarded. Because these places are further off the beaten path they are far less crowded than national parks. I traveled many miles in some without seeing a single other person. You might think of them as monuments to American wilderness. Many of these places have remained untouched for thousands of years. Many of them have petroglyphs and ruins from ancient Native American dwellings, some of which stretch back well beyond 10,000 years.

To be honest, I didn't know what to expect from these places. By the time I had the idea for this trip the comment deadline was already looming so close that I was only able to do a minimal amount of preparation. I went on Facebook and asked if any friends would like to help, and more than a dozen responded immediately. I asked most of them to do research on one or two of the locations and put it in a Google Doc, so I could get the basic stats before pulling in, and I'd do some more research in the 11th hour, too, to fill in the blanks. I was never prepared, though, for the incredible sights that I would take in, and I found myself in a state of constant amazement once I'd actually made it to the sites.
The Long And Winding Road
The road to get to these places was rougher than I'd anticipated. In some cases I mean that quite literally. The biggest obstacle, though, was sleep. For the first eight days of the project (and in the days leading up to it when I was figuring out logistics) I wasn't getting any of it. I would estimate that I averaged two to three hours of sleep a night. Sometimes it was as much a five hours, and sometimes it was half an hour of lying there in the middle of an anxious half-sleep. I was driving myself into the ground.
Seeing this, my dad stepped in and did something rather heroic. He'd had a vacation planned, but he saw what I was doing to myself and he said, "How about I come and join you. I'll do most of the driving and cooking, and you can edit, write, and do what you need to do." That really might have saved my life, because, honestly, I was in a bad way there. At the very least, I wouldn't have made it to all of the monuments. Suddenly I was sharing a bed with my dad for the first time since I was an infant (my van only has one double bed), but now I was averaging four to five hours of sleep a night. Still brutal when drawn out over three weeks, but less likely to be literally deadly.
That isn't to say that things got easy once my dad joined in. My original plan was to hit all of the spots in the Southwest first and then head north through California (which has six monuments in the crosshairs), into Washington state, and go east from there. Remember that massive heatwave that hit a couple weeks ago? Yep, that was then. When I shot my video in Gold Butte National Monument in Nevada it was 114 degrees and I could barely think. I called Nick at Esri and we came up with the second most efficient route, which would take us north immediately (from Nevada straight into Idaho). I was betting that Arizona would counterintuitively be cooler in July than it was in June, and luckily I was right, by about 15 degrees.
The other jam we almost got ourselves into was at Giant Sequoia National Monument where we took a turn down the wrong road which just kept leading us deeper and deeper into the woods on what turned into roads made for jeeps and ATVs. My beloved van, Ashley the Beast, is a gigantic, top-heavy Sprinter with rear-wheel drive only. So when I took us down a steep, soft hill that we likely couldn't get back up, and we were confronted with a flooded creek, I could see the project ending before my eyes. Luckily, we realized that the logs causing the creek to be dammed up were actually once part of a makeshift bridge. With the sun already setting, we got to work. It was a backbreaking, mosquito-ridden hour of moving logs to drain that literal swamp, and finding a configuration that would be stable enough, but when Ashley grunted and growled her way over it, it was the deepest sense of triumph I've felt in years.
The Monuments
I was admittedly ignorant of the vast majority of these places before I decided to take on this project. I'd heard of a few of them, like Giant Sequoia and the Marianas Trench, but generally I didn't know much. But what was most amazing to me was that as I was dragging my sleep-deprived body from place to place, more or less in full zombie mode, I'd show up at these places and find myself shaken awake. Every one of them had something incredible about it (often many things), and they were each amazing in their own way.
Craters of the Moon, for example, feels like you're walking on an entirely different planet. The landscape is so rough; so incredibly volcanic. World Champion skier Lynsey Dyer met me at that one because it was the monument she grew up next to. In many ways it was Lynsey that inspired this whole trip. It was sparked by a conversation I had with her where she had said that she loves adventure, but when it's an adventure with a purpose — that helps the world in some way — it's so much better. She was right.
Canyon of the Ancients was one I hadn't even heard of before this, and it absolutely blew me away. You can just feel the history in a place like that. I felt the same way when I visited Bears Ears, which Interior Secretary Ryan Zinke has already indicated he plans to recommend for reduction. Fun fact: When Zinke traveled to Utah to objectively asses the situation at Bears Ears you would expect that he'd take time with both sides. Well, he did. He spent four days with the politicians and companies who are trying to roll back protections on Bears Ears, and he spend ONE HOUR with the coalition that worked for years, publicly, to get it designated as monument. That wasn't a typo. One hour. And oil companies in the area have already explicitly stated that they are keen to drill there.
Beyond Politics
That last bit brings me to an important point. For these monuments to be created, it took coalitions of local citizens and businesses, scientists, religious leaders, and politicians years of working in a very public way. There were numerous opportunities at every stage for individuals to raise their voices and have input. Monument designation is an extremely open process. This stands in stark contrast to the "review" process that is going on now. Nobody knows what Secretary Zinke is looking at, or what his criteria is, or what his motivations may be. It's happening behind closed doors, and yet it may result in our public land being sold off to the highest bidder for mining, drilling, logging, or other forms of private development.
It must be noted, too, that despite knee-jerk reactions, this is not a partisan issue. Since the American Antiquities Act was established in 1906, 16 different U.S. presidents have used it to create national monuments: Eight of them Republican, and eight of them Democrat. Honestly, most of my Republican friends are more outdoorsy than most of my Democrat friends. These are lands that are open for camping, hunting, fishing, and all kinds of other activities, and they're open to everybody and cost practically nothing to use. Moreover, they preserve rare and unique parts of our country and its history. They are home to animals that don't live anywhere else and to relics from a time before recorded history.
Today is the final day of the public comment period. It closes at 11:59pm Eastern Time tonight. Here is that link. It's been slow all weekend, likely overwhelmed by the number of people attempting to comment. Please be persistent and reload it until you get it. Alternatively, it's broken and you're short on time, MonumentsForAll.org is also collecting signatures at its website. They are a great organization and they will make sure that your comment makes it to the DOI.
I hope you will raise your voice on this issue. These lands belong to all of us, not to politicians or special interests with lobbying dollars to spend. Many of them have remained unchanged for thousands of years, and if we screw that up now, there's no undo button. Once this wilderness or these antiquities are destroyed they cannot be un-destoryed. You can learn more at 27Monuments.org. There's also a Facebook page and you can follow along on Instagram, too. Even once the comment period closes there will be more to do, and the fight will continue, but for now, leave a comment while you can.
---
Brent Rose is a freelance writer and filmmaker currently traveling the U.S. in a high-tech van looking for stories to tell. Follow his adventures on Instagram, Twitter, Facebook, and ConnectedStates.com

A few more favorite episodes are here: