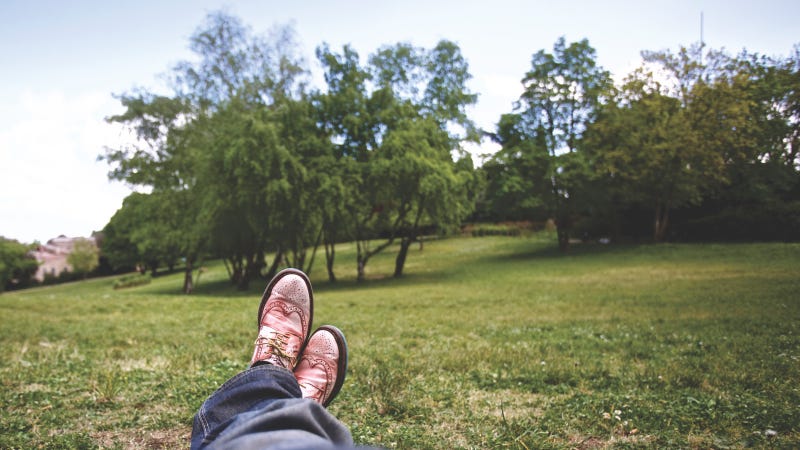 As a recent New York transplant, I can say with newfound appreciation that public parks really are a lifeline. Navigating the concrete jungle that is America's largest city can be quite disorienting. The priceless green space provided by any of the city's hundreds of parks is a welcome respite. A new, first-of-its-kind national study on urban park use in cities across the country looks at how city dwellers like myself take advantage of these urban oases. It turns out we could be squeezing a lot more quality of life and health benefits out of them.
The study by the RAND Corporation, a nonprofit research outlet, found that not only are not all parks not created equal—something we all know—but that they don't give equal opportunity to all. Furthermore, the people being left out, including senior citizens and residents of low-income neighborhoods, are the same people that could benefit the most from fully utilized parks.
By looking at 174 neighborhood parks in 25 cities with 100,000 or more residents, the study provides a national snapshot of what parks offer and how they are used. What it found is that city parks are, somewhat unsurprisingly, heavily geared towards young people, i.e. children and teenagers. Full-blown adults and senior citizens are less targeted; rather than having classes or equipment for these groups, parks are playground-centric. The study also found that there's a gender gap across the board, with females representing only 40% of children and 35% of teens observed.
"I was surprised at the considerably low use by seniors and especially girls and teenaged females," Dr. Deborah Cohen, the study's lead author and a senior natural scientist at RAND, told me. "I think the problem is not so much that parks are kid-centric, because all children need to play and exercise, but that parks neglect older folks. Physical activity is necessary throughout the life span, and parks fail to provide enough facilities and programming for people as they age."
According to the study, neighborhood parks, which range in size from about 2 to 20 acres, are the "backbone" of the U.S. park system, providing a wide range of facilities, including playgrounds, picnic tables, basketball courts, and all sorts of green spaces.
More than 9,000 parks and recreation departments across the country manage more than 108,000 public parks and 65,000 indoor facilities. For the RAND study, published in the American Journal of Preventive Medicine, observers visited a cross-section of these parks in urban neighborhoods during the spring and late-summer, periods when they may have been at their busiest.
As far as attracting an older crowd, the study found that walking loops, fitness zones, and other exercise areas generated the most interest and led to the most physical activity from this demographic. Presumably more investment in this type of infrastructure would help draw in adults of all ages that otherwise might feel excluded from park facilities. Just under one-third of the observed parks had walking loops while around 90% had play areas and half had basketball courts.
The study also found that park use in higher poverty neighborhoods was lower than other areas even though the facilities of the parks didn't seem to differ substantially.
"Parks in lower income neighborhoods tend to offer fewer supervised activities and are a little smaller than parks in higher income neighborhoods," said Cohen. "Although we did not assess safety concerns, we know that fear of crime plays a role in whether people are comfortable visiting parks."
The authors note that investment in urban neighborhood parks is relatively small, averaging about $73 per capita in 2013, less than 1% of the amount spent on each person on healthcare in the same year.
While Cohen thinks relatively modest investments could make parks much more conducive to physical activity for everyone, she also doesn't think budget is the only issue holding back their potential. She said cultural norms are also very important and that most parks are underutilized.
"If parks are built with attractive facilities and programmed with interesting classes and events, they will be better able to attract local residents," said Cohen. "Just getting out of the house will increase physical activity."
Obesity and lack of physical activity are national epidemics that are only increasing in severity. Many healthy outdoor habits start young, and the more time kids spend outside the more likely they are to grow up with outdoor activities as a priority—a disposition most Americans could greatly benefit from as they age.
While about one-third of children and adolescents are considered to be overweight or obese, more than two-thirds of adults meet the criteria. Adults may also benefit more immediately from any physical activity offered by parks, according to the study, as it could prevent or mitigate the impact of certain chronic diseases. National recommendations are that adults get at least 150 minutes of moderate-to-vigorous physical activity a week with youth getting about an hour a day.
Believe it or not, these days the average American spends 93% of their life indoors; 87% in buildings and 6% in vehicles.
So stop reading this and get outside. Or at least go read it in a park, maybe while walking around a loop.