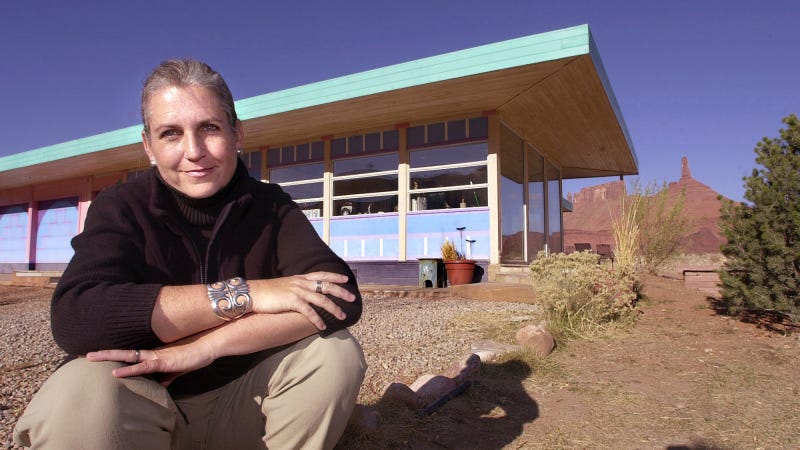 Earlier this year, author and environmentalist Terry Tempest Williams bought leasing rights to 1,120 acres of public land in Utah to spare it from fossil fuel development. In explaining to the Bureau of Land Management at the time why her bid was legitimate, she said that "you can't define what energy is for us. Our energy development is fueling a movement."
Williams and her husband, Brooke, also say they did everything they thought necessary to meet the legal requirements of the leasing process, including setting up a company, Tempest Exploration Company, LLC.
As it turns out, BLM was unpersuaded by these actions, and on Wednesday the agency determined that only those fully committed to extracting the resources from the land can bid it on.
According to Michael Freeman, a staff attorney with the environmental nonprofit EarthJustice, this decision represents much more than just the denial of poetic justice—it gets at the heart of the problem with how BLM, which administers some 264 million acres of public lands, prioritizes fossil fuel companies at the expense of others.
"What I find really striking about this is that someone went through the process, followed the rules, paid the money, was prepared to pay rent and they won't let her lease the land because she's not part of the oil and gas industry," said Freeman. "That's not how it's supposed to work and what BLM is doing is probably illegal."
Freeman said that oil and gas companies buy leases all the time on speculation, and BLM doesn't require them to show that they're going to actually extract oil and gas before issuing the lease. He said companies routinely sit on leases for years without developing them.
In looking at the bigger role of BLM, he said the agency's mission is to "manage public lands for the good of the public" and that "sometimes this involves energy development and sometimes it means protecting resources."
Right now there's around 20 million acres of public land under lease that isn't being developed for oil and gas (out of 32.2 million acres of total federal land under lease for such purposes). BLM has "suspended" around three million acres of these leases, meaning that the lessees no longer pay rent on them, although they continue to control the land.
"Requiring a bidder to show that she will develop leases before she even gets them is something I've never heard of BLM doing," Freeman said. "Apparently the agency doesn't want a member of the public to buy leases when the individual is not clearly going to develop the land."
Studies show that phasing out fossil fuel leases on public lands is crucial to keeping climate change within the 2° C temperature increase that most scientists believe is necessary to avoid cataclysmic impacts. Tempest's action was part of a larger "Keep it in the ground" movement determined to protect public lands from drilling. Members of the campaign have tried to be present at every recent public lands and waters fossil fuel auction trying to raise awareness for the cause and pressure the government into taking a firmer stand.
The failure of Tempest and her husband to secure the rights to the land, which they attempted to pay $2,500 for ($1,680 plus a $820 processing fee) is a blow to the movement, but also a call to action.
"The BLM's decision to reject the oil and gas leases legally purchased by Terry Tempest Williams and Brooke Williams demonstrates the agency's clear bias towards fossil fuel companies and their bottom line," said Marissa Knodel with Friends of the Earth. "It's shameful that the BLM would use a double standard that places greater value on raising corporate profits than the safety of people and our climate."
Ryan Sutherland, a spokesperson for BLM's Utah office defended the agency's decision, saying in a statement to The Desert News that "Ms. Terry Tempest Williams of Tempest Exploration indicated on several occasions that the company has no intention of developing the two leases," and that "BLM, therefore, had little choice other than to deny the lease offers."
In a letter to Williams rejecting her bids, BLM Utah Director Edwin Roberson cited a provision in the bureau's standard lease agreement requiring buyers to "exercise reasonable diligence in developing and producing" oil or gas.
According to the Tempests, their company met all the legal requirements of the leasing process:

We bid on two leases for which there was no other bidder, so as not to prevent another party from acquiring a selected lease parcel. We paid the required fees. We have consistently stated that we would comply with the law and regulations governing management of the leases. We have made clear to the BLM that we would consider developing our leases when science supports a sustainable use of the oil and gas at an increased value given the costs of climate change to future generations. This is the same approach used by oil and gas companies that routinely base their exploration and development decisions on the price of oil and other market factors and often hold their leases for years without drilling.
In discussing the experience of bidding on the property with on Democracy Now! earlier this year, Tempest said the "lands go up for lease auction, that gives the highest bidder the opportunity to speculate, to drill for oil and make an enormous profit, as we know…It's oil and gas companies. It's very secretive. If you talk to them, they won't tell you who they're representing."
She said the whole process is very emotional and disheartening for her because it turns public lands into something not public at all, but rather makes them available to the highest bidder from a "secret society for oil and gas companies."