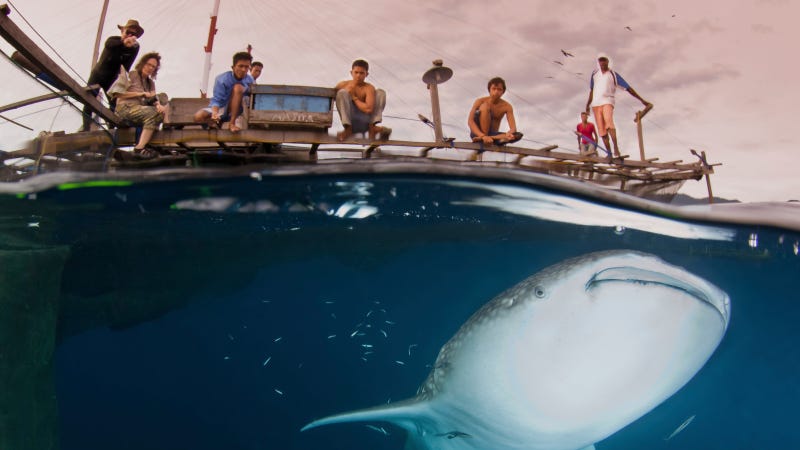 NIMBYism is one of the strongest calls to action in the environmental movement. When something people don't like is going on nearby, the "Not In My Back Yard" movement can galvanize into action in no time—whether to vilify a wind farm, blockade a coal mine, or pass a local ordinance on light pollution.
But when the source of discomfort is farther away, that righteousness can quickly dissolve into defeatedness, and from there it's a small leap to being out of sight and out of mind. This tragedy of human disposition is a major hurdle to the environmental movement, which by definition is both local and global. And when global pressures overwhelm local priorities, the result is not always pretty. For example [insert any human-caused environmental catastrophe].
A new film from Conservation International, a U.S.-based nature conservation organization, aims to bridge this perception gap using virtual reality technology. The result is a stunning short film called "Valen's Reef" that flattens the world in a good way; allowing viewers to feel like they are experiencing the beauty of the remote reef firsthand while also painting an intimate portrait of the film's protagonist, fisherman-turned-coral-reef-scientist, Ronald Mambrasar.
Filmed in the easternmost reaches of Indonesia in an area known as Bird's Head, the film documents a decade-long effort to transform an area on the verge of overfishing and widespread destruction back into one of the most biodiverse marine habitats in the world. The focus of the film is on Mambrasar and his son and their development into conservation experts.
Lauren Katz, director of the Seascapes Program at CI, told me that when CI hired Mambrasar in 2006 he had little formal training and no advanced degree, but that he more than made up for it with curiosity and familiarity with the waters he'd been fishing for years. He said CI trained Mambrasar in a number of specialties, including conservation theory, scientific methodology, coral reef biology, and that he is "now part of a monitoring team that regularly evaluates the health of reefs."
Katz said the film, which was produced by VR experts at Vrse.works and their colleagues at Finch Company and made possible with support from the Tiffany & Co. Foundation, is necessary to "show people the places that need protecting"—especially remote places like Bird's Head that can easily fall off people's radar. According to Katz, it can take over a day to get there, including three flights and a long boat ride.

"'Valen's Reef' takes you there in an instant, introducing you to a member of the community and immersing you in the thriving waters, filled with fish, corals, sharks, and rays," she said. "In about seven minutes, the film makes you feel a connection and empathy with this unique place and with the plight of our oceans."
CI is making a special effort to focus on community-based conservation programs like the one explored in the film because these localities have the most to lose and to gain from their involvement.
"Community-based conservation programs are led by the local communities with the greatest stake in natural resource management, and as such are often better aligned with community aspirations, better designed to meet local community needs, and more sustainable long-term with steady champions in place forever," said Katz. 

Communities like those around Bird's Head are being encouraged to take ownership of their inner NIMBY like so many well-off neighborhoods in the United States do for even the slightest aggravation, such as excessive noise from leaf blowers. But in order to put themselves in a position to do this, they need to receive outside education and resources from groups like CI. If all goes as planned, there will be many more of these programs in the future.
"Conservation International is committed to working with local and indigenous communities around the world on similarly ambitious community-based conservation programs," said Katz.