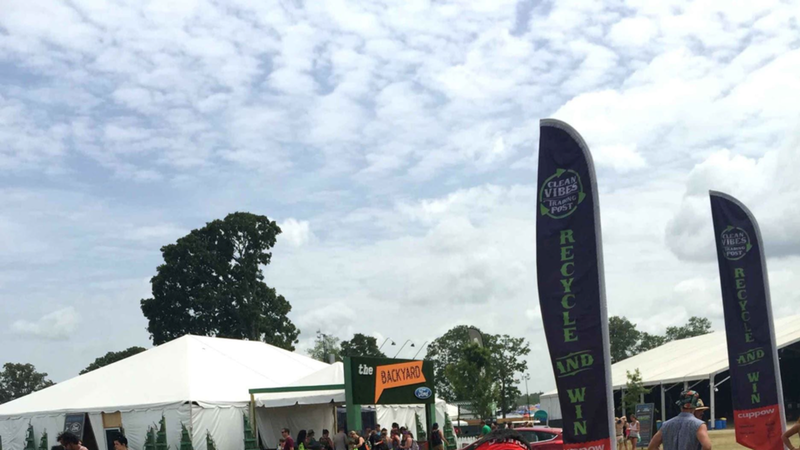 This story was updated and condensed after Fusion was contacted by Clean Vibes, LLC to correct and clarify names, titles and some other details.
Bonnaroo, the 4-day music and arts festival that takes place on a 700-acre farm in Manchester, Tennessee, hosts around 80,000 to 90,000 people every year.
Of course, large events and festivals hire waste management companies to clean up the mess. But at Bonnaroo and other festivals such as Governor's Ball, organizers are taking it a step further by getting festival-goers involved in reducing the waste footprint of these massive events.
At Bonnaroo, a company called Clean Vibes, LLC oversees a volunteer program in which people can attend the festival free of charge in exchange for their work. Clean Vibes coordinates the entire recycling and waste management program for the event, and they also come up with creative ways to encourage attendees to reduce their footprint through their nonprofit arm, the Clean Vibes Trading Post.
We spoke to a few Clean Vibers. Meet the people who clean up your trash (and more) at Bonnaroo.

Deanna
Clean Vibes Trading Post
What people do here
"We give festival-goers an incentive to keep the scene clean. If they pick up cigarette butts, take the time to sort out recycling, we give them 250 points per bag [small Ziploc bag] and then they come redeem the points at the trading post…." [Clean Vibes says the points are redeemed for goods mostly donated by companies that support their cause.]
The Concept
"Think about it, if there are 10 people out there who are going for the hammock, that's 6000 points, so that's like 40 or 50 bags of trash off the Earth.
Being at Bonnaroo was just the luck of the draw. And it's really so much better here than it is at other festivals, people here are just way more respectful than anywhere else."

Alisa
Volunteer Coordinator for Clean Vibes
A typical day at Bonnaroo
"Every day I come from 6:30 am to 5 pm, but we have night-shifters that come from 5 pm-3 am. But we have volunteers that basically are working from 7 am to 5 am. We have Compost Sorters who sort through trash [to keep compost from getting contaminated]; and Trash Talkers who educate the public." [The company says the volunteers also work only until 3 a.m.]
The role of volunteers
"Clean Vibes is basically a family, and our team is everything. We have [hundreds of] post-show volunteers and if we didn't have this team it would take us months to clean up this place. Our crew is from all over the US and we spend the summer together….It's like, OK, in high school you get a crew, in college you get a crew, then you grow up and you have a job where maybe you have a couple people you can kick it with but that's it. Here, at our job, we're so lucky, the people we work with are all completely different, all into different things, but we're so much alike it's incredible."
Jordan  (left)
Trash Talker
What Trash Talkers do
"I tell people where they can put their trash and the best way to get rid of their garbage. My job is to direct people here on where to put their trash. If they make a mistake, we take it from the trash and put it in the right bin."
How Bonnaroo is special
"Pretty much everything from a vendor is compostable, which is really awesome. Everyone here signed a contract with Bonnaroo, so everything is made out of potatoes and corn and then degrades into the earth."
What is considered trash
"Landfill trash is a really small selection of things. Like cigarette butts and anything else [non organic] that crinkles like a potato chip bag.
Lastly we have recycling which is primarily water bottles and beer cans."
Why people do this
"It's a good gig. You get to talk to a lot of people, which I love. Yesterday I was at the Who Stage all day, and the vendors were really nice and hooked me up with free doughnuts. And a free ticket doesn't hurt either."
Chase
Sweeper
One crew member's take
This is my third show. I did Tortuga in Ft. Lauderdale and Governors Ball in NYC, now I'm here. I'm from Kentucky, but I'm starting school in August….This is my first Bonnaroo, and they told me it's gonna be hell, we're cleaning up after people's four day waste. But, I mean, you gotta do what you gotta do. This is a farm."

Mandy (left) and Charlotte (right)
During-Show Cleanup
What's the job like?
Mandy: "Both of us are doing during-show cleanup, so in the morning from 7:30 am to 1:30 pm we pick up trash around Centeroo. We pick up mostly cigarette butts, cans and gum. Today was our first shift and it was, well, hot, you know. But we get free tickets so that's really nice, and we get food and meet new people, free showers. It's a good gig."
Charlotte: " You get to take care of everyone. So many people came up to us and were like, 'thank you so much,' 'you guys are awesome,' 'thank you for picking up our cigarettes.' And I was like, hmmm. You know, it's something you don't usually notice, people who clean are usually hidden. Two years ago, when we came to Bonnaroo, we'd always wonder, 'how is the festival ground so damn clean?!" You don't realize it, but you need these people."
Alex
Table Busser
The gig
"Wherever there's tables, we're stationed. Yesterday I was stationed near the Mushroom, and it was the most confusing thing because no one really eats there since it's far from the food. So the tables are always half-full and you never really know what is actually trash and, let me tell you, it can get pretty awkward with people. But, hey, I do it for the music."
Emma and Chris
Sweepers
Is this your first time with Clean Vibes?
Emma: "Last year we worked here as security, you know, the people you see at the guard towers just sitting around."
Chris: "Yeah, it sucked."
Emma: "So this year we did Clean Vibes and it's sweet, man. You're movin', you're groovin', you're picking up trash so it's all good!"
Chris: "And we have gloves. Yeah, I also feel like it's serving a purpose— we're keeping the place clean and I think it's awesome we get to do this here. It feels a lot better than watching a fence for 12 hours."
Why do you love Bonnaroo?
Emma: "This is the happiest place on Earth. It's an adult playground. Everyone is super positive, you know, even if you're ever feeling down at any point in the day, everyone will bring you back up. The music is amazing and there's all different kinds of people."
Chris: "It's almost like there's no clock. people are just roaming free around early morning, afternoon, all the time. It's just different than the regular lives we lead."