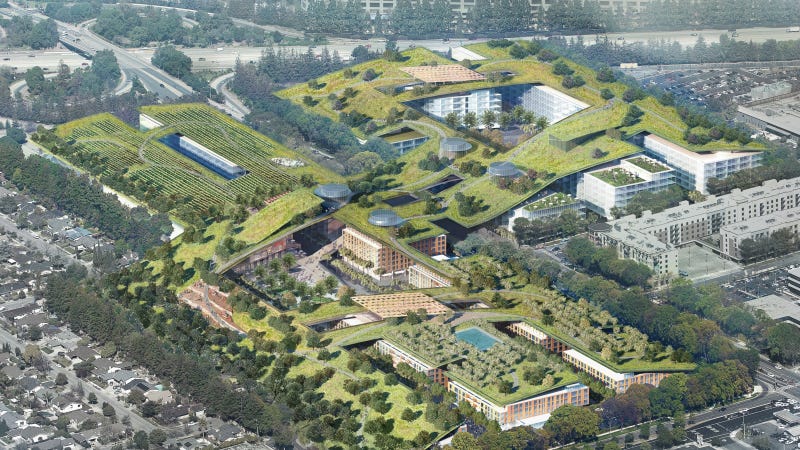 Apple may soon have some mild competition as the most famous attraction in Cupertino, Calif. (though they would probably welcome it): A developer plans to convert the currently "outdated" Vallco Shopping Mall into the largest green roof in the world.
The proposed 30-acre "roof" would be the main attraction of a mixed-use town center planned for the heart of the city's emerging downtown called The Hills at Vallco. An application was submitted by Menlo Park-based Sand Hill Property this week to the City of Cupertino.
Here are the renderings the firm is passing around:
Cupertino's "roof" would serve as a community park, nature preserve, and energy efficiency sponge. Uruguayan architect Rafael Viñoly and Philadelphia-based OLIN Landscape Architects are slated as lead designers. Here's the full list of proposed specs, which will come in at an estimated cost of $3 billion.

3.8 mile trail network for jogging and walking.
Vineyards, orchards and organic gardens.
Refuge for native species of plants and birds.
LEED Platinum certification.
Use of recycled water for irrigation, heating, and cooling systems and recapture of rainwater to reduce water consumption.
Rolling hills and tree preservation and plantings that provide "a privacy buffer to the adjacent residential neighborhoods."
"The once bustling Vallco Shopping Mall has faced decades of declining sales and fading consumer interest as well as major vacancies," Sand Hill said in a email to Fusion. "The Hills at Vallco [would express] the lifestyle, innovation and creativity of Silicon Valley, and [reinforce] Cupertino's position as the social, economic, technology and architectural center of Silicon Valley."
The current green-roof record holder is Chicago's Millennium Park, which covers a 24.5 acre parking garage.
(h/t WebUrbanist)
Rob covers business, economics and the environment for Fusion. He previously worked at Business Insider. He grew up in Chicago.