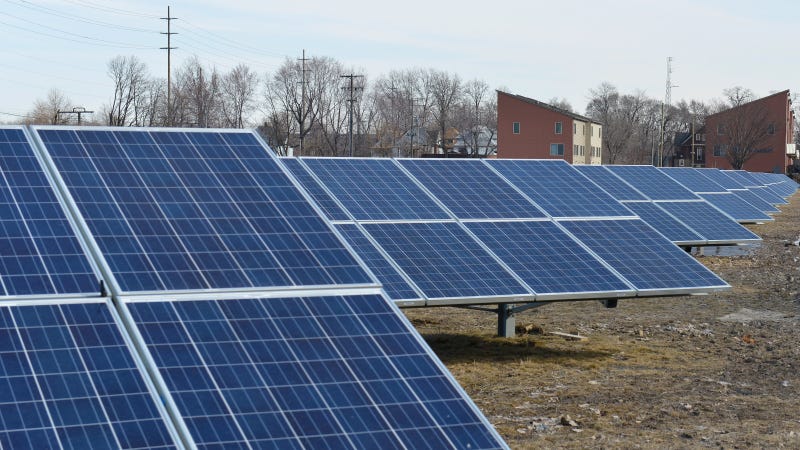 Solar energy installations increased 17% in 2015 to 7,286 megawatts, setting a 15th-straight annual record for installed capacity, according to a report from GTM Research.
And for the first time ever, solar beat out natural gas capacity additions, with solar supplying 29.5% percent of all new electric generating capacity in the U.S. in 2015. Here's the annual solar installations chart:
The residential solar market grew 66% year-over-year and, for the first time in history, eclipsed two gigawatts (GW), the report said. The residential solar segment now represents 29% of the entire U.S. solar market—its largest share since 2009. The utility-scale sector grew 6% year-over-year and represented more than half of all solar PV installed in 2015. Commercial was flat.
Cumulative U.S. solar PV installations now top 25 GW, up from just 2 GW in 2010.
The top 4-solar states adding the most solar capacity remained unchanged from 2014, with California in the lead, followed by North Carolina, Nevada and Massachusetts. New York jumped from 7th to 5th, while Utah leaped from 23rd to 7th and Georgia from 16th to 8th. Thirteen states installing more than 100 MW each in 2015.
Solar became an issue in the 2016 presidential race after the state of Nevada rolled back a key financial incentive for rooftop solar installations. In response, Hillary Clinton called for federal legislation that would limit states' ability to raise fees for existing solar users. Bernie Sanders has taken a different tack, calling on solar workers to create a petition to send to utilities.
Rob covers business, economics and the environment for Fusion. He previously worked at Business Insider. He grew up in Chicago.