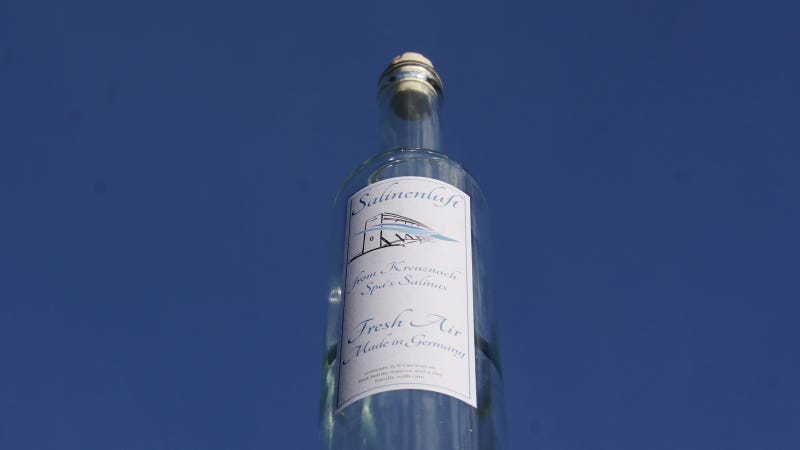 BAD KREUZNACH, Germany—Entrepreneur Stefan Butz calls his product the "Mercedes Benz of bottled air."
"We're German," he says in a video on his website. "We don't just bottle air, we engineer it."
His company, Salinenluft, sells air from the Salinen Valley, a historic spa town that people still visit for the special atmosphere created by the valley's salt springs. Water from the springs is pumped over 20-foot-tall stacks of brushwood graduation chambers left behind from the town's old salt industry. The salt water evaporates as it trickles over the wood, giving the air a salty "seaside" quality believed to have health benefits.
For Butz, the air offers newfound economic benefits as well. Using a bottle rack rotating on a turntable, he collects the salty air in half-liter glass bottles, corks them, and sells them on his website for $54.39 plus $17.00 shipping.
It sounds crazy, and Butz is quick to admit that Salinenluft is primarily a satirical product. "It's meant to criticize air pollution," he said. "It's meant to be a conversation opener when you see it on a shelf people will ask themselves what kind of weird thing is that?"
Serious business or not, Butz is already working with a Berlin-based export-import company to ship his product to China, where air pollution is so bad that bottled air is actually considered a viable product—and he isn't the only one cashing in on this dystopian demand.
Perhaps the first to pioneer the bottled air industry was Chinese millionaire Chen Guangbiao, who began selling canned air in 2012 as a form of satirical protest. A can of Guangbiao's air went for about five Chinese Yuan or $0.80, and came in flavors like "Pristine Tibet" and "Post-Industrial Taiwan."
Since Guengbiao, a number of breathable clean air companies have popped up around the world selling air in cans, jars, bottles, and even bags. Prices range from $23.00 for a can of compressed air from Canadian startup Vitality Air to around $260.00 for a bottle of air collected by skydiving entrepreneur Jakob Aungiers during one of his jumps.
Butz got the idea for Salinenluft after reading about Aethaer, a similar company founded by Leon Watts in the United Kingdom. "I did what many Germans did over the last 150 years when they encountered a good idea from the UK," Butz said. "I stole it, engineered it, made it better, and wrote 'made in Germany' on it."
Demand for packaged air from countries like China and India has grown so much that it is actually becoming a profitable business for some. Since first hitting the market in June 2015, Vitality Air has sold around 20,000 cans of their compressed air. Founder Moses Lam estimates that 30% of those were sold in China and he expects those numbers to triple in the coming year.  "For us, it's much like bottled water," Lam said. "Many customers prefer bottled or imported water, rather than drinking it from their own taps. So we figure—why should air be any different?"
Vitality Air's bottled are fitted with spray caps for precision delivery and built-in masks, indicating that those using them regularly seek momentarily relief from episodes of intense smog.
While this may all seem like some absurd joke—some may recall "Perri-Air" from the '80s satire "Spaceballs"—the hazards of air pollution are far from laughable. Globally, the World Health Organization reports that air pollution has risen by 8% over the last five years, and according to the Global Burden of Disease Project, more than 5.5 million people die every year from illnesses associated with air pollution. Approximately half of those deaths occur in China and India, the majority of them among the poor.
Of particular concern are PM10 particles, particulate matter in the air with a diameter of 10 microns or less that are small enough to penetrate human lungs and other vital organs. These minuscule particles, which emerge from vehicle exhaust, power plants, factories and burning wood or coal, are linked to increased rates of cancer, heart attacks, stroke, respiratory conditions, and other lethal health problems.
While China and India receive a lot of attention for their polluted environments, cities across the world suffer from increasingly poor air quality. According to data compiled by the WHO, many of the world's dirtiest cities (based on PM10 levels) are found in Nigeria, Pakistan, Saudi Arabia, Iran, Afghanistan, and Bahrain.
For Butz and the others in the bottled air business, the rising levels of air pollution in heavily industrialized nations likely signals an even higher demand for their products, or at least a near-unlimited potential market. However, the actual health benefits of bottled air are much harder to get excited about.
"It's a terrifying feeling when you know that with every breath you are inhaling toxic particles that can get everywhere into your body, so you can understand this visceral response of wanting to breathe safe air even for a moment," said Greenpeace East Asia specialist Linsai Dong. "Unfortunately we need about 20 cubic meters or 20,000 one-liter bottles of air every day, so this is hardly a long-term solution."
It's difficult to tell exactly how serious these bottled air companies take themselves. The videos posted on Aethaer's website of employees catching air with nets are almost too ridiculous to be true, but founder Leo De Watts speaks of his jars of air as limited edition works of art. "As well as containing breathable, clean, pure, and fresh air, a jar of Aethaer is also an enviro-political piece of artwork," Watts said. "It can be displayed in an art gallery, in an office, or in someone's home."
Others like Tasmanian company Paradise Air seem to be quite serious in their claims that their product "effectively cleans and heals your body from the effects of air pollution."
For Butz though, it's mainly just a joke. "Certainly I do want to make money, but I also want to give people the opportunity to have a good laugh," Butz said. "I guess I also want to make a statement that it's stupid to pollute the planet that we're living on, which is kind of an obvious thing to say."