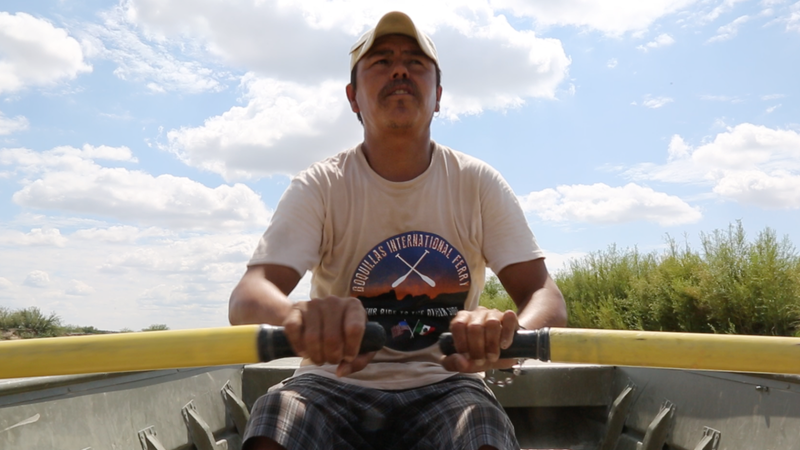 BIG BEND NATIONAL PARK, Texas — It was the shortest boat ride I'd ever taken, but it presented the biggest change in perspective.
On a hot, humid morning in early October, I stepped into a gunmetal rowboat, sat on a bench covered in a thin serape blanket, and settled in for the 45-second boat ride from the United States to Mexico. The river guide, who exerted no more effort than was necessary to fight the Rio Grande's mild current, was the first to make small talk, asking where I was from. His T-shirt read "Boquillas International Ferry" and the slogan "your ride to the other side."
The guide expected to ferry a dozen or so people over the border that day; it was still too hot for the big crowds. Come the milder months of November and December, upwards of 300 people a day would make the crossing.
As recently as three and a half years ago, that number was exactly zero.
After 9/11, the federal government closed a number of informal border crossings along Big Bend National Park, which spans over 115 miles of U.S.-Mexico border in Texas. The small Mexican town of Boquillas was the most frequented and historic of these, first as a mining connection more than 100 years ago and then as a tourist spot after the park was established in 1944 by President Franklin Roosevelt. After the 2002 shutdown, the economy of the quaint village, which was in the midst of getting reliable electricity installed, was devastated. Tourists could no longer cross over to eat lunch or buy handmade trinkets, and Mexicans could no longer cross over to sell their goods or to work service jobs in the park or surrounding communities.
The border closure also upset the international effort to preserve the region's unique landscape, which is at high risk of environmental degradation from human activities, including local endeavors such as ranching, mining, and other development, and global issues like climate change. If the ecosystem were to suffer significant harm on either side of the border, it would be devastating to life on both sides.
A movement has been growing within the National Park Service, with NPS's Mexican counterpart CONANP, and with local residents of both countries to turn the corner on years of environmental damage to the Big Bend border region. If successful, the endeavor could provide a compelling example of how to manage an increasing number of transnational conservation areas even as the boundaries partitioning them become bigger, better, and more permanent. This includes everything from pushing for the area to be designated an International Peace Park to educating locals on the best ways to coexist with an environment perpetually on the verge of another crisis.
Boquillas is located along the Rio Grande, or the Rio Bravo as it's known in Mexico, which demarcates over 1,200 miles of U.S.-Mexico border across Texas. It's part of the Chihuahuan desert, and is flush with an assortment of prickly flora and intrepid fauna. On both sides of the border visible from Boquillas, mountains rise out of the desert landscape creating stunning 360-degree vistas. Big Bend is the only National Park to encompass an entire mountain range, the Chisos Mountains. These mountains and the elevated basin they contain are home to an entirely different ecosystem than below, one full of trees and large wildlife including black bears and mountain lions. Driving down the mountains toward the river, the landscape quickly transitions into a more arid scene, with ocotillos and yucca dotting the rocky, sandy terrain until you arrive at the mud-colored river, which is lined with lush green foliage.
Nature is full of natural boundaries like the sheer wall of the Sierra Del Carmen mountain range that rises like a long horizontal knife blade just south of the Rio Grande on the Mexican side. Its height looms large over visitors to Big Bend, causing them to draw a connection to the border wall discussion that Republican presidential candidate Donald Trump has injected into the national conversation this year.
Frank, an 83-year-old former refinery worker, has been coming to the area for 25 years since discovering his love for the landscape. He said he didn't think anyone would put a border wall along the Rio Grande in Big Bend "because they already got a wall" as he pointed to the nearby mountains. His observation of the existing wall was echoed by a tour bus of senior citizens, many of whom made sarcastic comments about where Trump was going to build the wall.
Standing beside the Santa Elena Canyon, the westernmost of the three canyons that the river cuts through as it meanders across and at one point makes a 90-degree turn, Frank, who came from Port Arthur, LA, with his daughter, said he doesn't think anybody crosses the border here.
"Ain't too many roads that come to these towns," he said.
He isn't too far off in his estimation.
Jennette Jurado, the Public Information Officer at one of the park's several visitor centers (Big Bend National Park is bigger than Rhode Island), said that according to Border Patrol statistics for crossing and smuggling, the Big Bend region is akin to the Canadian border.
"So when it comes to borders areas, this is an incredibly safe place to visit, and an incredibly safe place to live."
Around three and a half years ago, after persistent pressure from the local community, the U.S. government built a small port of entry building in Big Bend and made Boquillas into a formal crossing, thus reopening the border after 11 years of closure. Now visitors must display their passports on both sides of the border and talk with security agents. But beyond that, not much has changed. The "ferry" still costs $5 round trip and there are still only two restaurants to choose from.
After crossing the Rio Grande into Boquillas, the guide walked me up the river's embankment to a covered wooden structure with a few tables and benches occupied by potential tour guides who seemed content lingering in the shade. Some of them were playing cards. I was offered a donkey ride into town about a half-mile away but opted to walk, avoiding one bumpy ride.
After getting my passport stamped in Mexican customs, a singlewide trailer where the agent put a $2 plastic bracelet on my wrist like I was at a music festival, I met up with Paco Torralba, who works for CONANP. He asked me if I wanted to ride a motorcycle into the nearby canyon. I said yes, remembering how fun it can be to travel in other countries even if just for a couple of hours. It turned out he meant an ATV, and just one in which I sat behind him. It was still an exhilarating ride, both faster and more bumpy than a donkey in my estimation.
Torralba explained how the U.S. and Mexico are working together to preserve, or to rescue really, what they can of a Rio Grande ecosystem that has been suffering for more than a century as dams have diminished it, chemicals have contaminated it, and farmers and ranchers have taxed its flows. He was most excited about the work they'd done tackling the main invasive species, Carrizo cane and Tamarisk, otherwise known as saltcedar.
As we gazed into the beginning of the 20-mile Boquillas Canyon, Torralba seemed genuinely impressed by the absence of the tall and skinny cane plant that overtakes other river-side flora. He attributed the success of its removal to the work of joint U.S. and Mexican expeditions, for which they hire locals to help extricate the plants and whose regional knowledge they rely on for the multiple-day journeys through the canyon.
Later in the day after I crossed back over to the United States, I revisited the canyon's mouth on the U.S. side of the river. I wanted to see the trinkets for sale that Torralba had mentioned. The short trail into the canyon was lined with a number of handmade crafts accompanied by signs listing their prices, usually $5, and a plastic bucket to leave money in. This informal economy persists from the days of a more relaxed crossing policy. Mexican residents cross over in the early morning, leave the crafts, and observe them throughout the day. Once the sun goes does, they cross over again and retrieve any money left by tourists. There is also a singer who serenades visitors from the Mexican side and then canoes across to take tips or otherwise leaves a jar out to collect later.
Torralba said they are working to formalize Boquilla's tourism economy by certifying vendors and offering new services such as hiking trips and visits to a nearby hot springs. One of the issues is that the source of the crafts, such as walking sticks and rock art, can often originate in protected areas. Visitors who purchase these items are not supposed to be able to transport them back to the United States. It's a long process, but one that Torralba is hopeful will lead to a thriving tourist economy in the region—and one that is environmentally sustainable.
Balancing the needs of people and the health of the environment is the hardest part of Torralba's job.
Whereas in the United States protected lands such as national parks are understood to be set aside for conservation and tourism, in Mexico people that live in the protected areas are allowed to remain, and their needs must be prioritized.
"In Mexico, we have to work with the people already living in the area," said Torralba. "If we make a conservation plan, the people who live in these places, with their economic activities, sometimes don't agree with our plan. This is really different than protected areas in the U.S."
Torralba said that the residents, who are often farmers, miners, or construction workers, usually aren't fully aware of all the legal issues, and educating and communicating with these communities is a major part of his job. He said overall everything is getting much better.
"Young people are starting to work in a different way," he said. "They are more aware of the environment. In the past, farmers thought the goal was quantity. Now they know it's quality. They have to take care of the soil and the plants, because otherwise there will be no animals. Before they thought more animals is more money. Now we think about sustainability."
Raymond Skiles, a wildlife biologist at the Science and Resource Management Office in Big Bend has been studying the Rio Grande river ecosystem for three decades. Most of what he's seen has not been positive; it would not be considered sustainable.
"It's very apparent to me that the amount of water in the river is less, the number of invasive species is more, and the quality of the habitat we're here to protect has certainly been degraded over time," he said from his office located within a cluster of buildings near the Panther Junction Visitor Center in Big Bend.
However, like Torralba, he sees positive changes taking place, especially with the park's new perspective on how to address the long list of problems.
"When I first came here, the National Park Service and most conservation groups didn't have a plan, they didn't think they could do anything," he said. "All the problems were believed to come from so far away upstream where other people were literally in control that there wasn't much we might even try to do."
The Rio Grande originates in southern Colorado before flowing through New Mexico and into Texas where it continues all the way to the Gulf of Mexico.
Lately Skiles has been very encouraged by the way both the U.S. and Mexico are focusing on things they do have control over, such as removing invasive species and reintroducing other native species. Also, in the past 30 years Mexican black bears found their way across the border and have repopulated Big Bend after becoming extinct in Texas earlier in the century. Skiles said the same thing might now be happening with a rare subspecies of beaver along the Rio Grande in the park.
He attributed a lot of this optimism to the reopening of the border at Boquillas, which makes collaboration with Mexican counterparts much easier. When the border was closed, rather than a 25-mile drive to Boquillas, the trip took 14 hours, including a 10-hour drive through Mexican backroads. He said that since the border crossing reopened, meetings have become much more regular.
"While for 12 or 13 years we could pick up the phone and talk, we had very little opportunity to meet face to face and discuss issues and plan for the future," he said, adding that one crossing for 300 miles of river is not adequate, but it's a start.
While more crossings might be necessary, Skiles doesn't think an actual bridge would be helpful—it could actually do harm. The rowboat preserves the emphasis on minimal human impact, whereas a bridge could go beyond the National Park Service's mandate of protecting areas and facilitating tourism. It could lead to shipping, trucking, and other heavy-duty traffic.
As an American, it's hard to get out of the mindset that national parks are part of a country's heritage and an important cultural asset. Skiles said he encounters this attitude in many people's projections onto how Mexico should manage its side of the Big Bend border.
"We should not attempt to suggest that our style of preservation be replicated in other countries with different histories and cultures," he said. "The Mexicans need to do as we did: Look around, observe existing systems, and come up with their own system of conservation. We need to respect that and be prepared to work with it and recognize it as equally valid."
Employees of Big Bend National Park see collaboration with Mexico as key. They are less invested in the movement to establish an international park in the region. While this could be a major tourism draw, it would likely not dramatically influence conservation efforts. Nonetheless, the 80-year-old movement for a cross-border park, which FDR first mention in his establishment of Big Bend, is gaining new momentum, primarily by a group known as the Greater Big Bend Coalition. The only existing international park in the U.S. is along the Canadian border where Glacial National Park and Waterton Lakes National Park meet. It was established by FDR in 1932, when it became the world's first International Peace Park.
The optics of a similar park along the U.S.-Mexico border would clearly be good, exhibiting a rare element of collaboration and cooperation along a border known for its divisive, uninviting reputation.
In 2008, President Obama and former Mexican President Felipe Calderon signed a joint statement pledging both countries' interest in protecting the cross-border lands, but security concerns have since hampered any major progress at a higher level. The notion of "sister parks" or "bi-national parks" seems to be the way most people like to think of the relationship in recent years.
The GBBC proposal includes nearly 8,000 square miles of protected lands in Big Bend, nearby Texas state parks, and protected areas in Mexico, covering some 14% of the entire U.S.-Mexico border.
Rick LoBello, founder of the GBBC, told me the first time he saw the Mexican mountains in 1988 was when he decided he needed to work on the international park project.
In the nearly 30 years since, LoBello has seen interest ebb and flow, but he remains convinced of the merits of such an undertaking, both for the local area and in the bigger picture.
"I keep telling people we need some good news on the border, and it would be a good sign of cooperation," he said. "With everything that's going on in the world, if we want to have change, we've got to have people talking about it. We need to protect the planet."
LoBello said on top of the additional attention the international park would bring and the influx of tourist dollars, the designation would help drive money from Congress and from the Mexican government to the agencies in dire need of it to live up to their conservation mandates.
One of the most stunning things about Big Bend happens when the border crossing is closed and tourists are back at their campgrounds or cabins. The sunset quickly fades into darkness, the night alights with stars, and a creamy Milky Way streaks across the sky like almost nowhere else in the United States. With development kept to a minimum in the United States and not yet very far along in Mexico, there is little to no light pollution. On both sides of the border, residents and visitors are compelled to stare up at the stars, which know no borders, and contemplate the vast expanse of the heavens. The night sky is all encompassing. It's inspiring and terrifying, just like this moment in U.S.-Mexico border history. And when the sun rises, it's hard not to feel hopeful for a bright and prosperous future.
On October 15, Univision and Fusion Media Group will host RiseUp AS ONE, where artists and influencers will gather at the San Diego border for a concert celebrating inclusiveness, diversity, and global unity. This content is part of a series in connection with RiseUP AS One, supported by funding from Sprint, and produced independently by Fusion's editorial staff.