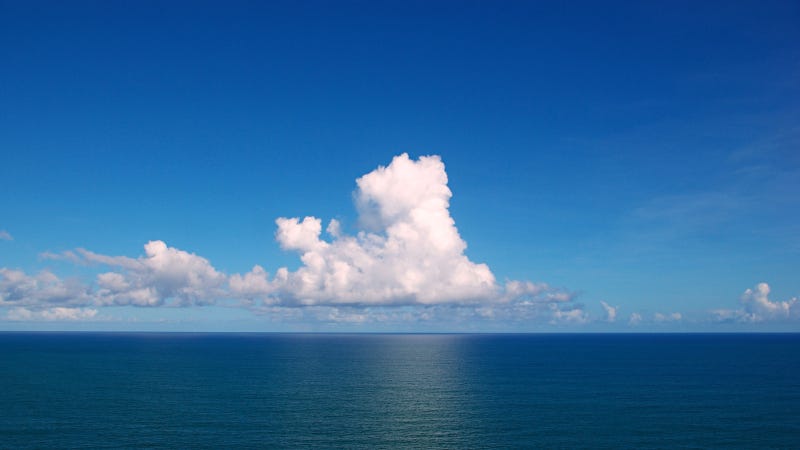 When you fly over the ocean you get an idea of its vast expanse. For hours, the view out the window is an unbroken dark blue carpet. These are the high seas, and they cover nearly half the Earth's surface.
In an increasingly mapped and divided planet, the high seas remain off the charts with little regulation and even less monitoring and enforcement. But Countries are starting to make inroads to these remote waters as global sea routes expand and the underwater riches become more exploitable—and this added attention is exposing the area's vulnerabilities. With this in mind, this week the United Nations is beginning official negotiations on a new international treaty for these "Areas Beyond National Jurisdiction" that are home to valuable ocean resources.
Through the first week of April, negotiators are gathered in New York City to hash out the details of this addition to the United Nations Convention on the Law of the Sea. This meeting will be followed by three more over the next two years, at which point the UN General Assembly will decide on adopting a new treaty. It's already taken a decade to get this far, and according to Glen Wright, a marine policy researcher at the Institute for Sustainable Development and International Relations in Paris, there is a palpable energy at the talks.
During a break from the proceedings on Monday, the first day of formal meetings, Wright told me that the place "was packed in a way that it rarely is" as country diplomats, NGOs, charities, and scientists gathered for the beginning stages of what could be "one of the last big environmental treaties for a long time."
Wright said that while these type of negotiations tend to be very specific, the overall goal of this process is to sustain and preserve. He said whatever treaty emerges from the series of meeting will build on the original 1982 United Nations Convention on the Law of the Sea (UNCLOS), which is often described as a "constitution for the oceans" that set out a very broad framework for managing international relations in the sea.
In the intervening three decades since the UNCLOS was adopted a lot has changed. Technology has opened up more ocean resources. Science has revealed the value of certain marine organisms inhabiting these deep sea ecosystems. Populations have swelled, demanding more natural resources and food.
Wright said that agreements on seabed mining and managing migratory fish stocks, such as tuna, have already been put in place. He also said that while none of the high seas are officially set aside for conservation, there are a few examples of how this could be accomplished. For one, Antarctica, which is managed under a separate international legal regiment, has conservation measures in place. Establishing these off-limits areas is also possible on a regional basis, although this requires countries to sign on to any agreement—meaning that those countries not participating could in theory come in and do what they like.
Wright isn't advocating for a specific percentage of area to be set aside or for zones to be deemed entirely off limits to fishing or commercial navigation. He simply wants a mechanism that can establish a science-based approach to protecting the vast swaths of the sea not located near any landmasses. Water that falls within 200 nautical miles of a shore is governed by the countries close by, who oversee it as an Exclusive Economic Zone (EEZ). Beyond that point, everything is the high seas.
Establishing a way to protect these distant waters would not only have positive impacts on nearby biodiversity, but also distant people and economies.
As the Global Ocean Commission (GOC) recently put it:

There is growing evidence that the ecosystem services provided by the high seas are of high social and economic value. The evidence also is clear that poor management of human activities on the high seas has eroded the natural wealth and productivity of high-seas ecosystems with negative economic and social consequences for all of us.
The GOC listed 15 of these important ecosystem services, including seafood, raw materials, genetic resources, medicinal resources, air purification, climate regulation, waste treatment, and recreation and leisure. According to the Pew Charitable Trusts, nearly 10 million tons of fish are caught each year on the high seas, generating more than $16 billion.
Wright said that the issue of marine genetic resources—genes that come from unusual organisms in the high seas—is a major focus of the current talks and a growing area of interest internationally. He said the exploitation of these resources, which can be found in unique habitats like those that surround underwater vents spewing boiling water into frigid seas, is ungoverned right now. As countries and companies become more interested in developing these genes for uses in the pharmaceutical, chemical, and industrial industries, the health of the ecosystems these creatures occupy could become further jeopardized. These genes can be used for everything from anti-cancer drugs to high-end skin creams.
"There is a lot more interest in marine species in general than land species," said Wright. "They have a more unusual genetic makeup and people are potentially going to make money off these things."
Other key areas of discussion for the treaty include establishing environmental impact assessments, setting aside no-fish zones or other protected areas, and helping countries share marine science, technology, and legal expertise.
As the Pew Charitable Trusts points out, while the high seas were once though to be largely barren it is now common knowledge that they are one of the planet's biggest hubs of biodiversity, including everything from whales and sharks to little-understood and yet-to-be-discovered creatures. The PCT recently released a video detailing the importance of high-seas ocean biodiversity and how it could be protected. See for yourself: