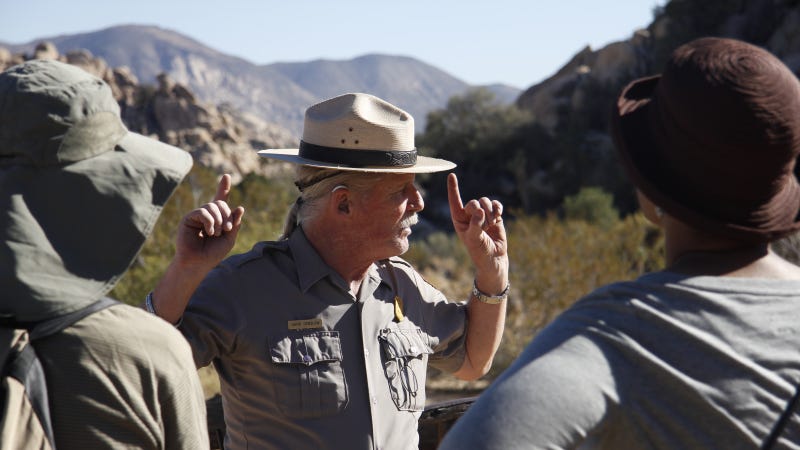 To mark the National Park Service's 100th anniversary this year, the agency is offering free admission during National Park Week from April 16 to April 24. There are 59 official national parks in the United States, with the first of these, Yellowstone National Park, having been established in 1872. The National Park Service was not created until 1916 when President Woodrow Wilson deemed such an agency necessary to manage the 35 national parks and monuments at the time.
In the ensuing century, the popularity and jurisdiction of the nation's protected lands has only grown, and today the National Park Service oversees 410 locations spread across 84 million acres in all 50 states and the District of Columbia, including national monuments, wildlife refuges, historic sites, and forests. To find a location near you, visit the 'find your park' website.
"We want people everywhere to embrace the opportunities to explore, learn, be inspired or simply have fun in their 410 national parks, as well as understand how the National Park Service's community-based recreation, conservation, and historic preservation programs positively impact their own communities," states the National Park Foundation in an announcement of the centennial, which will be officially celebrated on August 25.
Other upcoming free entry days in 2016 include the National Park Service's Birthday Weekend from August 25-28, National Public Lands Day on September 24, and Veterans Day on November 11.
In 2015, 307.2 million people visited NPS sites across the country, a new record. Great Smoky Mountains National Park was the most popular of the official national parks and Grand Canyon National Park surpassed five million annual recreation visitors for the first time.
But just because national parks have experienced record attendance in recent years doesn't mean controversy surrounding the proper use of public lands, or even which lands should be public, has subsided. In fact, with high-profile encounters like the occupation of the Malheur National Wildlife Refuge by armed anti-government militants earlier this year, the debate is more heated than ever.
In a recent op-ed for the Huffington Post, Brian Kurzel, executive director of the National Wildlife Federation's Rocky Mountain Regional Center in Denver, writes that "these lands are also under siege:"

Some elected officials, including members of Congress, want to sell off tracts, open up more areas to drilling, mining and logging or turn over most of the land to states to do what they want with it. Proponents of breaking up our American birthright are usually careful to say national parks would be exempt. But once they start carving up our public lands, how do we know they'll stop at the boundaries of national parks?
In one example of this, a trio of House Republicans recently opened an investigation into the century-old Antiquities Act, which the Obama administration has used to expand public lands more than any other president, establishing a total of 22 national monuments.
The three Republican committee chairmen—Jason Chaffetz, chairman of the House Oversight Committee; Rob Bishop, chairman of the House Natural Resources Committee; and Hal Rogers, chairman of the House Appropriations Committee—wrote letters to Interior Secretary Sally Jewell and Christy Goldfuss, managing director of the White House Council on Environmental Quality, requesting "all documents and communications referring to or relating to the selection or designation of national monuments under the Antiquities Act."
In the letters, the congressmen state that "broad and frequent application of the Antiquities Act raises questions about the lack of transparency and consultation with local stakeholders."
The Center For American Progress recently released a report titled "The Rise to Power of the Congressional Anti-Parks Caucus," that found that the current Congress is the most anti-conservation Congress in recent history.
"Since 2010, Congress has been incapable of passing individual parks and wilderness bills, legislators are pressing to sell off tens of millions of acres of publicly owned lands, and laws which help protect at-risk public lands—including the Antiquities Act and the Land and Water Conservation Fund—are under relentless attack," states the report. "Between January 2013 and March 2016 members of Congress filed at least 44 bills or amendments that attempted to remove or undercut protections for parks and public lands."
And that's nothing to celebrate.