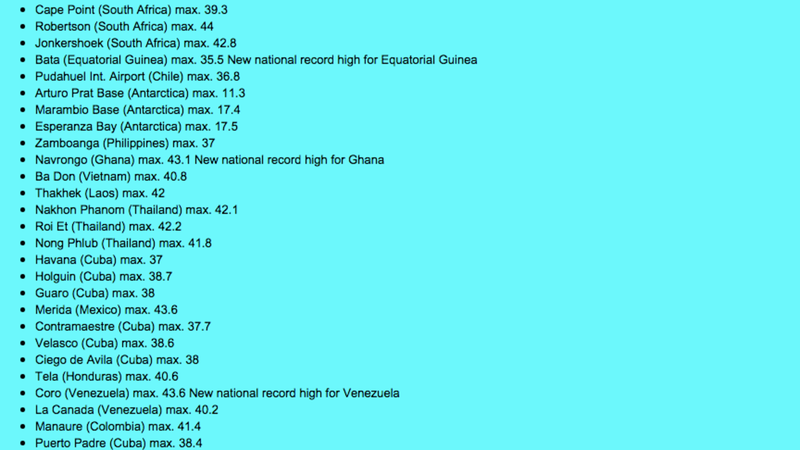 When the Internet was first born, it was populated by people like Maximiliano Herrera.
Growing up, Herrera, a native of Costa Rica, obsessively tracked climate data on notepads. When the Internet finally arrived in the early '90s, he migrated his project there, first to Fidonet, a connection service that linked online bulletin boards, and then onto the World Wide Web, where, along with its Web 1.0 look, it has remained ever since. (The temps are in Celsius.)
Today, Herrera, 42, has gained international renown for his work. Jeff Masters, a meterologist who co-founded Weather Underground, has called Herrera "one of the world's top climatologists."
The reason is his data. Herrera has accumulated an encyclopedic, almost Borgesian library of running global temperature data spanning hundreds of years, which he constantly updates through hundreds of personal contacts with other weather professionals and obsessives around the world.
Herrera sees his pursuit, which he says he has spent nearly $1 million on (he makes a living through investments and real estate), as more of a duty, given how much bad climate information has accumulated in both the public consciousness and in official figures.
"There are virtually no [sic] enough skilled climatologists capable of doing quality checks on the zillions of bad meteorological data which is constantly floating around," he told Fusion in an email. "I feel like i have a moral obligation to keep pushing with this task."
It seems like you could spend hours on his site, which also includes a quality of life section for every country in the world (the best countries on each continent: Canada, Norway, Japan, Australia, the Seychelles), and an excruciatingly detailed electoral calendar for every country in the world updated weekly that even includes local races. (Tomorrow the town of Hemingway, South Carolina is holding a city council runoff.)
But it's his precise weather data that has become Herrera's calling card.
Last year, Herrera tracked 201 new all-time temperature highs at global weather stations, which was actually down from the 393 recorded in 2013, though still more than twice the 94 reached in 2004. (There were also new 18 record lows in 2014). U.S. stations actually didn't set any new records last year, but in 2013, 10 different stations in Alaska set all-time highs, as did ones in New Mexico, Utah, California, and Nevada (downtown Las Vegas hit 119 degrees Fahrenheit).
Year to date, 2015 has seen 49 new all-time highs, including national records for Venezuela, Ghana, and Equatorial Guinea. (Lynchburg, Penn. and Mount Sterling, Ky. recorded all-time lows earlier this year).
Herrera has also begun migrating some of his findings to Wikipedia, where has created entries for countries that have never dipped below 0 degrees Celsius, and snowfall records (Herrera says snow has covered every known point at sea level in the U.S. at some time except for some locations in Hawaii, Florida, and California).
So what does Herrera think about climate change?
There is no doubt it is happening, he said. But discussion of it has become unbearable.
"Charlatans, fanatics, complotists, etc… are filling this vacuum and are jumping into the discussion with every kind of exaggeration and most of the people feel really confused what to believe about it."
And while he thinks the worst-case scenarios are unlikely, he still believes we must act.
"Even if we won't die by overheating, we could die by diseases related to pollution and environmental problems," he said. "Green energy must be our target, with or without [manmade global warming]."
Rob covers business, economics and the environment for Fusion. He previously worked at Business Insider. He grew up in Chicago.