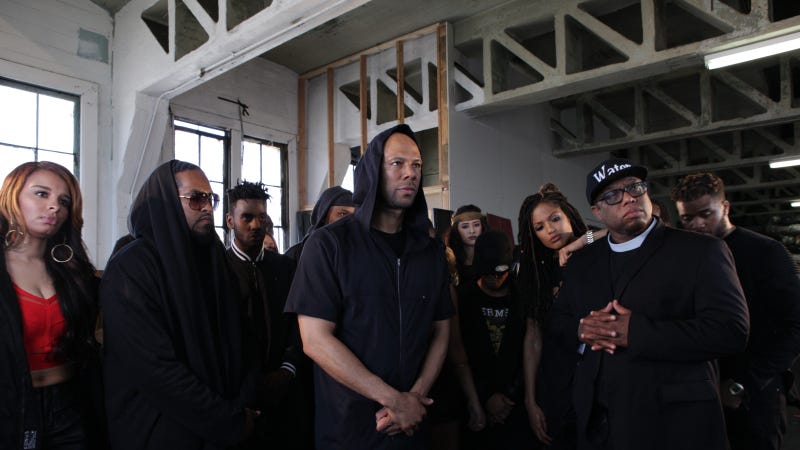 If you ask Reverend Lennox Yearwood, president and CEO of the Hip Hop Caucus, why the nonprofit puts climate change ahead of jobs and family, he'll tell you that jobs and family don't matter if you can't drink the water or breathe the air.
"The biggest target of climate change and pollution is communities of color," he said. "Polluters have been able to locate their facilities in our communities by promising jobs that never come to fruition and by lying about the deadly health impacts of their pollution."
This mentality spans the spectrum of environmental issues and locations, reaching all the way to places like North Dakota, where members of the Hip Hop Caucus have been demonstrating alongside Native Americans fighting the Dakota Access Pipeline, which would transport nearly 500,000 barrels of fracked oil per day to Illinois on its way to Gulf of Mexico refineries.
"If you're serious about your climate legacy, then you have to stop this pipeline," said Yearwood. "Look at it from both an environmental and a cultural aspect. Part of the issue is that they're actually digging up graves and relics."
The Hip Hop Caucus (HHC), a national non-partisan organization, was born out of a summit in 2004 organized by Russell Simmons, co-founder of the hip-hop label Def Jam Recordings. "We created the Hip Hop Caucus to approach civil and human rights in the 21st century," Yearwood said.
The nonprofit took the name Hip Hop Caucus because "on the street, 'hip' means to inform," Yearwood said. "'Hop' is to move. 'Caucus' is to do it together. So we inform people, move them with our message, and get them to work together."
Since its inception, HHC has fought for justice by working to solve climate change at the local, national, and international levels. Today, they have a presence in 25 cities in the country and have worked alongside leaders in climate negotiations, such as the COP 21 Paris Agreement.
"We continue to educate communities about the importance of climate justice and demand legislation that ensures every person is provided with clean air and clean water," Yearwood said. "We are committed to a sustainable future, particularly in underserved communities of color."
According to the Asthma and Allergy Foundation of America, one in six African-American children in the country have asthma and 68% of African Americans live within 30 miles of a power plant.
"Polluters pollute without limits in our communities," Yearwood said. "That's why we have higher rates of asthma, cancer, heart disease, and lung related illnesses. So, when we focus on global warming, we are focusing on our health, our families, and our jobs."
The League of Conservation Voters (LCV), a nonprofit that educates the public, lobbies for change, and trains the next generation of environmental leaders, noticed HHC's outreach. In October, LCV presented Rev. Yearwood and the HHC with the inaugural Climate Leadership Award for the group's effort to build civic and electoral activism among young voters and to inspire social change and environmental protections.
"They've effectively engaged climate leaders through culture and song in a nonpartisan way," said Gene Karpinski, president of LCV. "We're working together to make sure our politicians truly feel this movement's heartbeat. Our political leaders need to hear the voices of the people who are on the front lines of the climate fight, experiencing the effects of climate change firsthand."
With the presidential election bearing down and the choices in candidates as stark as ever when it comes to environmental issues, LCV has partnered HHC to register voters.
"With no mention of climate change during the debates we need HHC on the ground getting the word out about climate change," Karpinski said. "Secretary Clinton, to her credit, managed to work in a few mentions of climate change, not as an answer to a question. She felt it was an issue of importance. Trump said it was a hoax created by the Chinese. Unfortunately, there's a loud subset of folks in this country who still deny global warming. That's why we need groups like HHC to make sure folks understand the facts and the science of climate change."
HHC is working with 180 celebrities in the hip hop community to get people out to the polls. "We're showing folks the best spirit of democracy," Yearwood said.
If there's any trouble at the voting booths, HHC encourages people to call 1-866-OUR-VOTE. "If they have a problem with their vote, they can get help," Yearwood said.
HHC's presence in 25 urban areas is lead by influencers in their communities. They're teachers, business owners, athletes, and artists. The music and culture bring them together. All work for a common cause: to fight pollution and climate change. Most are in their 20s, 30s, and 40s. Teenagers and senior citizens are also involved.
"We reach people from different communities," Yearwood said. "They can be people of color, Native Americans, LGBTQ, Black Lives Matter movement, Democrats, and Republicans—green issues affect all of us."
HHC's community leaders volunteer alongside hip hop artists for events that are part of the People's Climate Music, which HHC created to host concerts and cultural events using hip hop to entertain and inform about global warming. "A lot of the musicians come from inner cities and understand the effects of climate change," Yearwood said.
In 2014, hip hop artist Malik Yusef and the HHC produced the album HOME (Heal Our Mother Earth), which features artists Common, Raheem DeVaughn, and Ne-Yo. In Common's song, "Trouble in the Water," the line, "we think our opponent is overseas, but we messin' with Mother Nature's ovaries" is a direct hit on climate change.
Despite deniers and contention during the election, Yearwood remains optimistic. "I subscribe to Dr. (Martin Luther) King's word: 'Even if I knew the world would go to pieces, I would still plant my apple tree.'"
Yearwood, HHC, and the hip hop community see the world moving away from a fossil fuel based economy to a clean energy one of solar, wind, and water power. "That will take work from all of us," he said. "And I already see it happening."