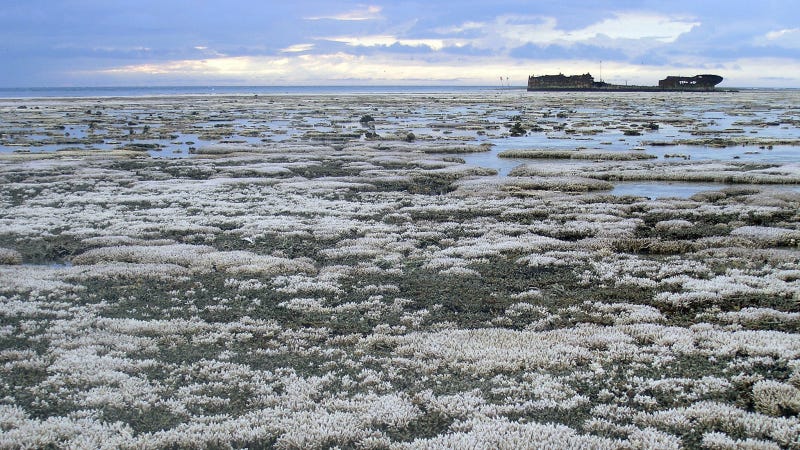 The Great Barrier Reef is suffering yet another mass coral bleaching event, scientists announced on Sunday, the latest gut punch delivered to the planet's largest living structure by humanity.
Researchers at Australia's ARC Centre of Excellence for Coral Reef Studies announced the somber prognosis following an aerial survey of more than 5,000 miles of the reef, similar to those conducted in 2016 that revealed widespread devastation. Despite hope that this year's bleaching wouldn't be "anything like last year," scientists returned with disheartening news.
Spurred by record-breaking temperatures, some 900 miles of coral was hit with back-to-back bleaching, particularly affecting the middle third of the structure that stretches along Australia's northeastern coast. Last year's mass bleaching hit the northern third of the reef the hardest, meaning only the southern portion has been left relatively unscathed.
Terry Hughes, director of the ARC Centre and the leader of the aerial surveys, said yet another bleaching event so soon after last year's (and others in 1998 and 2002) left the reef without enough time to recover.
"Clearly the reef is struggling with multiple impacts," he said in a statement. Hughes has long linked the reef's struggles with human-induced climate change: Corals bleach when oceans become too warm, causing the colorful algae that live within them to leave and turning them bright white. If temperatures don't return to normal, the structures can die.
"Without a doubt, the most pressing of these [impacts] is global warming," Hughes said. "As temperatures continue to rise, the corals will experience more and more of these events."
James Kerry, a senior research officer at James Cook University, said corals can take up to 10 years to recover and mass bleachings so close together "offers zero prospect of recovery for reefs that were damaged in 2016."
Last year's bleaching, spurred by record-breaking temperatures and El Niño, set off a firestorm of media coverage after Hughes and his team returned with photographs that showed up to 95 percent of parts of the reef had been harmed. Scientists declared it the most severe bleaching event on record, and in parts of the reef, more than two-thirds of the coral died.
Hughes on Sunday tweeted his ongoing work at the Great Barrier Reef was "without a doubt the most confronting research project" he's ever done and called for the world to act to save the reef from climate change.
Australia has promised to do just that, and some scientists have proposed last-ditch efforts to save at least some parts of the reef. But local government officials also approved what would be one of largest coal mines in the world in the state of Queensland last year in a perplexing move that activists say won't do anything to help halt climate change.
Hughes, at the time, called such a move "laughable" and said without action to keep the planet from warming, he's not sure how much time the Great Barrier Reef has left.
"Time is certainly running out," he said.
This story was originally published by The Huffington Post and is reproduced here as part of Climate Desk.
Nick Visser is a reporter covering the environment for The Huffington Post. Originally based in New York, he now lives in Sydney.