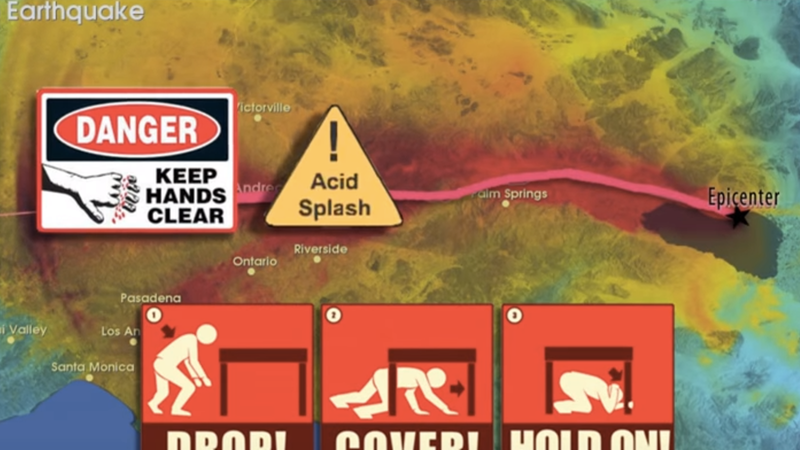 On Tuesday, the White House announced a renewed commitment to strengthening our earthquake resiliency programs. The plan, ultimately, is for our earthquake warning system to one day be good enough to give people enough time to find cover ahead of the most powerful part of the quake. As it stands now, we do not have that capability.
The White House moves were declared in tandem with an hours-long White House Earthquake Resilience Summit, where experts and officials from the Pacific Northwest discussed the threat, and why this new government initiative is a new way.
The Obama administration outlined a number of efforts, including: an executive order requiring all new government buildings to be up to the most recent earthquake preparedness codes, streamlining the installation of seismic monitoring stations, and improving the FCC's earthquake alert system across platforms and geographical locations.
The most intriguing of these efforts, however, is the ShakeAlert system:
ShakeAlert is designed to let you know how much time you have before an earthquake that's already started hits you in full force. It's tricky to predict when earthquakes will happen, even when we know that they're coming broadly: That's why The New Yorker's excruciatingly detailed look at how a likely earthquake-tsunami combo will affect the Pacific Northwest hit so hard when it was published this summer. Scientists know that this natural disaster is coming, and that it will devastate the region. What they don't know is when.
ShakeAlert aims to solve that problem, if only in the very short term—the system will likely only be able to give a few seconds to (at best) few minutes warning. But that might be enough time to, for example, reach the safest part of your house before the worst of the quake hits—or for air traffic controllers to tell planes not to plan on landing, to shut off gas lines, and turn off dangerous machinery.
In a statement, the office of U.S. Secretary of the Interior Sally Jewell said that the system, still in development, launched in a beta phase in some areas on Monday:

The U.S. Geological Survey (USGS)—along with partners from state governments, universities and private foundations—is initiating the next phase of its 'ShakeAlert' earthquake early warning prototype system to allow beta users, for the first time ever, to receive USGS ShakeAlert warnings and act on that information.
USGS Director Dr. Suzette Kimball said the system is a game changer, explaining, "Today's technology is now advanced enough to rapidly detect seismic waves as an earthquake begins to happen, calculate the maximum expected shaking, and send alerts to surrounding areas before damaging shaking arrives." People would receive the alerts directly to their smart phones.
The system will require some additional funding to really get off the ground—about $16 million per year to maintain, double the funding ShakeAlert has now.
Danielle Wiener-Bronner is a news reporter.