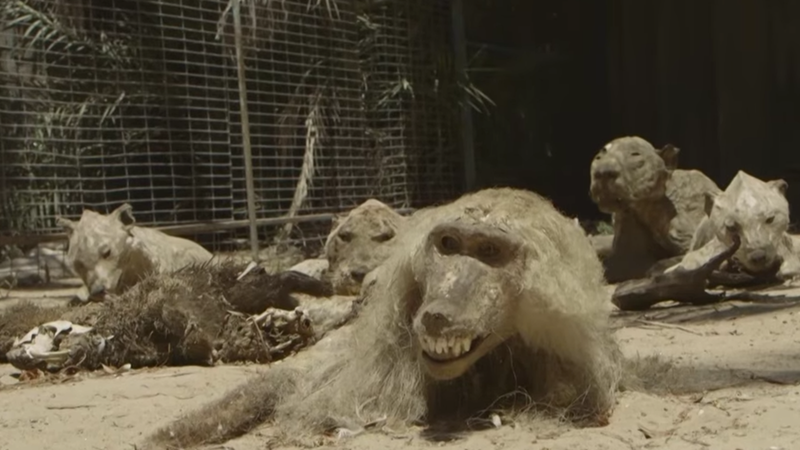 A Bengal tiger, five monkeys, one emu, one pelican, one deer, two porcupines, two long-legged buzzards and two turtles have been rescued from a zoo in the Gaza Strip often referred to as "the worst zoo in the world." With the departure of the animals, which was orchestrated by the animal welfare group Four Paws International, the embattled zoo is effectively closed.
The animals are mostly headed to a wildlife sanctuary in Jordan, but the monkeys will stay in Israel and the tiger, named Laziz, recently arrived at a cat sanctuary in South Africa.
Dr. Amir Khalil, a veterinarian and the mission leader for Four Paws told The Jerusalem Post that they had a very limited timeframe to work with in removing the animals.
"We were quite worried if Laziz would go into his transport crate without any issues; we definitely wanted to avoid anesthetizing him if not absolutely necessary," Khalil said. "But the tiger just went straight into the box as if he knew that we will bring him to a nice home. We were so relieved."
According to Four Paws, the Khan Younis zoo asked for help from the animal charity earlier this year when it became clear it couldn't provide the animals with proper care and food. It was subsequently decided that the animals should be transferred elsewhere.
A press release about the zoo's recent troubles from the charity states that "to attract more visitors and income, the owner even exhibited the mummified cadavers of animals that had already died. These 'animal mummies' have since been removed, but the dubious reputation as 'worst zoo in the world' has stuck."
Many of the animals in the zoo that ended up being taxidermied for posthumous display died of starvation and other plights related to the ongoing humanitarian crisis in the tiny region that's home to nearly 2 million people.
According to the AP, "years of conflict, cold winters, longstanding negligence and outbreaks of disease have killed many animals in captivity. Most of Gaza's zoos are private business ventures, set up by owners who lack experience in caring for animals in captivity."
Four Paws made a short video about the mission: