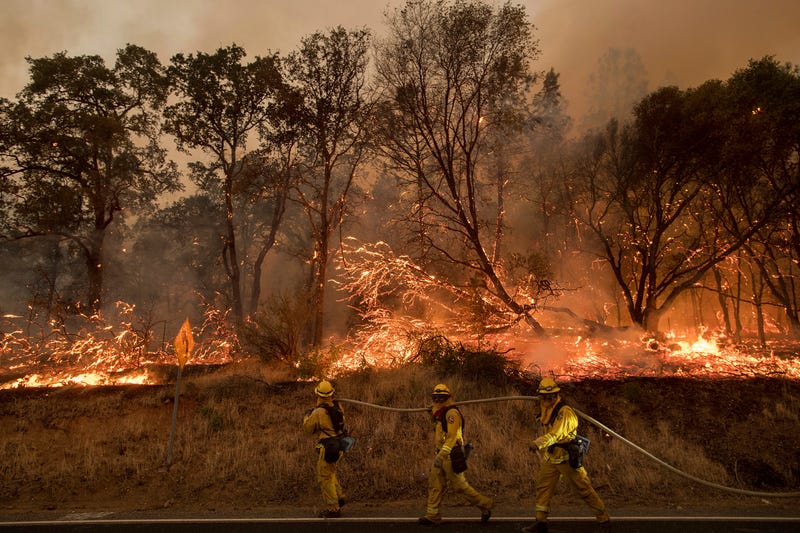 Flames encroached, people fled, homes burned. A surplus of precipitation this winter may have busted the California drought, but as wildfires sweep the West, firefighting agencies are grappling with another blistering season.
Cal Fire recently issued Red Flag Warnings and Fire Weather Watches to prepare fire departments for the worst, as cities like Phoenix, Boise and Los Angeles continue to see temperatures reach all-time highs and break records for consecutive days of extreme heat. While climate change has undoubtably exacerbated historic hot spells (and therefore wildfire risks), it's worth noting that around 84% of all U.S. wildfires are still human-caused, according to a recent study.
So far this year, Nevada has seen more wildfire activity than any other western state, followed by Utah and Idaho. In California, the year-to-date total of burned acreage has more than doubled compared to this time last year. Due to the state's high population density, it's also endured the lion's share of evacuation orders. Already this month, nearly 8,000 people have had to evacuate their homes as flames charred the Golden State, where much of the rural population lives in fire-prone regions known as "Red Zones."
From Butte County down to Santa Barbara, wildfires have destroyed dozens of homes and structures this summer. In these regions, the question "if your house caught fire, what would you save?" is less a philosophical time-passer, than a sobering reality. And while some do escape with their most cherished possessions—one woman from Santa Barbara County reportedly ushered six cats and a "Simpsons" DVD to safety—the end result is almost always a devastating blow to the community.

Playing With Fire Management

These events have re-opened important conversations about wildfire management. But on Capital Hill, some look to crises for exploitative political opportunities. In the past, many Republicans in the Trump administration have seized upon moments of panic to ram through pro-industry policies (Mike Pence comes to mind), and the wildfires in the West are becoming the latest example. Recently, the little-known Congressman, Bruce Westerman (AR-04), introduced the Trump administration's first major wildfire bill.
The new bill—a revised version of the Resilient Federal Forests Act, expected to hit the House floor before the end of this month—is being closely followed by experts, who say it's the most dangerous piece of national forest legislation currently moving through the chamber.
The aim of the bill, according to Westerman, is to expedite logging projects that would ostensibly reduce wildfire risks. To accomplish this, the bill would strip back the "bureaucratic red tape" of the National Environmental Policy Act (NEPA), which requires logging projects to be assessed for environmental impacts.
Westerman has opined that these measures would promote the "health of our nation's federal forests" and "better wildlife habitats." But according to environmental groups, they would do the exact opposite. Experts say that not only will Westerman's bill do virtually nothing to combat wildfires, but according to science, these backcountry fires shouldn't be extinguished in the first place, as they serve an essential function in a healthy ecosystem.

Authorities on wildfire science like Chad Hanson, ecologist and co-founder of the John Muir Project, have strained themselves for years trying to explain that, as Hanson puts it, "fire is as necessary and natural to forest ecosystems as the wind, rain and the sun." While it seems counterintuitive, "the entire ecosystem depends on fire," says Hanson.

Opening Federal Lands To Logging Hands

Hanson tells me that Westerman framing the bill as an environmentally savvy crisis management tool is "a ruse" without scientific basis, calling it "the most egregious attack on federal public lands that [he's] seen in decades."
If the bill is passed, it will exempt logging plans as large as 30,000 acres from complying with NEPA. To put this in perspective, currently only logging projects 70 acres or less are exempt from these critical environmental procedures.
According to Tom Wheeler, Executive Director of the Environmental Protection Information Center (EPIC) in California, the bill also "neuters the endangered species act when it comes to federal land management." Perhaps most importantly, Wheeler contends, the bill would nullify the power of citizens and environmental groups like EPIC to challenge these logging projects in court. "You can preserve other environmental laws in theory, but if there's no feasible way to check the government, then it doesn't matter." Says Wheeler.
Many, like Hanson, have called the bill a "gift" to the timber industry, but a more accurate word might be "trade." According to the Center for Responsive Politics, Westerman has received over $142,000 in campaign donations from the forest products industry since 2014. As Pacific Standard recently reported, in 2016 Westerman was nearly the largest recipient of campaign money from the timber industry in the United States Congress, second only to Paul Ryan.
Unfortunately, Westerman was unavailable for comment.

Fireproof Development

The real problem for reducing communities' wildfire risks, according to Lisa Dale, the Associate Director of Yale's Center for Environmental Law and Policy, comes down to irresponsible development practices. "Fire is not going away. So if we continue to build more property in the path of where we know fire will come—and these areas are mapped!—our bills will keep going up, and we'll be unable to get our arms around the problem." Dale compares this to building homes on the coastline where flooding is inevitable.
And for those currently living in wildfire Red Zones, according to Hanson, the "only way to protect homes from fire" is by reducing the combustibility of homes (e.g. fire-resistant roofing and rain gutter guards) and creating "defensible space," by removing flammable materials like shrubs and small trees "within 100 feet at most of individual homes." If these precautions are taken, says Hanson, "the vast majority of homes will survive in a wildland fire even if it passes right through that community."
As for the health of our national forests, according to Hanson, "the biggest threat right now that our national forests face is not fire. The threat is logging."

So long as we continue to address wildfires by trying to adapt our environment to us, rather than adapting ourselves to the environment, it's likely we'll continue to face the consequences of both.