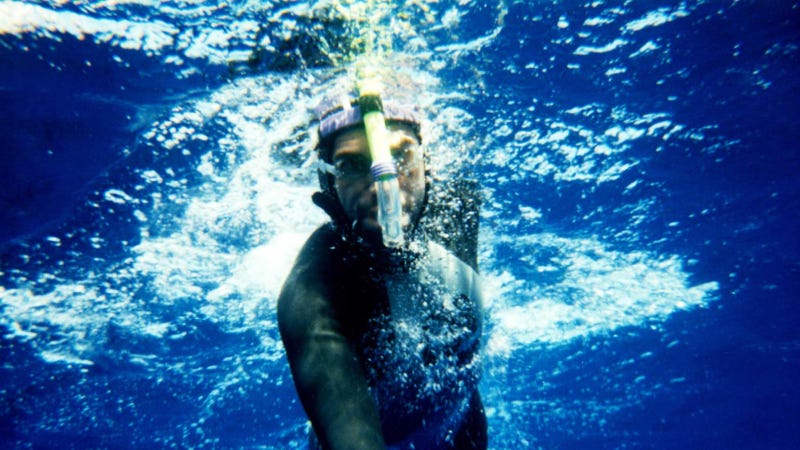 Saving the environment is hard to do by yourself.
Living on Earth means sharing it with other people, some seven billion of them. The human footprints add up. While recycling, driving less, or turning off the air conditioning can save energy and money, it can be hard to tell what impact these individual actions have towards the bigger challenge of nurturing a healthy planet. Oftentimes just staying optimistic about the environment is a challenge within itself.
Certain especially passionate and driven people have decided to take matters more into their own hands. These people are taking a stand for one particular environmental cause that they feel is deserving of more attention or in need of immediate action, whether the issue be renewable energy, ocean health, or the future of a single species. While this type of concerted individual effort is not a new phenomenon, it is worth highlighting both because it may be becoming more common, and it may offer insights into the contribution each one of us can make towards protecting the planet.
Marissa Knodel, with the nonprofit Friends of the Earth, told Fusion that as the consequences of climate change become more real and widespread it doesn't surprise her that people might start taking action on their own "because they don't see enough action taking place."

"A lot of environmental issues can be very overwhelming," she said. "They can feel powerless to solve on your own."
In Knodel's opinion, people taking extreme action are often "using talents or skills to make a difference in a way that makes sense to them."
"It's something we can all do, it's very empowering," she said. "Everyone can't swim across the Pacific, and that wouldn't stop ocean pollution. But it can inspire others to do what's in their skill set, and all together than can make change."

What was that about someone swimming across the Pacific?
At the end of December, Ben Lecomte, a Texas-based architect, will begin a six-month, 5,500-mile swim, record-setting swim across the Pacific Ocean to draw attention to the plight of the oceans. Called The Longest Swim, 48-year-old Lecomte, who will swim from Tokyo to San Francisco, is using the maritime journey to introduce "The Magna Pledge," which asks people to rethink their impact on the ocean: "While Ben is swimming across the Pacific, what changes are you ready to implement in your life to reduce your impact on the environment?"
For those not only inspired by, but also concerned for Lecomte, it helps to know that in 1998 he became the first person to swim across the Atlantic Ocean unaided—a 3,700-mile feat that took him 73 days. So swimming across oceans is Lecomte's empowering skill.

What was that about flying across the Russian Arctic in a paramotor?
Then there's Sacha Dench, the British conservationist who wants to fly across the Russian Arctic with just a parachute wing and a small propeller engine, an apparatus known as a paramotor, to highlight the challenges facing a species of swan known as Bewick's swan.
Dench plans to follow the swans' annual 4,500-mile migration route in 2016 between northern Russia and Britain and other milder climates. In doing so she hopes to propel action towards understanding why the population of swans has halved in the last two decades, with only around 16,000 left in the world.
According to the Guardian, wildlife experts don't know why this particular species of swan is suffering so dramatically—hunters, habitat loss and climate change are all believed to play a role. Dench told the Guardian that the biggest success of the expedition would be if the 11 countries she traverses would take up action plans to help limit the species' decline.
Dench, who works for the Wildfowl and Wetlands Trust, is a former free-diving champion, a pursuit in which she held her breath for up to six minutes. In her new intrepid endeavor, taking her high in the sky rather than deep underwater, she hopes to use her breathtaking daring to help a species in need.
According to Liz Judge, advocacy communications director at Earthjustice, activists like Lecomte and Dench are part of a trend in which people are increasingly "willing to take bold individual actions to highlight the need for widespread mass public action and bold policy solutions."
"More and more people feel compelled to do something—and something incredible and courageous at that—to show that yes, absolutely, we can and must solve these problems," she said.
Judge said this extraordinary courage isn't limited to those with a knack for extreme outdoor activities, but also includes "volunteer-driven local community groups, who take on the dirtiest, biggest polluters for cases that take years to win" in what amount to David and Goliath legal battles.
"The public is emboldened because the problem and the solutions demand it," she said.
Judge and Knodel mentioned some other examples of attention-grabbing environmental action. There are long-distance kayakers that highlight water pollution. Animal-rights activists that liberate animals from testing facilities where they are mistreated. People who paint cracks in large dams to illustrate their environmental impacts. Climbers who scale coal-fired power plants to draw attention to their local and global pollution. Nature lovers that put spikes in trees to discourage logging. Some of these actions are legally borderline and would also be categorized as civil disobedience.
Earlier this year a group of activists hung from a bridge in Portland, Oregon for more than a day in an effort to stop a Royal Dutch Shell ship from shipping out to the Arctic.
Even though many of these pursuits focus on the achievement of a single individual, they are really the result of a team effort. In a sense, this is the first degree of inspiration: directly involving others. From there the reverberations, ideally, continue to be felt to different degrees and in different ways.
When it comes to ambition, possibly the most impressive feat underway is the Solar Impulse-2 journey, a first-of-its-kind, 22,000-mile endeavor to fly around the world in a solar-powered plane. After being put on hold in July due to battery troubles, the two-man team has raised enough money, $27 million, to finish the epic trip in 2016.
The flight, which will use zero fuel and relies entirely on 17,000 solar panels canvassing the plane's carbon fiber wings, is meant to create awareness about replacing "old polluting technologies with clean and efficient technologies," according to the pilots, who take shifts operating the one-seated aircraft.
The pilots hope to start the next leg of their journey, a 2,500-mile stretch from Hawaii to the mainland United States, in April when the sun is out longer to charge the plane. Perhaps they will pass over Lecomte during his swim across the Pacific Ocean.