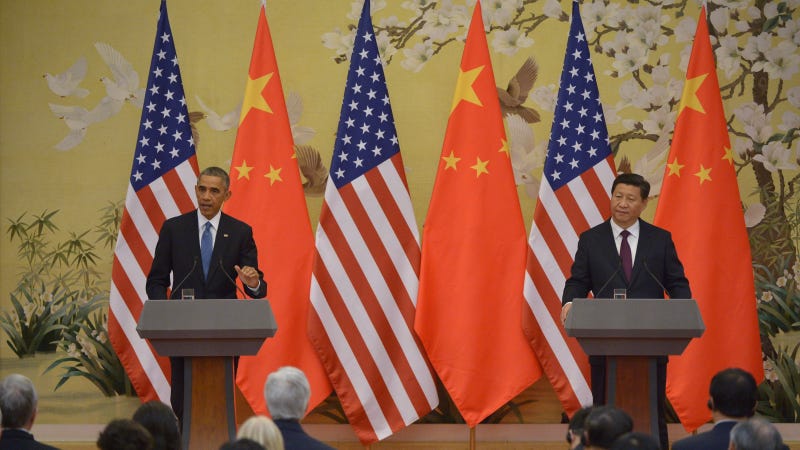 In a surprise announcement, the U.S. and China have just pledged to further reduce their greenhouse gas emissions over the next decade.
The U.S. promised to cut emissions by up to 28 percent below its 2005 greenhouse gas levels, while China agreed to cap new emissions after 2030.
Those pledges are not binding, but the news represents a major breakthrough on climate change since the U.S. and China account for some 40 percent of emissions worldwide.
The actions are part of the longer range effort to achieve "the deep decarbonization of the global economy over time," according to the announcement. That's new language for both countries, and it's worth noting.
When the UN recently called for the phasing-out of all pure fossil fuel-based power generation by 2100, "deep decarbonization" is exactly what they're referring to.
While the adoption of such language could be viewed as ominous for the U.S. fossil fuel industry, the Obama administration insists the new rate reductions can be achieved "under existing law."
But making "decarbonization" an official goal will require some heavy lifting. Just getting the fossil fuel sector to comply with the previous emissions targets was nearly impossible.
This summer, the EPA ordered the U.S. power sector to cut its emissions levels to 30 percent below the 2005 levels by 2030. Nine coal-producing states are already suing the EPA to have the rule overturned; so the new agreement depends on that rule not getting overturned in court.
The new agreement also says the U.S. will invest in a carbon capture project, without offering specifics. Right now the U.S. has only seven active carbon capture plants, which are hugely expensive. The newest one to come online cost $1.35 billion. The U.S. also says it's going 50-50 on a new carbon capture project with China and in China. It would be the first plant of its kind in China.
Finally, Obama is expected to have a difficult time pushing the new regulations through Congress, given that the country's most ardent climate denier just became head of the Senate Environment and Public Works Committee (we'd love to know what China thought of this).
The good news is China is finally agreeing to carry its weight. The Asian country also pledged to generate 20 percent of its energy from clean sources, up from 10 percent in 2011.
Any progress at all on emissions reduction is cause for celebration. But we'll have to wait to see if the pledge to combat climate change isn't just hot air.
Rob covers business, economics and the environment for Fusion. He previously worked at Business Insider. He grew up in Chicago.