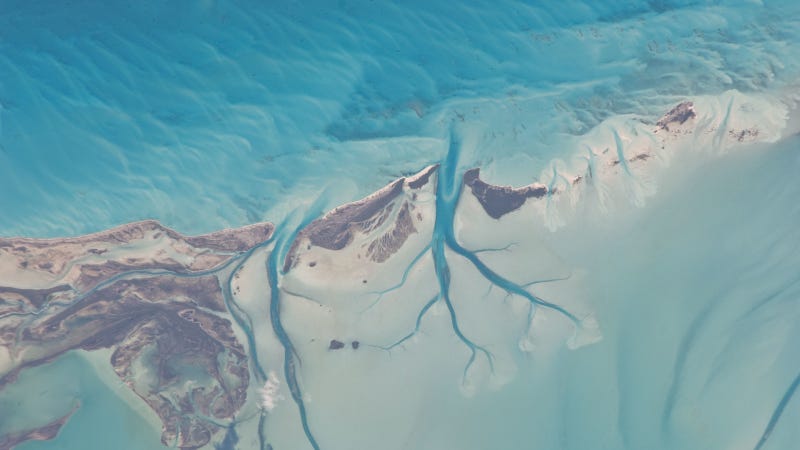 A new study has determined that global sea level rose faster between 1900 and 2000 than in any of the previous 27 centuries. Furthermore, it found that if human-driven climate change had not been taking place, sea levels might have even fallen during the 20th century. Instead they rose 5.5 inches.
"The 20th century rise was extraordinary in the context of the last three millennia—and the rise over the last two decades has been even faster," Robert Kopp, the lead author and an associate professor in Rutgers' Department of Earth and Planetary Sciences, in a statement.
Published in the Proceedings of the National Academy of Sciences, the study employed a new statistical approach developed by Kopp and his colleagues that used local sea level data to determine global changes. They combined this model with a new database of geological sea-level readings from marshes, coral atolls, and other archaeological sites at 24 locations around the world spanning the last 3,000 years. On top of that they included 66 tide-gauge records from the last 300 years.
Andrew Kemp, an assistant professor of earth and ocean sciences at Tufts University who worked on the data collection said that "as geologists, we can reconstruct how sea level changed at a particular site, and progress in the last 10 years has allowed us to do so with ever more detail and resolution."
What they found is quite notable. For one, they determined that without recent warming, 20th century global sea level change would "very likely" have been between a decrease of just over an inch to a rise of nearly 3 inches. This means that between 1900 and 2000 sea levels rose at least twice as fast as the would have naturally, and probably faster.
In the current century, this unnatural trajectory is likely to accelerate from inches to feet.
"It's very likely that global sea level will rise by 1.7 to 4.3 feet in the 21st century if the world continues to rely heavily upon fossil fuels," state the researchers. "Phasing out fossil fuels will reduce the very likely rise to between 0.8 and 2.0 feet."
If further evidence of  the relationship between atmospheric temperatures and global sea levels was needed, the researchers also determined that sea level actually declined by around 3 inches from 1000 to 1400, an era when the planet cooled by 0.4 degrees Fahrenheit.
In the present day, rapid sea level rise is already starting to impact many low-lying and island communities. Anote Tong, the president of the island archipelago nation Kiribati, recently said that citizens of the country will have to start migrating to drier land within five years. For those not ready to jump ship, the country is also working with the United Arab Emirates (UAE) in an effort to build artificial islands that will help them "adapt" to higher sea levels.
Warming temperatures induce sea level rise in several different ways. For one, as water warms, it expands. Additionally the melting of ice sheets and glaciers adds to the water in the oceans. Not all areas are prone to the same amount of sea level rise either. One recent study on the phenomenon over the last decade found that ocean levels around the Philippines are rising five times the global average.
If it weren't for inland reservoirs, sea level could be rising up to 20%, or 1 millimeter per year, faster according to a new study published in Science. Continents store some six trillion tons of snow, surface water, soil moisture and groundwater at any time, which is gradually released into the ocean as part of a natural cycle. Right now continents are storing more water than scientists anticipated after a decade of heavy weather events over land. This ratio is eventually expected to reverse.
"Land can only hold so much water," Alex Gardner, a NASA Jet Propulsion Laboratory glaciologist who worked on the study, told the Los Angeles Times. "We can't compete with the Earth's system. It's just so huge. Some years are wet, some years are dry. You wait long enough and the climate wins. Climate always wins."