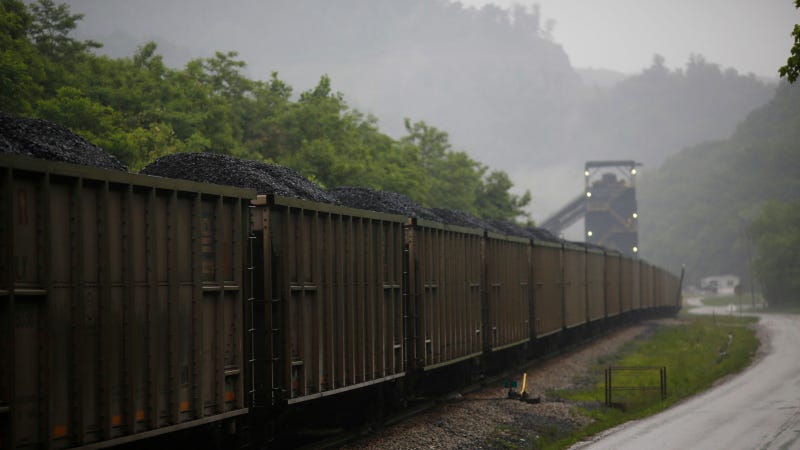 For the past 15 years, the U.S. has produced more than a billion tons of coal annually. After steps to roll back the production and use of coal under the Obama administration, the Trump administration has reversed this position, championing coal at every turn.
The burning of coal has well documented health impacts and is a significant contributor to climate change via carbon dioxide emissions. While Trump and the GOP have touted clean coal, implementing it seems a long shot at best. While clean coal might seem like a safer, healthier version of coal, in reality it's the same dirty fossil fuel. The difference is that with clean coal, a series of systems and technologies (predominantly carbon capture and storage technology) work to minimize coal-burning pollution. Yet this system costs hundreds of millions of dollars, and while the government and private investors have doled out millions, returns on these investments have yet to come to fruition, if they will at all. Furthermore, clean coal fails to address the health impacts of coal even when it's just being transported and stored on site at power plants.

The Harmful Particulates of Storing and Transporting Coal
A study published in the National Bureau of Economic Research looks at the health impacts of higher levels of fine particulates in the air that occur as a result of transporting and storing coal at U.S. power plants. The study found that a 10% increase in the number of deliveries to coal burning power plants leads to a 0.16% increase in the concentration of fine particulates in the air up to 25 miles away from power plants. This increase has acute health consequences, as only 10% increase in fine particulate leads levels to a 1.1% increase in average adult mortality rates and a 6.6% increase in child mortality rates, according to the study. While highly localized, the environmental costs of coal transportation and storage take a large toll on the surrounding areas, a significant proportion of which are economically disadvantages.
"We think that this paper fills an important gap not just academically, but also its a very low cost policy intervention," said Akshaya Jha, an Assistant Professor of Economics and Public Policy at Carnegie Mellon University and co-author of the study. "To cover the piles at power stations or cover the coal train won't take much, yet this hasn't been done. Pretty much anywhere you look these coal deposits are sitting out there uncovered in the coal trains, and they are still going without cover."

The Right Kind of Cover-Up
There are no federal regulations around this sort of transport and storage, and none is likely to come from the Pruitt-led EPA. This is despite the fact that the EPA has already linked higher levels of fine particulates to fatal heart attacks, irregular heartbeats, aggravated asthma, decreased lung function and increased respiratory symptoms, such as irritation of the airways, coughing or difficulty breathing. Covering coal piles and trains poses a risk given coal dust is combustible if heat and oxygen are applied to it in a confined space. Currently some railroad companies, and states, require the use of surfactants, known as topper agents, to cut down on the amount of coal dust that escapes a train. These topper agents essentially create a chemical covering of the top of the coal load, and have been shown to prevent 75% to 93% of coal escaping in some trials, through organizations such as the Sierra Club have contested this in court. This still allows large quantities of coal dust to escape, given the payload of coal trains.
BNSF Railway, one of the largest freight railroad networks in the U.S., estimated that 645 pounds of coal dust can escape from each rail car over the duration of a 400-mile long trip in a 2009 testimony before the Surface Transportation Board.
And as ThinkProgress noted in 2016:

According to an old guide for freight customers that used to be housed on the BNSF Railroad website, internal company studies have shown that between 500 and 2,000 pounds of coal dust can escape from a single loaded car (that page has since been deleted). Even if 85% of that dust is avoided, that's still at least 75 pounds per car and potentially as much as 300 pounds per car. An average coal train has about 115 cars — meaning that between 8,625 and 34,500 pounds of coal dust are likely to escape from a single train, even if it has been loaded using BNSF's mitigation techniques.
Furthermore, power companies don't usually use topper agents at power plants on stationary piles of coal, according to Jha, just when they may be transporting it onsite. Instead, they use water based treatments to keep coal dust down, and they usually do it once, not multiple times as needed. According to Jha, covering these piles would be low cost, especially when considering the healthcare costs that occur as a result of the fine particulates released.

The Importance of Easy Breathing
According to Cort Anastosio, a Professor of Tropospheric Chemistry and an Assistant Tropospheric Chemist at UC Davis, while coal dust is a minor source of airborne particles overall, it is also significant close to rail lines where coal is carried.
"Airborne particles are the most dangerous environmental pollutant, killing approximately three million people each year globally," he said. "In the US, approximately 100,000 people die annually from particle inhalation, more than from vehicle accidents and guns combined, but less than the nearly 500,000 Americans that die from smoking."
Some of the largest coal burning power plants in the U.S. include the Robert W Scherer Power Plant in Georgia, Gibson Generating Station in Indiana, Monroe Power Plant in Michigan, Bowen Power Station (also in Georgia), and John E. Amos Power Plant in West Virginia. A report last year from the Center for Public Integrity, The Weather Channel and USA TODAY labeled the Monroe Power Plant one of the "super polluters" within the U.S. According to the U.S. Energy Information Administration, there were 427 coal burning power plants in the U.S. at the end of 2015, with trains transporting nearly 70% of coal deliveries. In 2015 alone, there were 5.44 million carloads of coal transported by rail according to the American Association of Railroads.
Even if covering the deposits and trains with toppers may cut down on the amount of fine particulates in the air, and be easier in the short run, there is really only one option when it comes to eliminating fine particulates from coal from the air permanently. "The easiest policy recommendation is to just leave the coal in the ground," says Kelly Mitchell, Climate and Energy Campaign Director for Greenpeace. "Maybe not politically, but we are seeing a rapid transformation in the electricity sector away from coal, really the failure of building new coal export terminals speaks to the lack of demand for US coal abroad. So we should really be taking every possible step to restrict new mining and the transport of coal to usher in a clean energy revolution as soon as possible."
The ways coal is stored and transported predominantly affects low-income people that live near power plants and railways. The American Lung Association found that coal-fired power plants produce greater amounts of hazardous air pollution than any other industrial pollution sources in the U.S., according to their 2011 report, and another study found that areas with low education, high poverty ,and unemployment face greater health risks from fine particulates in the air, with communities near railways being one such source.
After Trump announced his intention to pull out the Paris Agreement, the head of the EPA, Scott Pruitt, went on NBC's Meet the Press and said that "since the the fourth quarter of last year until most recently, we've added almost 50,000 jobs in the coal sector. In the month of May alone, almost 7,000 jobs." This is despite the fact that, the Bureau of Labor Statistics currently estimates total employment in the coal industry at about 50,000, total. He later clarified these remarks somewhat on Morning Joe by noting this stat was meant to apply to mining jobs more generally, including coal.
This administration seems to have any endless appetite for denying the truth about coal, whether it's job creation or environmental destruction.