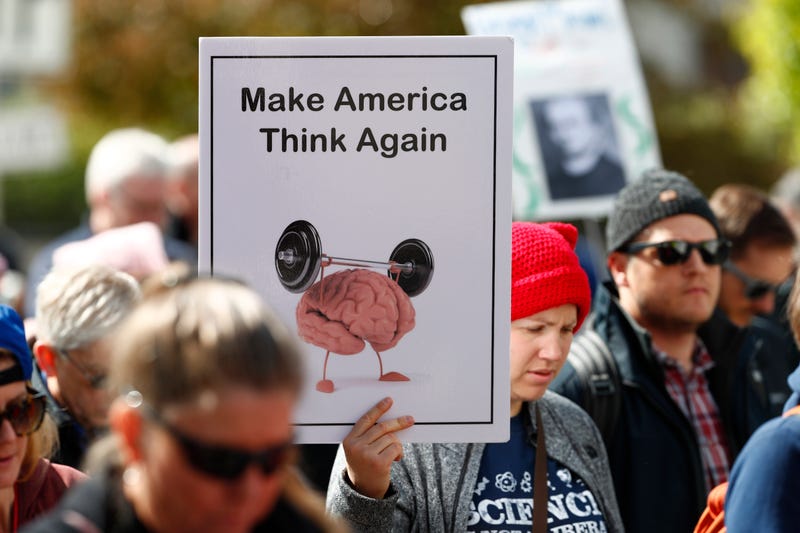 This week, hundreds of copies of the "Environmental Science for Dummies" will be placed at the front door of the Environmental Protection Agency's Washington, DC headquarters. The book explains concepts such as man-made pollution, sustainability and energy technology—things you'd encounter in an introductory-level college course. 314 Action, a relatively new organization that has seen interest in it skyrocket since the election of Donald Trump and his subsequent war on science, is working with EPA staffers inside the building to ensure the books end up on the desks EPA chief Scott Pruitt and other prominent climate change deniers that Pruitt has placed throughout the agency. They hope there is still something to be learned about the value of science, and at the very least to draw attention to Pruitt's destructive practices at the EPA.

Aside from pushing scientific education, 314 Action's primary goal is to help recruit, train, and support scientists to run for office. Established before Trump's election, its roots come from a Democratic primary campaign in the 2014 midterms, when founder Shaughnessy Naughton, a chemist by training, ran for Congress in Pennsylvania's 8th district outside of Philadelphia. She ran against the DCCC's endorsed candidate in the primary, meaning that she was cut off from traditional sources of funding.
"So after about three months of beating our heads against the wall, I came up with this idea of reaching out to scientists because of Naughton's background in STEM to see if we couldn't build a network of scientists and STEM folks to support her," says Josh Morrow, Executive Director of 314 Action. Morrow worked on Naughton's 2014 campaign.
Naughton, who now serves on the advisory board to 314 Action, didn't make it out of the primaries in 2014 (she only lost by around 800 votes), nor did she when she ran again in 2016. But her success in putting together a network of STEM individuals who were interested in political engagement was the basis for 314 Action.
314 Action announced in January they'd be having a candidate training session later in the year, and encouraged people to reach out to them if they were interested in running for office. People answered the call.
"In January, when we launched STEM the divide, which is our program to get more scientists involved, I didn't know what to expect. I didn't know if we were going to get 25 people or 2,500 people," says Morrow. "By the first weekend we had over 2,000 people sign up."
Right now, 314 Action has about 10 people running for Congress and they're just now launching the state house and state senate side of the organization. They even have 165 people who want to run for school board this year.
Every day they still get 30 to 40 people who sign up who want to run for office, according to Morrow.

While it might seem like a small thing to ask scientists to run for office, they — and the expertise they bring — are drastically underrepresented in Congress. Currently, only two members of Congress have Phd's in STEM (science, technology, engineering and mathematics) while two hundred and twenty have law degrees. It may seem that attacks on science and evidence based findings have ratcheted up this campaign cycle, but the attacks have been going on for years.
"The attacks on science, research funding and climate change didn't start with the Trump administration, but it has been a catalyst for scientists to get involved. I hear time and time again now 'I need to go beyond signing a letter and actually do something'," says Naughton. "That's where 314 Action comes in. They help interested individuals with a STEM background put together their campaign plans and staff and work with them on how best to communicate with the general public about what they do and why it's important."
Jason Westin, an oncologist who is running in Texas' 7th district, is one of the congressional candidates 314 Action is working with. The 2016 election was a big part of why Westin is running. "Last year's election really bothered me," says Westion. "I think a lot of people were troubled by what happened last year, who feel like all the rules were broken, and up was down and down was up, and people were able to say horrible things without any consequences."
The moment he decided to run though was at his five year old daughter's soccer game, about a week after the election.
"She fell down and got hurt, but I could quickly see that she wasn't really hurt. Her knee wasn't hurt more than her pride, and it was more that she was upset from falling down," says Westin. "So I told her 'sweetheart we don't fix our problems by lying on the ground complaining, we get back up and we get back in the game.'"

Later that night Westin was sitting on the couch on Facebook venting about the election when he suddenly felt like a hypocrite. Furthermore, he felt like somebody that should be doing more than just complaining. So he got in touch with 314 Action and they were instrumental to showing him that he could actually do something, in a real way. He'd have a team and a real chance to win based on the staffing connections 314 Actions made for him.

It's not just organizing capacity and connections 314 Action works with candidates on, they're also effective small donor fundraisers, drawing on the network Naughton started years ago. As of July, 314 Action had surpassed its fundraising goals for entire year, drawing from a quarter million small-dollar donors.
Congressman Paul Tonko, whose background was in engineering before being elected to represent New York's 20th congressional district in 2009, thinks scientists and STEM individuals bring an important perspective to Congress that's needed now more than ever. Tonko believes that the working knowledge of scientific concepts, problem solving skills, analytical skills, and being able to work their way through technical situations are an important set of skills STEM individuals bring to the table.
314 Action plays an important role in helping make these goals a reality.
"They get it, they speak with great intellect, with forcefulness, and they speak with great integrity and have a sense of what this country needs," says Tonko, who has been named on of 314 Action's STEM Trailblazers (incumbent members of Congress with STEM backgrounds who they support and promote).

Morrow recognizes there are challenges to helping develop the nuts and bolts of a campaign with individuals in an industry that doesn't have a culture of political engagement when it comes to running for office. "One of the biggest challenges to the candidates I think is they aren't used to raising money in the way you traditionally do in campaigns, where you sit on the phone and dial for dollars all day," says Morrow. "And second I think is how they communicate to the general public, their donors, and voters. I think those are the two biggest challenges these scientists face."
314 Action's effort to infiltrate the EPA with books laying out the basic fundamentals of environmental science offers a preview of the process they're hoping to carry out in political offices around the country. However, while delivering "Environmental Science for Dummies" might seem a bit tongue in cheek, their political efforts are anything but.