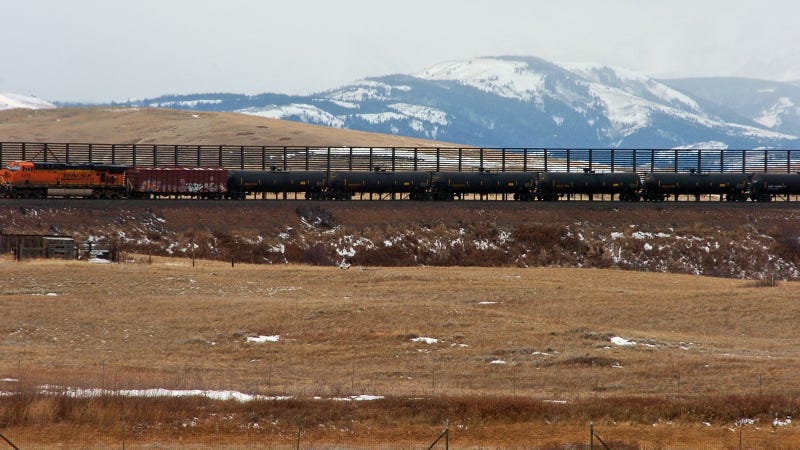 A Washington state tribe trying to stop a planned oil terminal expansion near its reservation says grassroots resistance is working—citing a trend of similar proposals being dropped in the state and the success of the sustained resistance against the Dakota Access pipeline in North Dakota.
"We know we can stop some of these projects because we have already seen some successes," said Fawn Sharp, president of the Quinault Indian Nation in Grays Harbor County, WA.
In October, Shell halted its plans for an oil-by-rail project at its refinery in nearby Anacortes following broad opposition. Earlier this year, two crude oil storage proposals in Grays Harbor County were dropped—leaving just Contanda's project.
The Cherry Point coal export terminal planned in Whatcom County was rejected by the U.S. Army Corps of Engineers in May because it would impact the treaty rights of the Lummi Nation.
Fossil fuel projects have been opposed in the Pacific Northwest because of the local impact as well as their overall contribution to climate change.
Climate change has already impacted the Quinault. One of the tribe's villages, Taholah, is being relocated because of threats from sea level rise as well as tsunami threats.
Sharp said efforts to protect residents from the rising seas weren't working anymore.
"The sea wall that protects the village is inadequate to protect our people, particularly during violent storms," Sharp said.
As their village is being moved to higher ground, Houston-based Contanda has asked the city of Hoquiam for permits to expand its methanol facility to handle crude oil as well. Hoquiam is south of the Quinault reservation on Grays Harbor.
Grays Harbor falls within the Quinault tribe's federally reserved treaty fishing and gathering area.
The Quinault and others have spoken out against Contanda's proposal. The city received over 100,000 public comments on the proposal.
The project has united native and non-native activists—who have taken to the water in traditional canoes and kayaks to show their opposition to the project among other protests.
There is a pattern of that kind of grassroots resistance against fossil fuel projects in the region, said Alex Ramel, field director for Extreme Oil with Stand—an advocacy organization that challenges destructive government and corporate practices.
"There is a trend of dropped projects," Ramel said.
Local opposition can be effective in stopping these proposals because they require approval from local governments, Ramel said.
"In those cases, what you have is a local government that is the decision maker and the local government is going to be responsive to what the community wants—not always, but ideally," Ramel said.
What communities around Grays Harbor want is to protect the natural resources they depend on from some of the most hazardous oil in the world.
Highly flammable Bakken crude oil from North Dakota or diluted bitumen—the dirtiest oil—from Alberta, Canada, would be transported to Contanda's expanded terminal by rail, stored at the facility and then shipped out on tankers through Grays Harbor and into the Pacific Ocean.
Potential spills in Grays Harbor or the ocean would threaten treaty-protected fishing resources.
"The effects would be devastating," said Sharp, adding that the natural beauty and sea life were too valuable to risk.
"This is not a place for oil spills," Sharp added.
Just last month an oil tanker ran aground north of Washington state in Bella Bella, British Columbia. The spill has been called an "environmental disaster."
Booms were largely ineffective at containing the oil and cleanup efforts were thwarted by bad weather, including strong winds.
The Quinault as well as non-native fishermen who depend on Grays Harbor and the surrounding waters for their livelihoods fear the same could happen in their waters if Contanda receives the permits it needs.
In the event of an oil spill, water conditions like tidal currents, turbulence, or high sedimentation in the water—which could cause the oil to sink—would make it difficult to contain the oil, Arthur Grunbaum, of Friends of Grays Harbor, said.
The citizen's group made up of crabbers, fishers, oyster growers and concerned residents, has spoken out against Contanda's proposal.
Grunbaum called it an "inappropriate development in our irreplaceable shoreline environment" and said it would harm the long-term health of the economy and ecosystem of Grays Harbor.
One good thing has come out of Contanda's proposal, Grunbaum said—a growing coalition between native and non-native communities.
"The common threat of oil-based disaster has allowed these two communities to come together and fight for a common goal—to protect and preserve healthy existing natural resource-based economic activity on the Washington Coast," Grunbaum said.
It has also united residents from cities all over the state.
That's because their towns lie along the rail route that would transport the oil to terminals on the coast—bringing the increased threat of derailments, oil spills, and explosions.
Washington residents along the rail corridor from cities as far as Spokane, in the northeast of the state, have protested against increasing oil-by-rail. Activists shut down Burlington Northern Santa Fe (BNSF) tracks in the city in September.
Some Spokane residents have even traveled to Vancouver, WA—where another battle is ongoing over Vancouver Energy's proposal to build an oil train terminal—to add their voices to local opposition.
Vancouver Energy and Contanda's proposals would increase dangerous oil-by-rail traffic just months after a train carrying Bakken crude derailed and exploded just 70 miles upriver from Vancouver in Mosier, OR. No one was killed.
Bakken crude oil has been connected to a string of disasters, including a derailment in in Lac Megantic, Quebec, which killed 47 people and destroyed the city center.
Each project that increases oil train traffic adds to the threat posed to communities that gain nothing from these projects, Ramel said.
Oil trains already travel through the state to refineries in Tacoma, Anacortes, and Cherry Point's Whatcom County, but stopping additional projects will lessen the cumulative impact, he added.
The city of Hoquiam, WA, and the Washington State Department of Ecology released the final Environmental Impact Statement (EIS) for Contanda's proposal in October after receiving over 100,000 public comments on the draft EIS in 2015.
Next, the city will hire a consulting firm to review city codes, treaty rights and other factors to help it draft its decision on Contanda's permit application, said City Administrator Brian Shay.
While the EIS found that if any spill or explosion occurred it could cause unavoidable environmental impacts, as well as impacts to tribal resources, it also proposed mitigation measures to reduce those impacts.
Contanda, for its part, said the EIS shows how to build the expansion in a way that protects the community and the environment.
"Contanda's expansion in Grays Harbor represents a long-term commitment to this community, and we look forward to meeting the high-standards of the EIS to continue our history of safe terminal operations," G.R. "Jerry" Cardillo, president and CEO of Contanda, said in a statement.
But local residents aren't convinced that there's any way to make the project safe, and have called on city officials to reject Contanda's request for the permit it needs to move ahead with the expansion.
The city last year banned any new fossil fuel infrastructure projects due to safety concerns, but because Contanda had proposed its project before that came into effect the oil terminal expansion wasn't covered by the ban. Whatcom County in August also enacted a 60-day ban on new permit applications to ship fossil fuels out of Cherry Point.
The Quinault tribe says Hoquiam's ban should apply to Contanda's project too, and that their economy is based on sustainable natural resource management and related clean industries—not on expanding fossil fuels.
"The sea level rise and intensified storms are climate change induced and climate change is largely caused by the burning of fossil fuels," Sharp said.
Rather than build or expand new infrastructure for the fossil fuel industry, "we need to move toward clean energy sources as quickly as possible," Sharp said.
Sharp voiced the Quinault tribe's support for the Standing Rock Sioux tribe, which is also fighting in North Dakota to protect its water.
"Yes, Quinault Nation stands with Standing Rock, as do Indian Nations all across the country," Sharp said.
"Through all the generations we have inherited traditional knowledge and values that combine with our contemporary knowledge and scientific research to support a powerful stewardship ethic—we are protectors of the water and the land."