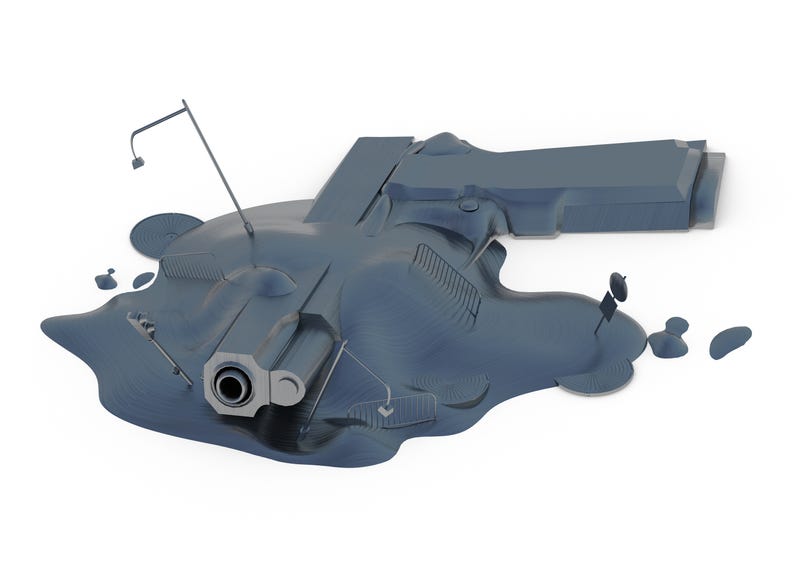 Here are some staggering numbers to consider:

Many Americans are proud of the second amendment, but what if you'd rather subtract from the number of guns in circulation? Unwanted firearms can be disposed of safely, legally and anonymously. And even better, they can be recycled.
If you want to voluntarily surrender a firearm, the best place to start is by contacting the police. Since there's no universal policy on what happens after that, it's up to each department to decide what to do next. Unfortunately, not all police departments will recycle guns; in fact, according to NRA data and state legislative records analyzed by CNNMoney since 2009, at least 11 states have actually pushed police to sell back confiscated or collected guns, rather than destroy them. But there are many police departments that do offer gun recycling programs.
Last year, California authorities melted down more than 7,000 guns rounded up by local law enforcement, reaping nearly 20,000 pounds of reclaimed metal that was later converted into steel rebar to be used in transportation infrastructure projects across Arizona, California and Nevada.

Anonymous neighborhood gun buyback programs are an increasingly popular way to collect unwanted firearms. During a recent Hartford, Connecticut event, the police department traded gift cards for weapons — $450 for assault rifles, $250 for semi-automatic handguns and so on. Guns collected from these drives can be then be shredded into scrap metal and sold for around 50 cents per pound.
Melted gun metal can be used to make chain-link, pipes or manhole covers, according to Diane Diamond, author of "Thinking Outside the Crime and Justice Box." Rebar fashioned out of destroyed guns has been used in the construction of the Staples Center and the New York, New York Casino in Las Vegas. It's also been used to repair the Oakland Bay Bridge in San Francisco and various earthquake-damaged freeways.
Still other decommissioned guns get new lives as art. In Santa Fe, a show benefiting the nonprofit New Mexicans to Prevent Gun Violence features works created out of 150 firearms collected over the year in cooperation with local sheriffs. The guns have been turned into gardening tools and sculptures by student and professional artists and will be auctioned off next month.
Surrendering your firearm might seem like a drop in the bucket compared to the millions of new guns purchased in the United States every month, but you can still do your part. Contact your local law enforcement to find out more about their gun buyback programs and how your unwanted gun can be recycled.