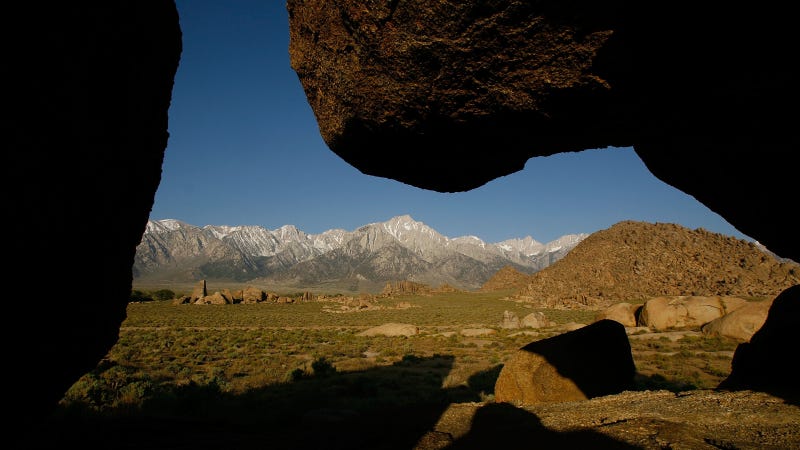 Snowpack in California's Sierra Nevada mountain range is likely at its lowest level in the last 500 years according to a new study published Monday in the journal Nature Climate Change. Using tree-ring data and temperature records to put modern-day snow levels into a historical context, the study is the first to use snowfall as an indicator of the severity of California's drought.
Even to the researchers, the extent of the findings are surprising.
"We were expecting that 2015 would be extreme, but not like this," Valerie Trouet, a paleoclimatologist at the University of Arizona and senior author of the study, told the Los Angeles Times.
Even so, Trouet said we should not be surprised if similar "snow droughts" occur more frequently going forward as the state's temperatures continue to rise.
As the study points out, snowpack in the Sierra Nevada mountains plays an important role in much more than skiing forecasts in the state—it can actually provide up to 30% of the state's water supply in a given year. Due to the importance of this critical resource, state officials have been monitoring snowpack for almost a century and there are over 100 measuring stations throughout the state's mountains. California Governor Jerry Brown recently used the issue as a way to draw attention to climate change and drought. In early April he visited a mountainous site about 90 miles east of Sacramento where snowpack usually stands at 5 1/2 feet at that time of year and issued an executive order mandating California's first mandatory water restrictions.
"We're standing on dry grass," Brown said at the time. "We should be standing on five feet of snow."
This was the first time in 75 years of records that no snow had been present at the site on April 1. Overall on April 1, researchers found that Sierra snowpack was only 5% of average since monitoring began in 1950.
For the new historical snowpack study, Trouet and her colleagues used existing data on tree ring sizes and estimated annual temperatures to reconstruct temperature and precipitation records and estimate the amount of water present in snowpack in centuries past. According to the authors, when they compared this reconstruction to snowpack measurements taken since 1930, they accounted for observed annual fluctuations with around two-thirds accuracy. The scientists did say that uncertainties in the data might mean that a few years, probably in the 16th century, could have had lower snowpack levels than 2015.
Diminishing snowpack and other impacts of climate change are on Gov. Brown's mind this week again as a spate of extremely damaging wildfires have burned hundreds of homes and caused thousands of evacuations in Northern California. On Sunday, Brown declared a state of emergency to make more funds available to deal with the unfolding catastrophe. As snowpacks are expected to decrease with the rising temperatures and reduced precipitation in the region due to climate change, wildfires are likely to intensify.
"This is damn serious stuff," Brown said on Monday. "This is the future from now on."