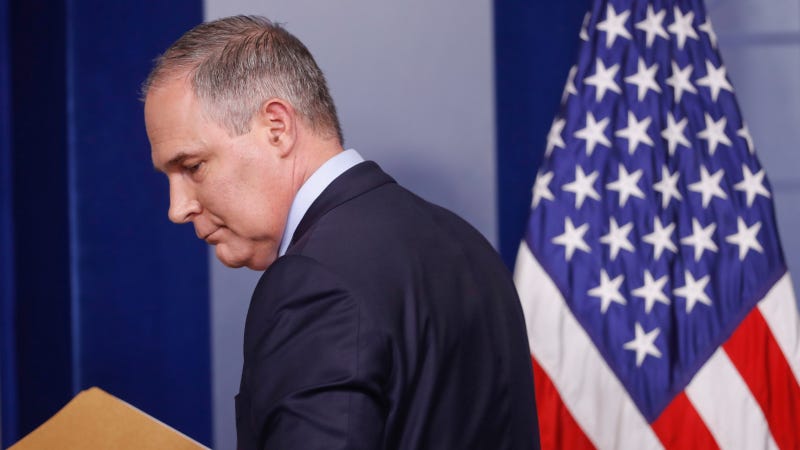 In a hearing before the House of Representatives Committee on Appropriations on Thursday, EPA head Scott Pruitt defended President Trump's proposed cuts to the Environmental Protection Agency as "bringing it [the EPA] back to its core mission," and assured members of the committee that he remains "very, very" interested in addressing America's varied environmental concerns.
During the hearing Pruitt defended Trump's 2018 budget request, which slashes the EPA's budget by about 30%, claiming that under his leadership the EPA would narrow its focus to its core responsibility: "Improving air quality, clean water, and fixing our outdated infrastructure, cleaning up our contaminated land through our Superfund and Brownfield programs."
Lawmakers had trouble squaring Pruitt's avowed environmental priorities with the reality of the dramatically shrunken budget he was pushing.
"I'll get straight to it, the fiscal year 2018 budget request for the EPA is a disaster," said Representative Nita Lowey (D-NY) in her opening statement at the hearing. "You requested $5.6 billion, a staggering $2.4 billion below the [2017 budget], a cut of more than 30%." Lowey went on to detail how these cuts would affect many of the programs critical to the EPA fulfilling its mission of protecting "human health" and America's "air, water, and land." Among the more serious impacts that these cuts would have is a personnel reduction of almost 4,000 from the EPA's workforce and a shrinking of the EPA's science and technology budget from $733 million to $450 million (which includes large cuts to science supporting clean air programs and research on chemical safety). The budget proposal also aims to slash funding for the EPA's Office of Research and Technology, which is the agency's main research arm, by about 50%. And while Pruitt has pledged to making the cleaning up of hazardous waste sites a priority (known as Superfund and Brownfield sites), the budget proposes significantly reducing the funding for both the Superfund and Brownfield Programs.
"Between your disturbingly close ties to the oil and gas industries, your past work to directly undermine the EPA, and your skepticism that human activity plays a role in climate change, I suppose it's surprising you didn't propose to eliminate the agency altogether," continued Representative Lowey. "Let's be clear…manmade climate change is real and it poses a threat to our planet that must be confronted quickly and seriously."
For his part, Pruitt defended the budget cuts as reducing the EPA's overreach, and returning the agency's attention to its core mission of clean water and clean air. Pruitt explained that when he joined the EPA, he set about restructuring the agency around a few core principles, which included restricting the agency's actions so that they fall within "the rule of law," and giving power back to the states when it comes to environmental regulation.
"As you know very, very well, a one size fits all strategy to achieve environmental outcomes does not work," explained Pruitt. "What may work in Arizona may not work in Tennessee, and I recognize that the states have unique environmental challenges and needs, and I will continue to engage in meaningful discussion [with Congress] about how shared environmental goals…can be achieved."
Many states rely on EPA-funded programs to help them keep their air, water and ground clean. For example, the proposed budget aims to cut all spending on almost a dozen state-level programs that work to protect local watershed ecosystems, including programs on the Chesapeake Bay, the Gulf of Mexico, Lake Champlain, Lake Pontchartrain, and the Puget Sound.
"We can't afford the EPA to check out on Puget Sound recovery," explained Representative Derek Kilmer (D-WA). "Our region has 3,200 people whose livelihoods are tied to shellfish growing, those are jobs that generate over $180 million in revenue in our state…they depend on clean water, they depend on the Puget Sound…and this budget jeopardizes that for them." The EPA's Puget Sound program has worked to fund local and state restoration projects and research that have been critical in keeping the Puget watershed clean and productive. Kilmer pressed Pruitt on whether he acknowledged the EPA's responsibility to protect the waters of Puget Sound for the people of Washington, the Native American tribes that surround the area, and the marine species that inhabit those waters (which include endangered species like wild salmon and orcas).
Pruitt responded by acknowledging the EPA's responsibility, and explaining that he was "very sympathetic and sensitive" to the issues facing the Puget Sound and that the EPA "has a very important role to play" for the region. But he didn't answer how the EPA would help the Puget Sound if the funding for these programs dried up. Kilmer, somewhat exasperated, echoed this sentiment, stating: "But the budget you produced zeroes out funding to support this effort." Pruitt again replied that the Puget Sound issue is something that he is "very, very interested and concerned about."
The rest of the hearing was filled with similar conversations surrounding issues like pesticides, cleanup of hazardous waste sites, ocean acidification, and manufacturing chemicals. Representatives expressed their concern regarding the scope and scale of the proposed budget cuts, to which Pruitt assured them of his commitment and interest in tackling whatever specific environmental issues they were discussing.
"I'm quite baffled by how you're going to have any tools in the toolbox to do that [complete the EPA's mission]" said Representative Betty McCollum (D-MN). "I can wish for a lot of things, but in reality, I have to figure how I make those things happen, using real dollars, real employees. You told me rule of law was your first and foremost concern…but the EPA's mission is to protect public health first and foremost."
You can a webcast of the entire hearing here.