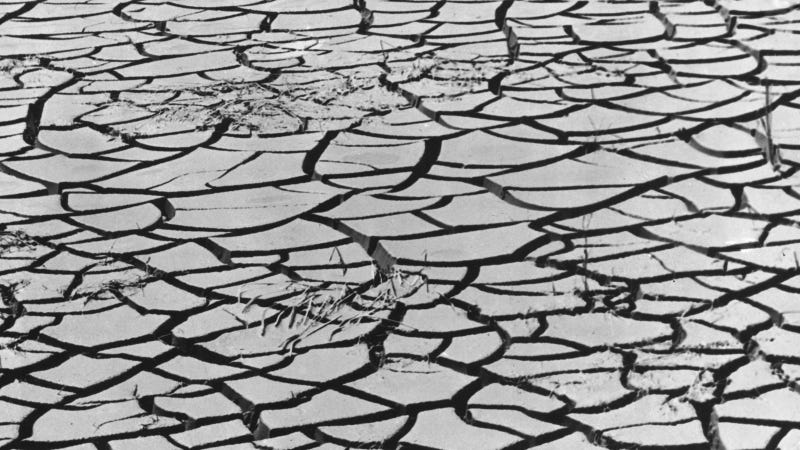 Earth's dry regions are getting drier, and its wet regions are getting wetter. That might not seem like such a big deal, but according to Jay Famiglietti, a water scientist at NASA's JPL, it is. As he said to USA Today, "We are revealing a global disaster in the making, yet we are seeing very little coordinated response."
Famiglietti is the co-author of a study by researchers from NASA and UC Irvine published last week in the journal Science. The scientists analyzed data collected by NASA's GRACE Satellites from 2012 to 2014 to see how melting glaciers and ice sheets have impacted sea level rise. NASA explained in a statement that "changes in weather and climate over the past decade have caused Earth's continents to soak up and store an extra 3.2 trillion tons of water in soils, lakes, and underground aquifers, temporarily slowing the rate of sea level rise by about 20%."
But the researchers also found, for the first time, that our dry regions and our wet regions have become more polarized. USA Today summarizes these results:

Areas that have become wetter included the upper Missouri River basin, the northern Amazon and parts of Africa, as well as other parts of the tropics. Areas throughout the mid-latitudes became drier: in the Middle East and North Africa, parts of India and China, and across much of the southern and western United States, where drought-plagued California and the southern High Plains stood out for especially large losses of water.
The findings suggest that we are on path for global water inequality. In Famiglietti's words, "the implications of our study for the redistribution of water availability are staggering and point to an emerging class of 'haves' and 'have nots.'" He continued, "When combined with our previous work on groundwater depletion, we are revealing a global disaster in the making, yet we are seeing very little coordinated response."
Taken together with the results of another study published last week—that 4 billion people live with severe water scarcity for one month each year, and half a billion people live in this conditions all the time—this is bad news.
Danielle Wiener-Bronner is a news reporter.