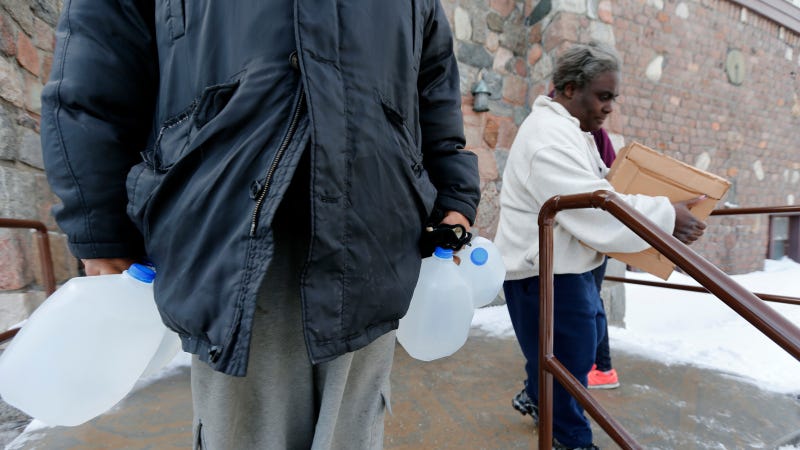 On Thursday, officials in Michigan declared a public health emergency over the state of Flint's water, which doctors suspect is negatively affecting local residents' health. Despite the announcement, authorities in Flint delivered a plan today that won't, for now, switch out the city's water source, Flint River, for Lake Huron, which supplies water for most of the rest of Detroit. The plan relies largely on filters and testing, with the aid of one million dollars pledged by the state. Governor Rick Snyder said in a statement today that "We are focused on helping ensure safe, clean, accessible drinking water and addressing and mitigating concerns and protecting public health." That probably won't be enough for some frustrated Flinters.
As a cost-saving measure, Flint broke away from Detroit's water system for the first time in decades. The Flint Journal's editorial board praised the move last April, right before the change went into effect. They wrote:

Wisely, Flint ended the relationship with Detroit and accelerated a plan to treat Flint River water until the new Karegnondi Water Authority pipeline is finished… For decades, Flint and Genesee County were virtually powerless to stop the city of Detroit from inflicting its largest water rate increases on local customers because of an agreement signed about 40 years ago.
But others were skeptical of the decision. A local NBC affiliate reported at the time that one resident didn't like the idea of drinking Flint River water because, "there's the jokes of, oh you know, you never know what you're going to find in the Flint River." But officials said the change would be seamless, and that the water would be safe. "The river is perfectly healthy for drinking water," executive director of the Flint River Watershed Coalition Rebecca Fedewa told NBC.
But residents did notice a change. According to the Associated Press, people have been complaining about how the water looks and tastes, and saying they think troubling maladies—like hair loss and rashes—are linked to poor water quality. And a General Motors plant in the area stopped using local water because they say it's rusting auto parts—a decision that amounts to a $400,000 loss to Flint each year. Through it all, local officials insist state testing shows the water to be in line with federal safety requirements. CBS reports that residents don't agree:

People have protested at council meetings, held community hearings, hosted water giveaways and marched through downtown. Facebook pages have been forums for complaints and concerns… Resident Tony Palladeno Jr., 53, said he gets bottled water from a grocery store or spring water from his cabin further north, but uses city water for showers. "No matter what, if I go in, one time it's going to be my eyes, or I'll get headaches or my lungs," adding that he's lost hair and produces a bottle of it to illustrate.
Concerns seemed to be confirmed when a study, led by Dr. Mona Hanna-Attisha of Flint's Hurley Children's hospital found that before the switch, around 2% of children had high levels of lead in their bloodstreams. After, that figure jumped to 4%. NPR put a useful chart together showing the findings:
She told NPR, "I cannot say it's from the water. But that's, you know, the thing that has happened."
Hanna-Atisha's findings are frightening. According to the CDC, "No safe blood lead level in children has been identified." And from the Mayo Clinic:

Even small amounts of lead can cause serious health problems. Children under the age of 6 are especially vulnerable to lead poisoning, which can severely affect mental and physical development. At very high levels, lead poisoning can be fatal.
Her research builds on an earlier study done by Virginia Tech scientists, that found water in Flint to be extremely corrosive. That means it is more likely to deliver lead from old pipes in drinkers' water supply. Flint officials say they are aware of which houses are most likely to be affected, but it will be hard to access that information because it is stored on tens of thousands of index cards. They also said that there's no conclusive evidence tying the increased lead levels with Flint River.
Now, activist groups are banding together in an effort to get the Environmental Protection Agency—which has already warned Flint over its water habits—to step in. The Natural Resources Defense Council released a statement on the petition:

Flint-based Coalition for Clean Water, the American Civil Liberties Union of Michigan, and the Natural Resources Defense Council joined the petition to trigger the EPA to launch a comprehensive federal response to the ongoing crisis. Under the Safe Drinking Water Act, the EPA is empowered to stop "imminent and substantial endangerment to human health" such as the elevated lead levels in Flint's drinking water. The petition urges that EPA immediately order the City and Michigan DEQ to reconnect Flint's water system with water from the Detroit Water and Sewerage Department, and to provide Flint residents with an alternative, free source of safe drinking water that meets EPA standards, among other requests.
For now, the NRDC reports, residents are take caution when drinking tap water.
Danielle Wiener-Bronner is a news reporter.