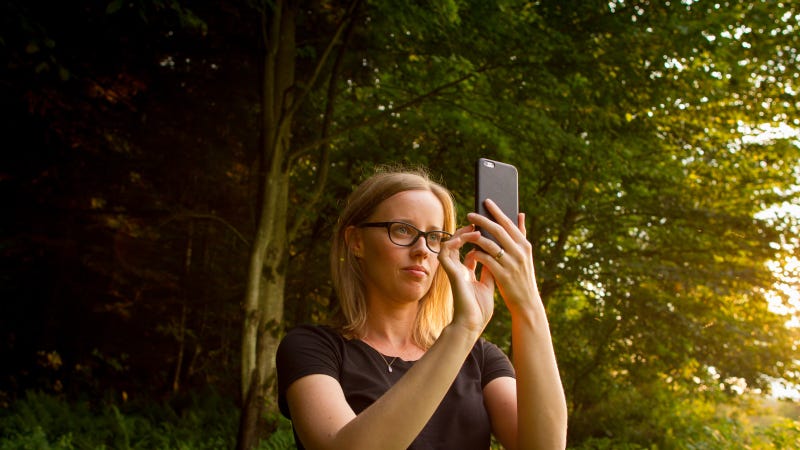 A study published on Friday uses geotagged social media photos to analyze how people use public lands for recreation and the economic value of that recreation.
Led by researchers at the University of Vermont, the analysis found that the information relayed in people's outdoor photos  in scenic places can be used for more than just showing off beautiful settings to friends and family online. By analyzing 7,000 geotagged Flickr photos, the researchers were able to try and explain why certain protected lands are more popular than others, and which type of visitors prefer what experience.
"Our study suggests social media can be used understand where and why people undertake nature-based recreation," said UVM researcher Laura Sonter. "This information can help improve decisions on managing conserved lands. For example, it can help ensure popular parks are appropriately funded and have the infrastructure needed to support expected number of visitors and their most popular recreation activities."
The study, published in the journal PLOS ONE, identified eight key factors that influence the use of public lands used for outdoor recreation. It found the size of conserved lands was the most significant attribute, followed by opportunities for snow sports and swimming, land ownership, trail density, slope, forest cover, and surrounding population.
Soter said the researchers counted the number of people who uploaded geotagged photos to Flickr for a small number of conservation areas and compared those numbers to recorded daily visitor counts as determined by surveys.
"This allowed us to predict visitation to all other conserved lands in Vermont, which we multiplied by per trip economic expenditures to estimate total economic value," said Soter.
By focusing on Vermont, the researchers calculated that conserved lands, which cover about a quarter of the state, contributed $1.8 billion to Vermont's tourism industry between 2007-2014.
Conserved lands include national forests, state and municipal parks, conservation easements, and other areas legally protected for the purpose of environmental conservation. According to the study, strong statistics on how these lands are used for recreation are hard to come by, with many entities relying on costly, inaccurate, and time-consuming survey data.
The study's authors believe their methodology could be adopted by park managers to help track visitor usage and identify the most effective investment strategies for often overburdened budgets. For instance, the study found that providing better access to water for swimming and mountains for snow sports can help increase visitation.
According to the study, nature-based recreation generates more than $600 billion annually for the global economy, a value that vastly exceeds contemporary conservation expenditures.
"Yet mounting pressures from land use and climate changes continue to threaten conserved lands, their biodiversity, and contribution to human well-being," states the study. "In recognition, conservation scientists increasingly quantify ecosystem services provided by conserved lands and use this value to support management and spending decisions."
Soter said "quantifying the economic value of nature provides a useful tool for environmental decision makers" by offering a new means of conducting cost-benefit analyses.
The University of Vermont study adds to a growing trend of using online troves of digital photography to analyze nature.
One recent study compiled some 2.5 million animal "selfies" taken by over 1,000 hidden camera traps scattered throughout global tropics in an effort to better understand animal diversity and behavior. In analyzing photos of 244 species from 15 protected tropical forests over the last 3-8 years, researchers found that species distribution and number had not significantly declined. In an of era rapid human population growth with fewer and fewer havens for wild animals, this general stability was unexpected.
This year is the National Park Services' centennial celebration, and while there is much to celebrate—the parks are more popular than ever—There are a host of the challenges facing the NPS in the years to come. These include a $12 billion maintenance backlog, the issue of allowing sponsors and donors to promote themselves in the parks, figuring out how to best navigate a divided Congress for funding, dealing with overcrowding, and addressing the threat of Zika virus.