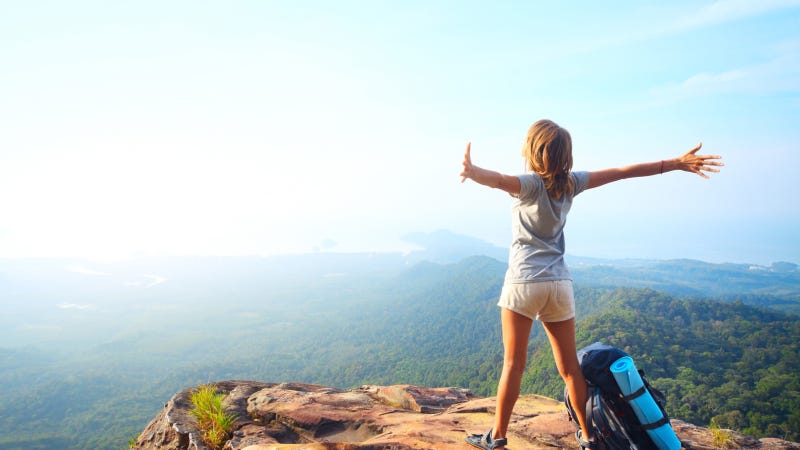 The benefits of spending time in nature have been well documented, and a little time outside can do wonders for mental and physical well-being. With the average American spending 93% of their life inside—87% in buildings and 6% in vehicles—any excuse to experience the great outdoors should be seriously considered, even if that experience is itself driven by the trappings of the material world.
Recently, as if my high esteem for nature has finally seeped into my browser cookies, I've been seeing a lot of advertisements for fun, borderline-gimmicky outdoor gear. I'm not talking not your typical REI tent or Patagonia sleeping bag, but a new wave of outdoor products from startups run by people who want to use them the most. They're not just meant to be practical, but also fun. They're not just built for the outdoors, but also travel well on social media. They are made for a generation of people interested in experiencing nature, but not getting lost in it; in not only seeing nature, but also being seen in it.
And I want all of them.
The first of these products to flash across my screen was the $89.00 KAISR Inflatable Air Lounge, a nifty lounge chair that raised over $4,000,000 on Indiegogo this spring. Basically it's an inflatable beanbag that one fills by "scooping air." The founders wanted to completely change "the way people relax" by doing away with burdensome beach chairs and uncomfortable towel-sitting.
"Regardless of where you are or when you need a little 'you' time to rejuvenate yourself, the KAISR is the absolute best thing to have with you," states the crowdfunding page.
In what setting might one want to rejuvenate while couched within the bosom of the Inflatable Air Lounge? It's not just for beaches, but has also been tested in some of the "hardest conditions," including rocky terrain, parks, and pools. It even comes equipped with a bottle opener, bottle holder, and phone pocket because wherever you are in nature, you probably need those things.
Another thing you may need in nature: a hot tub hammock. Just such a product, officially called Hydro Hammock, was created by Oregon-based Benjamin Frederick last year when it raised over $75,000 on Kickstarter.
Frederick told me that the Hydro Hammock isn't for roughing it, "but come on, we all try and rough it as little as possible when camping."
"Our wives and children need be kept happy with the papa that doesn't smell too rough right?" he said. "And for romance, being warm, clean, and excited to be in the elements is uber important."
The Hydro Hammock, which can be purchased with or without a water heater, requires far less water than a conventional hot tub, and Frederick said that 25 gallons is enough for one person to be more submerged than in an average hot tub. At capacity it can hold up to 50 gallons and two people. While the hammock retails for $360.00, the water pump—which is about the size of a suitcase—costs $1,265.00, approaching the price of an introductory level hot tub.
Not a dollar of advertising money has been spent on Hydro Hammock, according to Frederick, who said articles like Buzzfeed's "These Are The Coolest Products From 2015" are helping get the word out.
As for Hydro Hammock's raison d'être, Frederick said that while "technology is making leaps and bounds" and that "every week a new app is doing something cool," he wonders "what is actually improving the human experience?"
"How much news flashes across our browser that is sad, or out of our reach to experience or do something about?" he said.
He considers Hydro Hammock as a vessel to avoid showing "apathy to nature," and in doing so of not losing touch with our own nature and becoming overly complacent.
While you're splayed out in the Inflatable Air Lounge or Hydro Hammock deep in thought, hints of sleepiness will inevitably start to creep in. There's always the tried-and-true tent option, but what about something a little more…elevated?
Look no further than Tentsile, a London-based, treehouse-like tent company that just chose Utah for the location of its first-ever store.
Being more than three years old, Tentsile is a veteran of the fun-in-nature market, and its products—which were inspired in part by Star Wars' Ewok village—are already being sold by retailers like REI and Sports Authority.
Tentsile founder Alex Shirley-Smith told me that the whole idea behind the company is to save trees because "if we are all hanging out in trees, they can't be chopped down."
As for Tentsile's role in aiding people's reconnection with nature, Shirley-Smith said spending at least a few days a year in nature "allows us to experience a slower pace of living, which is important."
"As the modern world presses down on our senses, our time, and our sense of worth, there has been a surge towards our re-immersion in nature," he said. "We want to turn our phones off and connect instead with the people we love and the most basic elements of earth, fire, water, and air. They do us good."