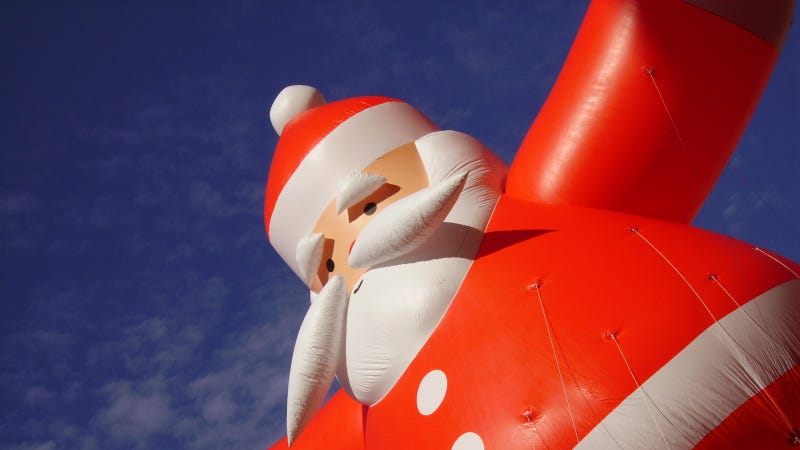 According to my trusty weather app the high temperature in Brooklyn, where I live, on Christmas Eve day could be 73 degrees Fahrenheit, which is less a late-December high than a June low. Christmas day's high will be a slightly cooler, though still balmy 65 degrees Fahrenheit. The average high for this time of year is 41 degrees. We just experienced the longest night of the year, the winter solstice—times should be cold and dark. My girlfriend should not want to go for after-dinner walks because it's "pretty nice out."
Just for comparison, the high temperature in Los Angeles on Christmas Day is expected to be in the mid- to high-50s. So in the winter weather competition, New York is beating L.A. Talk about topsy-turvy.
These kinds of temperatures in New York for Christmas are unheard of, and more than a few cities across the central and eastern United States will likely set record highs on December 24 or December 25. Or maybe on both.
Temperatures like this that will alter plans and wardrobes are likely to give rise to something else: above-average idle weather chitchat. Whether bumping into old friends, rendezvousing with family or standing in line for Star Wars, here are some ways to bolster that inevitable conversation with unexpected insights rather than uninterested, askance glances:

It was the warmest autumn ever in the contiguous United States
Not for the last 121 years, since record-keeping began, have the fall months—September, October and November—been this warm. And if anyone asks, 2015 also set a global record for warmest autumn on record, with temperatures 2.29 degrees Fahrenheit above the 20th century average. Here's a map of the general global weather weirdness for November:
Nine months so far in 2015 have set high temperature records
And judging by the mercury this month, that will probably be 10 months by the end of the year. That is global data, but here's a map for average temperature anomalies year-to-date in the United States:
Last year only got to be the hottest year on record for one year
In order for 2015 NOT to become the hottest year on record, December temperatures would have to be at least 1.46 degrees Fahrenheit below average—which would be colder than any December on record. To date, 2015 is surpassing 2014's temperature record by 0.25 degrees Fahrenheit, and average global temperatures have been a full 1.57 degrees Fahrenheit above the 20th century average.
Thousands of smaller temperature records are being shattered across the East
Not to beat a dead horse that died of heat exhaustion, but literally thousands of high temperature records across the East have been broken this month as temperatures rose to 20 or 30 degrees above average.
The Union of Concerned Scientists listed a few examples from last weekend:

Lexington, Kentucky, saw 70 degrees, breaking a record from 1873
Joplin, Missouri, at 72 degrees, broke a record from 1907
Cleveland shattered its 1949 record by a full 7 degrees
Washington, D.C., and Detroit both broke records held since the 1880s
Dubuque, Iowa, broke its 95 year-old record by 5 degrees
Snow has been a no-show
Winter sports enthusiasts have probably already exhausted this talking point, but the weather phenomenon known as "snow" has been strikingly absent from the Northeast. Buffalo, New York broke its 116-year-old record for latest snowfall by making it past December third without a flake on the ground. The city finally saw a few flakes on Dec. 18. This snow drought comes just a year after the city's epic "Snowvember" in which the region was blanketed by more than five feet of snow. Welcome to global weirding.

It's the "blowtorch" weather pattern
While climate change and an epic El Niño are both playing roles in the unprecedented weather, the immediate cause for the warmth is what some meteorologists, who love these catchy terms, are calling a "blowtorch" weather pattern. As the Weather Underground reports, the term—this year's replacement for the viral "polar vortex" phenomenon—refers to weather temperature maps that "tend to resemble a large red or white scorch mark surrounded by shades of orange and yellow, as if a giant blowtorch had been pointed at the Earth."
The West Coast is colder than the East Coast
While the "blowtorch" effect is pushing the jet stream north and keeping the East Coast warm, the West Coast is experiencing the early stages of what is predicted to be a very powerful El Niño, the Pacific weather phenomenon that tends to increase precipitation in coastal western states. California has been plagued by a crippling four-year drought, so any precipitation is welcome, but the strong weather events associated with El Niño will likely also create unwelcome landslides and flooding.